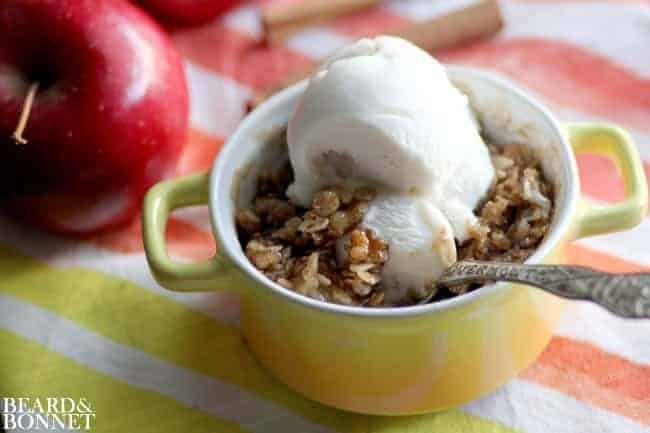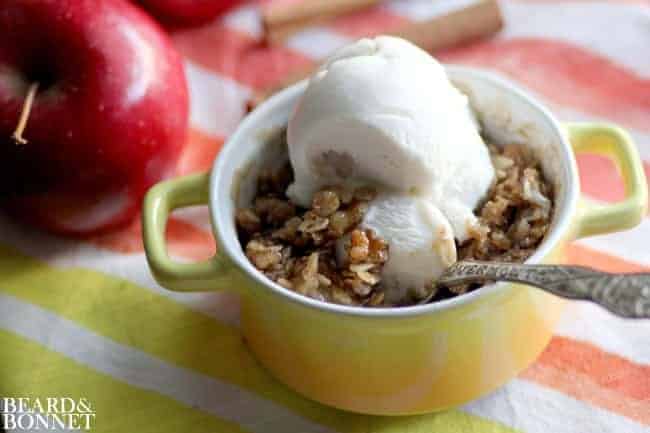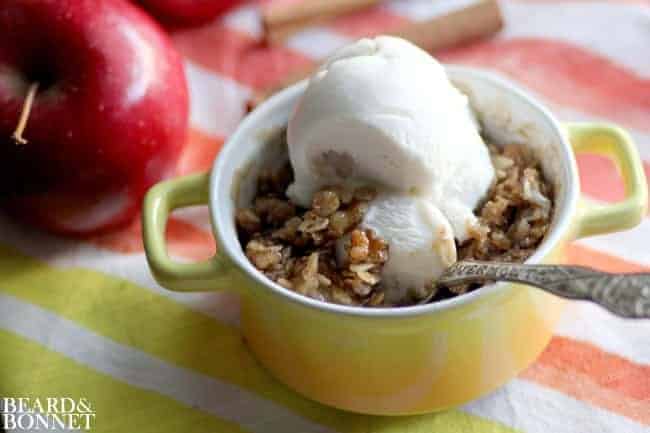 Over the course of the past week or so I have shown my absolute adoration of everything pumpkin, but I thought that it was about time that I swapped over to another seasonal favorite, the apple! Nothing else can evoke the warm and fuzzy at home feeling that a baked apple treat can offer. Last year, I found a really delicious version of apple crumble from Epicurious, the only problem for me was the apple to crumble ratio and the fact that I have a slight obsession with the pairing of apples and ginger that their version didn't satisfy. A few days ago Trader Joe's was selling every variety of apple imaginable by the peck and I just had to get my hands on a bag of Rome apples! I couldn't wait to try to gingerfy, yes I know that isn't a real word, last years apple crumble. The results were pretty amazing if I do say so myself, I paired these with a heaping scoop of dairy free, vanilla bean coconut ice cream and they really were drool worthy. My only suggestion for these is to make a double batch so that everyone has seconds.
Ginger Apple Crumble (Gluten-Free and Vegan)
serves 4
2 large Rome apples
3 Tbsp. lemon juice
1/4 cup water
1/2 cup + 1 Tbsp. light brown sugar
1/2 cup gluten-free rolled oats
3 Tbsp. Earth Balance or butter
1/4 tsp. salt
1/4 tsp. cinnamon
1 Tbsp. crystallized ginger, chopped
1/4 cup walnut pieces
Put oven rack in middle position and preheat oven to 375°F. Peel and halve apples, then core. Cut apples into thin slices and toss with lemon juice and 1 tablespoon brown sugar in a bowl. Divide apples among 4 individual sized baking dishes, overlapping slices, and sprinkle each serving with 1 tablespoon water. Bake on a baking sheet until apples are crisp-tender, about 20 minutes. Meanwhile, stir together oats, cinnamon, salt, ginger, and walnuts in a bowl until combined. Rub Earth Balance into oat mixture with fingers until evenly distributed and the topping is crumbly. Sprinkle topping over apples and bake until topping is golden, 25 to 30 minutes more. Transfer dishes to a rack to cool at least 10 minutes. Serve warm or at room temperature.
We are happy to have shared this post at the Gluten-Free Friday's link up party hosted by Vegetarian Mama, Eat.Live.Make, and Gluten Freed R.D.! Hop on over to find more great gf recipes.
(Visited 1 times, 1 visits today)