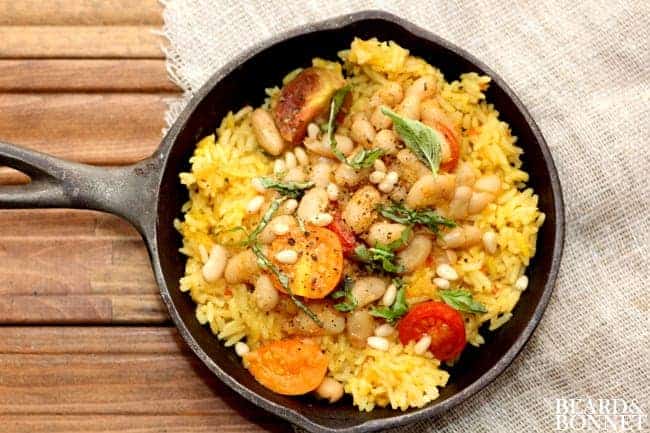 A few days ago I posted a recipe for Sofrito, I thought that I would follow that up with a post showing you how to use it to help build complex flavor profiles for simple dishes. I LOVE rice dishes especially one with saffron and sofrito! I usually top our rice dishes with some type of bean/veggie combo; this one utilizes cannellini beans, heirloom cherry tomatoes and sofrito all married together in a hearty vegetable stock. Really no need for a recipe there, although Bon Apetite has a nice one with their own sofrito recipe that I adapted mine from, just warm the sofrito with a little olive oil, drop in the beans add the broth and cherry tomatoes then cook down until the stock reduces into a hearty sauce. I prefer to eyeball it for dishes like this…a little of this, a sprinkle of that, you really can't go wrong with beans and veggies! The rice is really just as simple and once you have made it a time or two there will be no need for this recipe and you can tweak the flavors to compliment any main dish that you are serving.
Saffron Rice with Sofrito
Serves 4
1 3/4 cup hearty vegetable stock
2 pinches of saffron threads
1 cup long-grain white rice, I use basmati, rinsed and drained
3 Tbsp. sofrito
1 Tbsp. extra virgin olive oil
1/8 tsp. ground coriander
Kosher salt and pepper, to taste
1/3 cup pine nuts, toasted
1-2 Tbsp. nutritional yeast, optional
In a large measuring glass or bowl heat the vegetable broth in the microwave for 2-2 1/2 minutes until almost boiling. Add the saffron threads and stir, set aside for 5 minutes to steep.
Place the olive oil in a medium sized pot over medium heat. Once the oil is warm add the sofrito and stir constantly for about a minute. This will warm up the sofrito and it well literally "melt" in the pan. Add the rice and cook stirring frequently for another minute. Stir in the saffron and vegetable broth mixture and add the coriander and nutritional yeast, stir well and bring to a boil. When the rice hits the boiling point place a lid over the pot, reduce the heat to a simmer and allow the rice to cook undisturbed for 20-25 minutes. Most of the liquid should have been absorbed into the rice at this point and the rice should be tender.
Remove the rice from the heat and allow to stand, covered, for an additional 10 minutes. Fluff the rice with a fork and toss in the toasted pine nuts. Season with salt and pepper to taste.
*This rice is really great with fresh herbs tossed into it or sub in other nuts like almonds or walnuts instead of the pine nuts.
We are happy to have shared this post at the Gluten-Free Friday's link up party hosted by Vegetarian Mama, Eat.Live.Make, and Gluten Freed R.D.! Hop on over to find more great gf recipes.