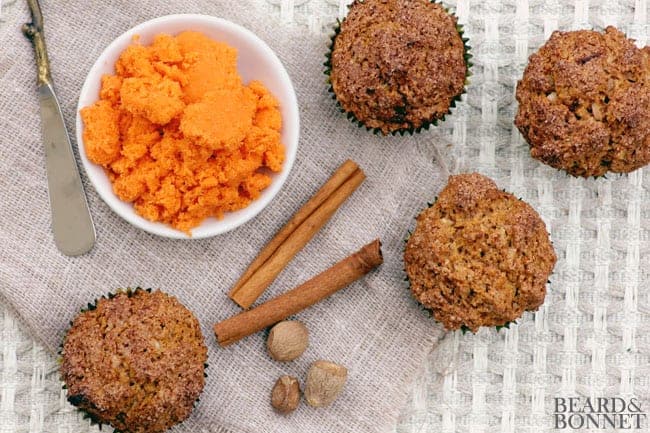 A few weeks ago we discovered that our son, Kash, really loves carrot juice. The gluten-free, organic carrot juice at our local Whole Foods was $6 for a medium-sized bottle! Not that I have a problem paying for something really healthy for our kids that they love, but if I can make it myself and save money in the process than I would rather do that.
Todd purchased a juicer a few years ago with the best intentions of using it, but since we have moved a few times the box just kept getting shoved in the back of the cupboard with the other appliances and gadgets that we rarely use. With my aversion to $6 bottles of juice I decided that it was time to pull it out and get to work. I purchased a 5 lb. bag of carrots, a few lemons and a couple of apples so that I could create the perfect custom blend of carrot juice. The juice itself turned out great, but after juicing those 5 lbs of carrots I was left with another dilemma. All of the carrot pulp that was left over was enough to fill a gallon storage bag and I couldn't bring myself to throw it out. After all the whole purpose to juicing my own veggies was to save money not create waste and throw away perfectly good food! I decided to try a few different ways that I could not only juice fruits and vegetables to make great healthy juices for my family but use the "waste" from the juicing process to create other yummy treats we could enjoy.
These muffins are a perfect way to start your day; they are slightly sweet and wholesome…not to mention DELICIOUS! They are heartier than a light fluffy blueberry muffin with a texture that is closer to that of a really good bran muffin. One or 2 of these little beauties will keep you going all morning long!
Carrot and Coconut Muffins (gluten-free)
adapted from Gluten-Free Baking Classics
makes 12-14 muffins
2 cups Brown Rice Flour Mix, see recipe below
2/3 cup granulated sugar
1 Tbsp. baking powder
1 tsp. baking soda
3/4 tsp. xanthan gum
2 tsp. cinnamon
1/8 tsp. mace
1/4 tsp. salt
1 cup carrot pulp or finely shredded carrots
1/2 cup finely chopped walnuts
1/2 cup sweetened shredded coconut
1/2 cup unsweetened coconut milk
1/2 cup canola oil
2 large eggs
1 tsp. gf vanilla extract
Cinnamon sugar for garnish, see recipe below
Preheat oven to 350ºF with a rack positioned in the center of the oven. Line muffin pan/pans with liners or grease lightly with cooking spray.
In a large mixing bowl combine the flour, sugar, baking powder, baking soda, xanthan gum, cinnamon, nutmeg, and salt. When thoroughly combined add the carrot pulp, coconut and walnuts and stir to combine. *I used my hands to incorporate the carrot pulp because it had a tendency to clump up a little bit.
In a small bowl combine the oil and coconut milk, remove 1 Tbsp. of the mixture and discard it. Beat in the eggs and vanilla. Add all of liquid ingredients to the dry and stir until blended.
Fill muffin cups 2/3 full and sprinkle the tops of the muffins with cinnamon sugar. Bake for 18-25 minutes until light golden brown. Remove from pan and serve immediately.
Brown Rice Flour Mix
2 cups brown rice flour, finely ground
2/3 cup Potato starch, not potato flour
1/3 cup tapioca flour
Combine all of the ingredients in a bowl and mix well to combine.
Cinnamon Sugar Topping
2 Tbsp. sugar
1/2 tsp. cinnamon
Combine and stir well.
We are happy to have shared this post at the Gluten-Free Friday's link up party hosted by Vegetarian Mama, Eat.Live.Make, and Gluten Freed R.D.! Hop on over to find more great gf recipes.