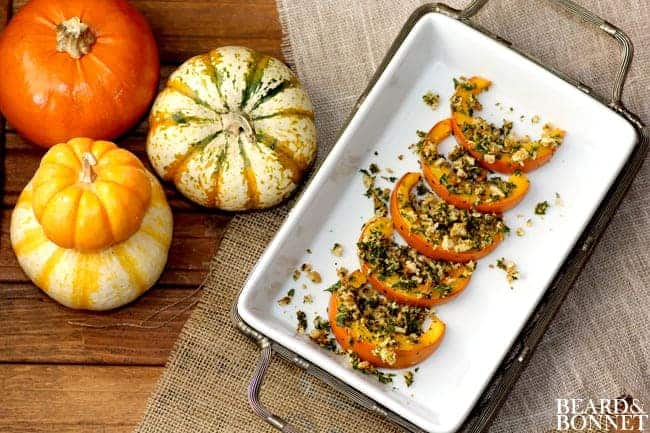 Yesterday, I ventured into our local Trader Joe's and I was greeted by the most beautiful display of pumpkins and gourds. The front of the store was overflowing with Cinderella Pumpkins, my personal favorite, pumpkin "trees" and decorative gourds of all sizes. It really set my mood for the rest of the season and I immediately started craving pumpkin! I love the little 1.5-2 pound baking pumpkins that are in abundance this time of year too and I can't help but pick up a few every time I visit the market. When I get home I perch them all around the house for decoration and then we roast and eat them when the mood strikes. (*Write the date you purchased on the bottom of the pumpkin so you will always know which ones you should cook first.)
Last fall, Kash was just beginning to really enjoy solid foods and I loved using my Beaba to make fresh veggie and fruit purees for him. Roasted pumpkin blended with apple cider was one of his favorite purees. Now that he is another year older and has a mouth full of teeth I decided to roast pumpkin wedges for him. I sprinkled his with a little brown sugar, ginger and cinnamon but then that left me with another 3/4 of a pumpkin left to play with. I have been dying to try a dish from my newest cookbook obsession, Plenty: Vibrant Vegetables from London's Ottolenghi, and there just happened to be a savory pumpkin dish that has made my mouth water every time I flip past it. The book's version calls for regular bread crumbs and Parmesan cheese along with sour cream in the sauce so obviously; I had to revamp it to fit our new lifestyle. After a few tweaks and about a half hour of roasting the entire house smelt heavenly. The kids and I tore through the pumpkin until there almost wasn't enough left to photograph, the flesh peeled away from the rind with ease and the crispy topping gave a pleasant savory crunch to the pumpkin. Kash wasn't a huge fan of the savory version but he did enjoy the wedges that I made especially for him. Eliza and I both agreed that this has to make an appearance on our Thanksgiving table this year. Although, I am pretty sure we will be eating this again before then.
*I have included substitutions at the bottom of the post in case you are not gluten and dairy free so that you can still enjoy in this delightful pumpkin dish.
Crusted Pumpkin Wedges
Adapted from Plenty: serves 4
1 1/2 lb. pumpkin, seeded with skin on
3 slices Udi's gluten free sandwich bread, toasted
5 Tbsp. fresh flat leaf parsley, chopped
1 Tbsp. fresh thyme, chopped
2 Tbsp. nutritional yeast
2 cloves of garlic, minced
3 lemons, zested
3/4 tsp. salt, plus more to taste
1/4 tsp. white pepper
1/4 tsp. red chili flakes
Extra virgin olive oil
Preheat oven to 375° F. Line a baking sheet with parchment paper and set aside.
Place the 3 slices of toasted gluten-free bread into the bowl of a food processor and grind until the bread reaches a small crumb about the size of Panko flakes. Measure out 5 tablespoons of bread crumbs into a small bowl and save the rest for another use.
To the breadcrumbs add the parsley, thyme, nutritional yeast, garlic, the zest of 2 lemons, salt, white pepper and chili flakes. Stir well to combine and set aside.
Cut the pumpkin into 3/8 inch thick slices and lay them flat, cut side down on the baking sheet. Brush the wedges generously with olive oil and sprinkle with the crust mixture. Make sure that each wedge is generously coated in the crumb and herb mixture, using your hands to gently pat the mixture down onto the pumpkin.
Place the baking sheet on the oven and roast for 30 minutes, or until the pumpkin is tender. If the crumb topping starts to brown to quickly before the pumpkin is cooked completely, cover loosely with foil. When the pumpkin wedges have cooked all the way through sprinkle with the remaining zest of 1 lemon and serve with the dairy free dill dipping sauce below.
Dairy Free Dill Dipping Sauce
1/2 cup dairy free sour cream or cashew cream
1 Tbsp. chopped dill
Mix the dairy free sour cream of your choice or cashew cream with the chopped dill and serve along side the pumpkin wedges.
*If you are not on a dairy free diet you can substitute 1/2 cup grated Parmesan cheese for the nutritional yeast and use real sour cream in place of the dairy free in the dipping sauce.
*If you are not gluten free and would like to make a version of this recipe you can substitue regular dried white breadcrumbs for the Udi's gluten free bread crumbs.
We are happy to have shared this post at the Gluten-Free Friday's link up party hosted by Vegetarian Mama, Eat.Live.Make, and Gluten Freed R.D.! Hop on over to find more great gf recipes.
(Visited 1 times, 1 visits today)