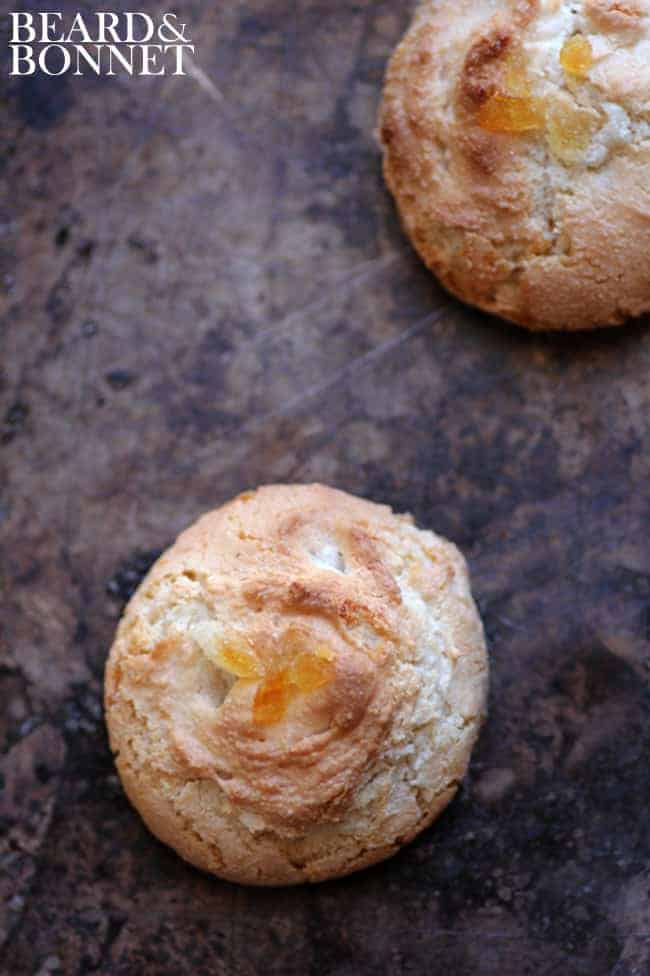 It's no secret around here that I like to have homemade gluten-free desserts on hand. Like most of you, there are lunchboxes headed out of the door daily around here and you can't expect your kids/spouses to eat a healthy lunch without the appropriate dessert to finish it off. My family has declared their love for my new Chewy Ginger Amaretti Cookies, and although I intended for them to be crispy when I was developing the recipe the chewy texture was unexpectedly delightful. These cookies are sweet with a hint of heat at the finish from the ginger, and the crispy exterior somehow marries with the chewy interior perfectly. Do you have any kitchen mishaps that turned out to be better than what you were aiming for?
Chewy Ginger Amaretti Cookies
Makes approx 2 dozen cookies
8 oz. almond paste
1 cup sugar
2 large egg whites
1 tsp. powdered ginger
1 Tbsp. Disaronno, optional
pinch of salt
1 Tbsp. crystallized ginger pieces, chopped
Preheat the oven to 375°F and line two baking sheets with silicone baking mats or parchment paper.
In the bowl of a food processor, break up the almond paste into small pieces by pulsing a few times, add the sugar, salt, and powdered ginger; process until the pieces are very fine.
Combine the egg whites and Disaronno, if using, and add to the food processor in 3 additions, thoroughly mixing after each addition; process until the dough is very smooth.
Place rounded tablespoons of dough onto the prepared baking sheets spaced about an inch apart. Lightly press the top of each cookie with a dampened finger to smooth out the surface then sprinkle a few chopped ginger pieces right on top.
Bake the cookies for 15 minutes,  turning the pans halfway through. You are looking for a pale golden color and for the cookies to begin to crack slightly, about 15 minutes.
Let cookies cool briefly on baking sheets, before transferring the cookies on the mats or paper to a wire rack to cool completely. *If using parchment paper the cookies may stick to the paper, simply turn the paper over, and use a damp paper towel to gently wipe the bottom of the parchment paper to release the cookie. Also, I have noticed that these cookies baked on parchment paper tend to burn faster on the bottom so you will want to keep an eye on them towards the end of the baking time.