It has been a wild ride the last couple of weeks around here…I won't even get into all of the details with you here except to say, thank you! Thanks to all of you who have sent emails, messages, and left comments packed full of best wishes for the speedy recovery of our son. I am happy to say that he has started to regain his appetite, is again sleeping through the night, and is on his way back to his normal, happy, silly self!
Remember these brownies? A few weeks ago I shared my recipe for scrumptious gluten-free brownies topped with a peanut studded caramel sauce. Decadent…and totally worth every last calorie! They taste like a brownie and a Snickers bar all wrapped up into one bite…does it get any better than that? Anyways, in that post I promised to share a simple way to make a pour-able caramel sauce with the leftover caramel that wasn't used in the brownie drenching festivities. Seriously, you can't let that last little bit of caramel go to waste can you?!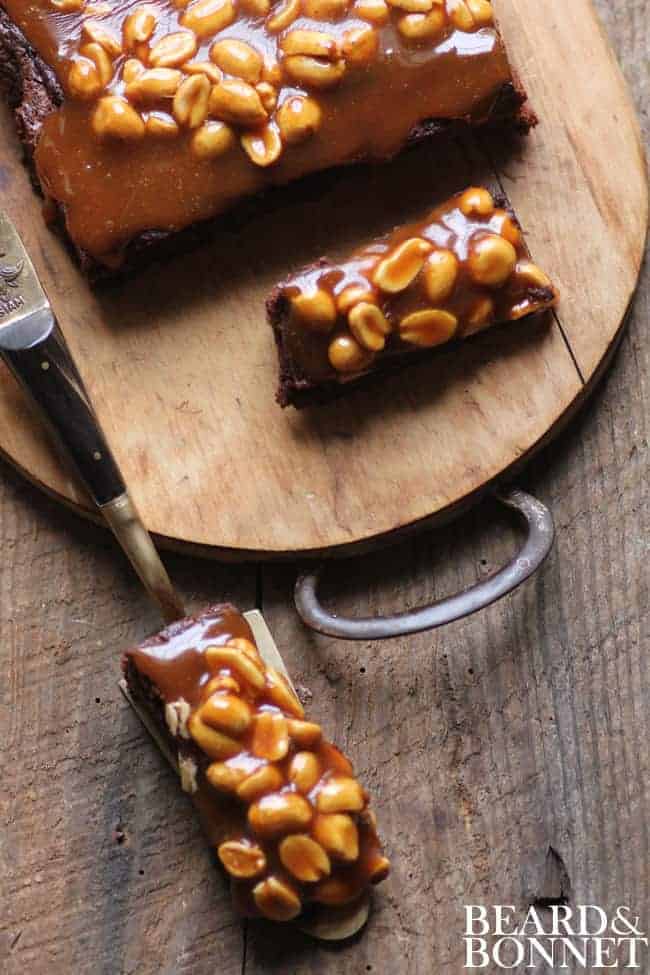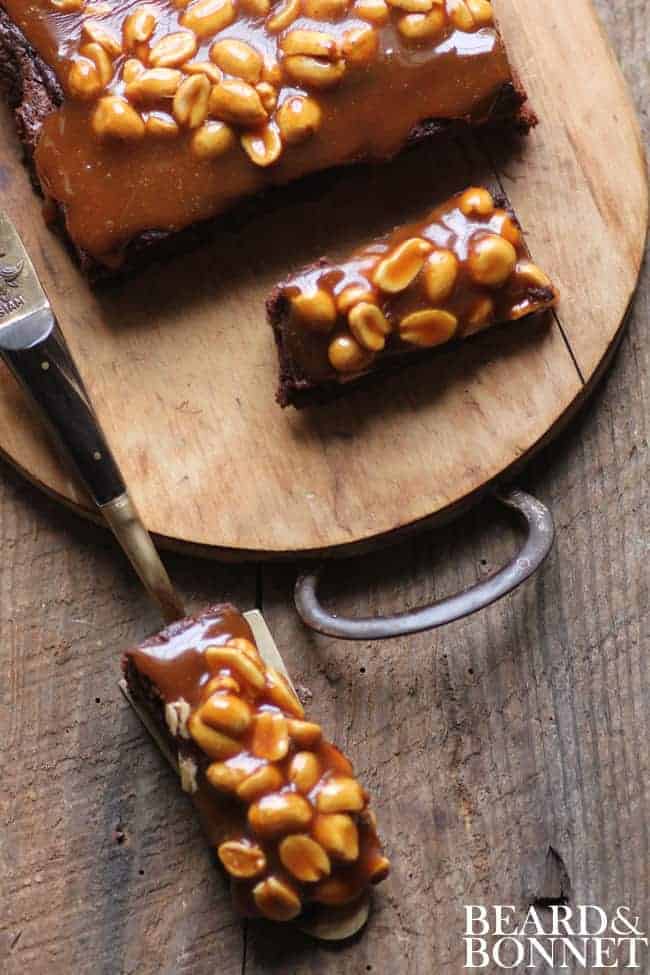 I must admit that I made sundaes for dessert with these brownies,vanilla So Delicious ice cream, and this sauce poured on top. We were gluttons and it felt really good and maybe a little bit bad all at the same time! I don't advocate brownie sundaes drenched in caramel sauce as a part of your daily diet, but I do recommend occasionally spoiling yourself and your family with an unexpected special treat! I am including the original recipe for the caramel with peanut topping, sans peanuts, in this post to make it easy for you if you have another idea in mind for all of that yummy caramel goodness.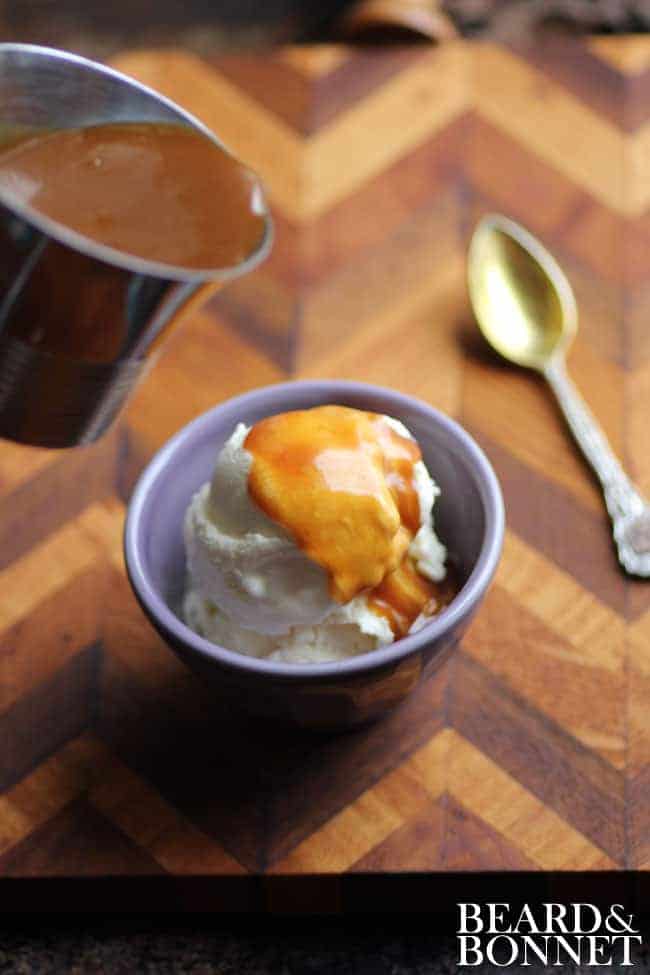 Caramel
2 cups sugar
1/2 cup water
1 1/2 Tbsp. light corn syrup
2/3 cup heavy cream
2 Tbsp. unsalted butter, at room temperature
Put the sugar, water, and corn syrup into a medium heavy-bottomed saucepan, stir until combined and then place the pan over medium-high heat. Heat, without stirring, until the caramel turns a deep amber color, between 5-10 minutes. As the sugar is caramelizing you can wipe down any splatters from the sides of the pan with a pastry brush dipped in cold water. To test the color of the caramel, drop a small amount onto a white plate. The lighter the shade of the caramel the less flavor it will have so be sure that it is nice and dark.
When the caramel has reached the desired color lower the heat a bit and add the cream and butter. *IMPORTANT NOTE: The caramel will splatter and bubble up when you add the cream and butter. Be sure to stand back and allow the splatters to calm down before getting near the pan again. When the spatters have calmed stir the caramel to dissolve any lumps that have formed. Transfer the caramel to canning jars and allow to cool to room temperature before storing in the refrigerator. The caramel will solidify when cooled but you can reheat gently in the microwave in 10-15 second intervals until you can stir/pour.
Velvety Caramel Sauce
1/2 cup of caramel
1 cup heavy cream
Melt the 1/2 cup of caramel in the microwave, heating in 20-30 second intervals at a time, or in a  heatproof bowl over a pan of simmering water. Heat until the caramel is easily stirred and can be poured.
Bring the heavy cream to a boil in a medium saucepan. Add the caramel and stir well with a rubber spatula to mix; allow the sauce to boil for 3 minutes. *The sauce will bubble and pop so be really careful to stand away from the pan. At the end of the cooking time, remove the pan from the heat and pour the velvety smooth caramel sauce into its own canning jar. Allow to cool to room temperature before storing in the refrigerator. The caramel sauce will not solidify during cooling like the caramel above however warming slightly in the microwave (10-15 seconds) is suggested before poring over ice cream or anything else that you would like to have a little touch of golden caramel goodness!
(Visited 1 times, 1 visits today)