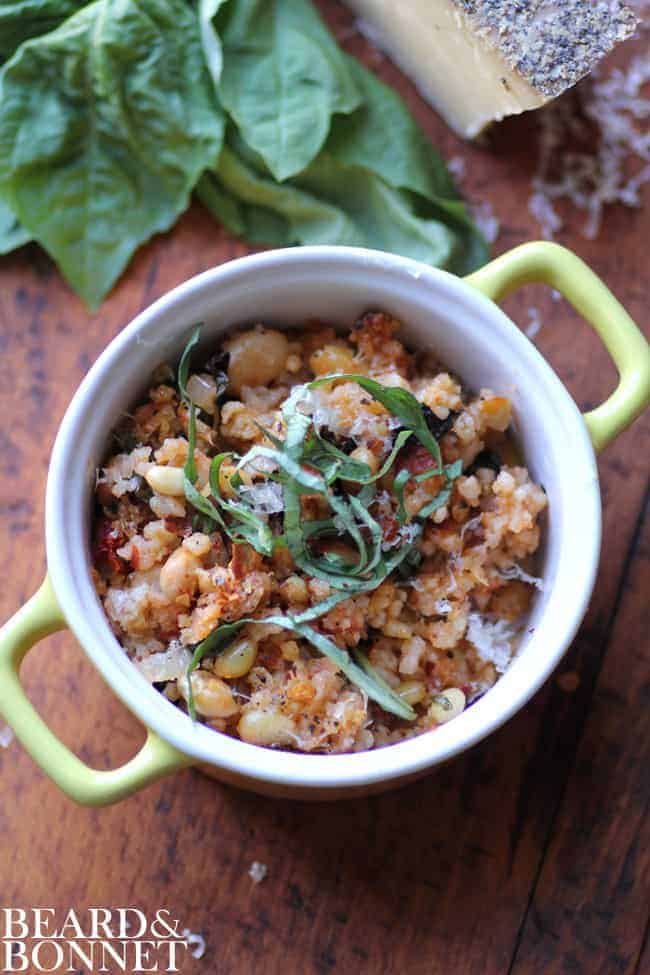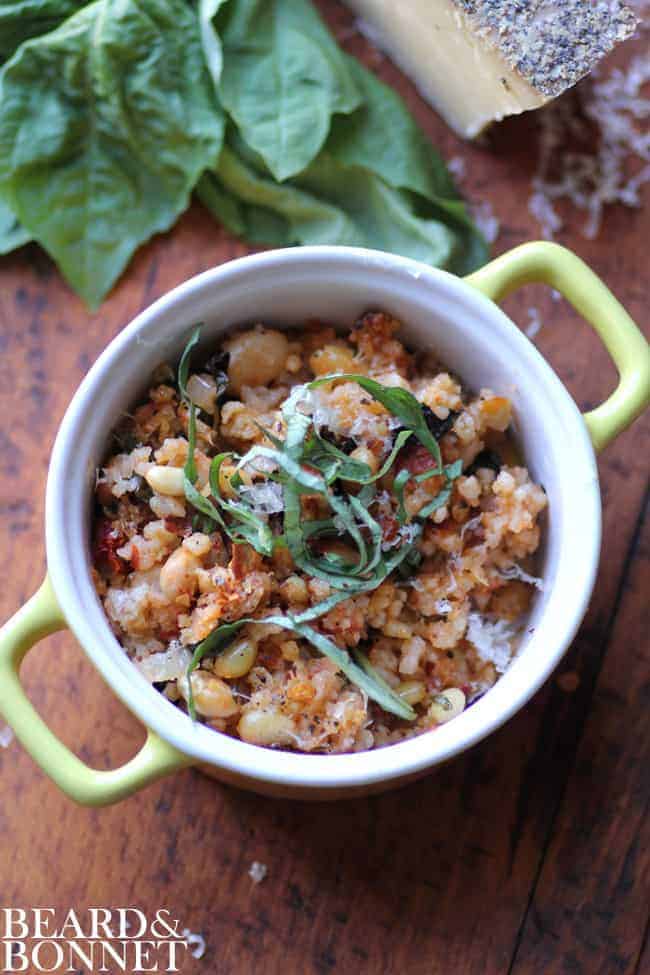 Sometimes it's really hard to please everyone at the table with one main dish. I find myself cutting up fruit for the kids a lot of nights to add to their plates because inevitably there is some dish on the table that one or both of them won't eat. So the other night when I was putting dinner together, and I found myself drawn to the spinach and tomatoes, I just knew that I would have to make a few additions to their plates. How is it that my kids like kale and Swiss chard, but both turn their noses up to spinach?
I prepared my couscous dish and began chopping up the additional fruit "filler" while it baked and Todd set the table. For once we decided to leave the fruit ready if we needed it, but out of sight of our two fruit fanatics just to see what would happen. Wouldn't you know they both scarfed down their first helping and each of them went back for more? So much more, in fact that all but the small amount pictured above was gone by the end of our meal and the kids happily ate their fruit "filler" for dessert. *See, we don't always eat brownies for dessert! 
They never asked what the greens in their dinner were and I don't ever planning on telling them...although maybe it would help to get them to try spinach again in the future. The unexpected bonus in this dish for me was that it was even better the next day! I don't know about you, but I find that a lot of times gluten-free products like pasta and couscous don't always store so well and have a more undesirable texture when they have been cooked and kept in the fridge. This however had enough juices in it to keep the couscous from drying out and the flavors really had a chance to mingle and marry overnight in the fridge. This dish just might be making a weekly occurrence from now on in our house! Do you have any secrets or tips for storing leftover g-free products like pasta and rice to keep them from drying out? I would love to hear them!
White Bean, Spinach, and Couscous Bake
Serves 5 as a main course
1 box of brown rice Couscous, prepared as directed or substitute quinoa
1 large yellow onion, diced
3 cloves garlic, minced
1 14.5 oz can of fire roasted tomatoes, drained but juice reserved
1 can of cannelini beans, drained and rinsed
¼ cup fresh basil, minced plus an additional 2-3 Tbsp. basil for garnish, chiffonade
⅓ cup pine nuts
5 cups baby spinach
½ tsp. salt
¼ cup olive oil
Freshly ground black pepper to taste
1 cup Trader Joe's Creamy Toscano Cheese with Black Pepper or Parmesan, grated
*For the vegan option: Substitute Mozzarella Rice Shreds for the Creamy Toscano cheese and sprinkle the top of your dish with Parma!
Preheat oven to 375°F. Heat the olive oil in a large skillet over medium heat. Gently saute the onion until tender about 4-5 minutes then add the minced garlic and saute 2-3 minutes more until softened and onions are translucent. Add the drained fire roasted tomatoes and crush any large chunks with a potato masher or the back of a fork. Add the white beans and allow to cook for 5-7 minutes or until beans are warmed through, stirring frequently. Just before the beans are cooked through add the fresh spinach and gently turn and toss so that it will start to wilt, about 1-2 minutes.
In a large bowl combine 2 cups of the precooked couscous, reserved tomato juice, minced basil, pine nuts, salt and pepper; mix thoroughly. Fold the bean and tomato mixture into the couscous mixture until combined then spread half of it into the bottom of a shallow baking dish or individual ramekins. Sprinkle the grated cheese evenly over the dish then top with the remaining couscous mixture. Cover the dish with foil and bake 15-25 minutes until warmed through and bubbly. At the very end of the cooking time uncover the baking dish and pop it under the broiler just to lightly brown the top, 1-2 minutes max.
We are happy to have shared this recipe at the Gluten-Free Friday's link up party hosted by Vegetarian Mamma! Hop on over to find more great gf recipes