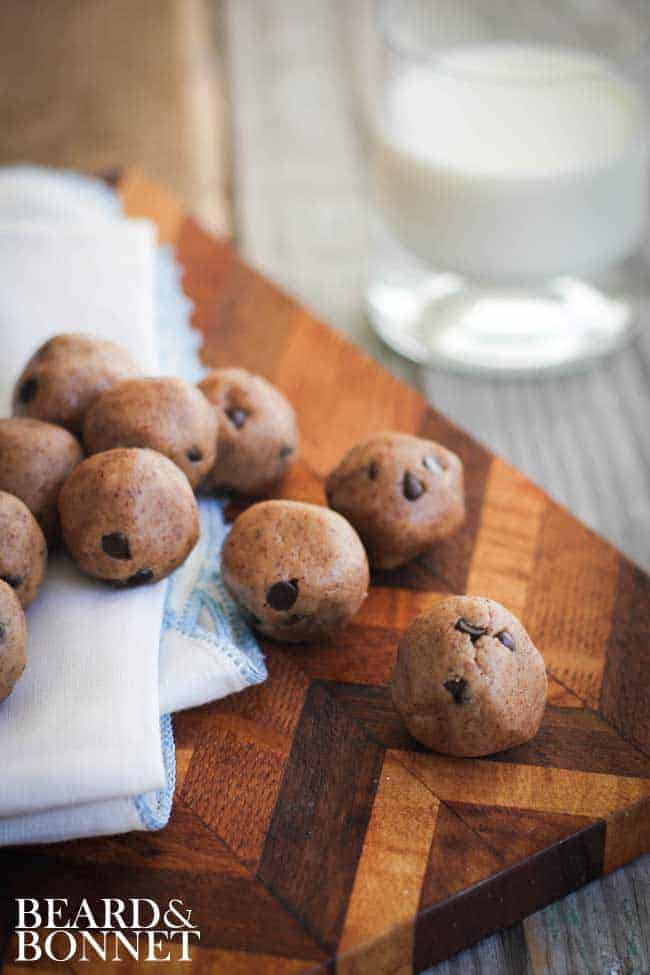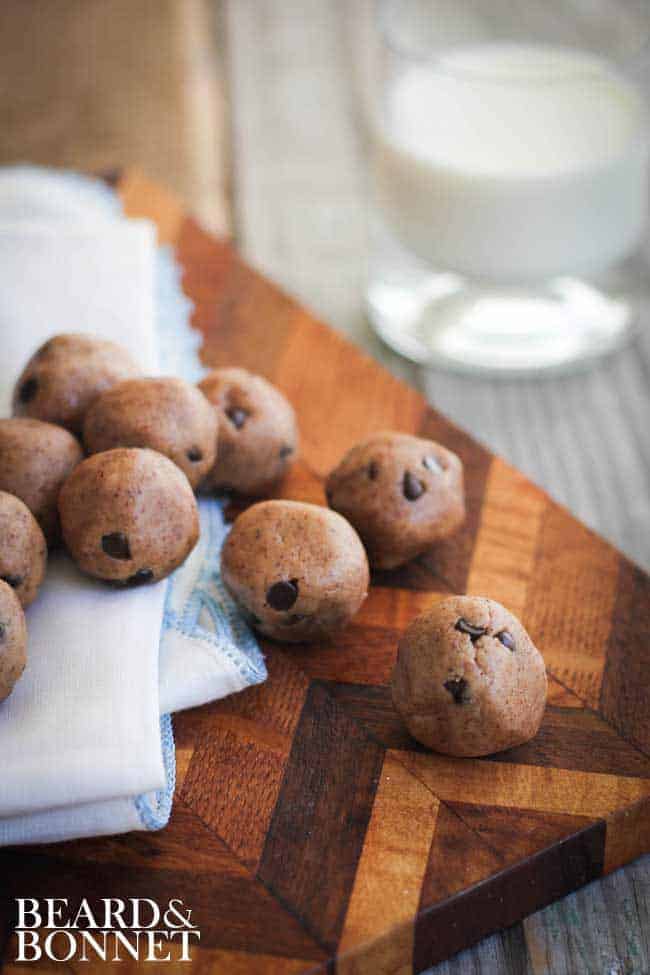 Every now and then a girl needs a special little treat, one filled with chocolate bits and decadent flavors. When our first official full week of school was over on Friday I had a huge platter of these little chocolate chip cookie dough bites waiting for Eliza to enjoy over the weekend. I love simple snacks like this for special occasions when you just want to put a big grin on your little girls face and say "Welcome to the weekend! Let's have some fun!" Truth is that we all four enjoyed them so much that we were teasing each other as we caught one another in the fridge grabbing yet another chocolate chip cookie dough bite. They didn't last long so I am sure these treats will be back on the to-make list soon!
Chocolate Chip Cookie Dough Bites
The perfect little bite to curb your sweet tooth's craving from chocolate chip cookie dough.
¼ cup

organic unsalted butter, at room temperature (for a vegan option use Earth Balance)

¼ cup

creamy almond butter

¼ cup

date sugar

½ cup

organic light brown sugar

4 Tbsp

milk of choice, I used organic whole milk this time

½ tsp

. gluten-free vanilla extract
*11/4 cup Better Batter All Purpose Gluten Free Flour

¼ tsp

kosher salt

½ cup

mini chocolate chips, I used the Enjoy Life brand
Instructions
1. In the bowl of a stand mixer or with a strong arm and a wooden spoon beat the sugars, butter, and almond butter until light and fluffy, about 2-3 minutes. Mix in the milk and vanilla. Then add the salt and the gluten free flour, mix on low or by hand until incorporated. Stir in the chocolate chips by hand.
2. Use a mini ice cream scoop or a half tablespoon measure to scoop up little balls of the dough. Gently roll the dough between the palms of your hands until the bite is smooth and perfectly round.
*Think two bite portions.
3. The cookie dough is ready to be eaten or you can store it in an air tight container in the refrigerator for 2-3 days. I prefer to eat these at room temperature, they are smoother that way, but you can absolutely eat then straight from the fridge.
Notes
* If you do not have Better Batter on hand you can substitute another gluten free all purpose flour, just make sure that you use one that doesn't contain bean flours as they can have a strange aftertaste.
Recipe Card powered by