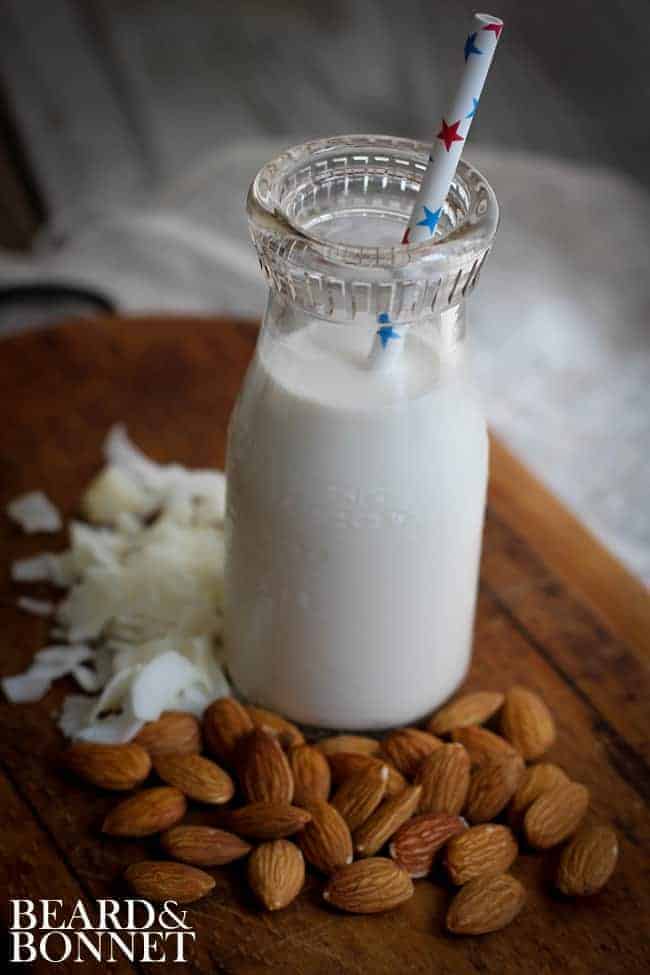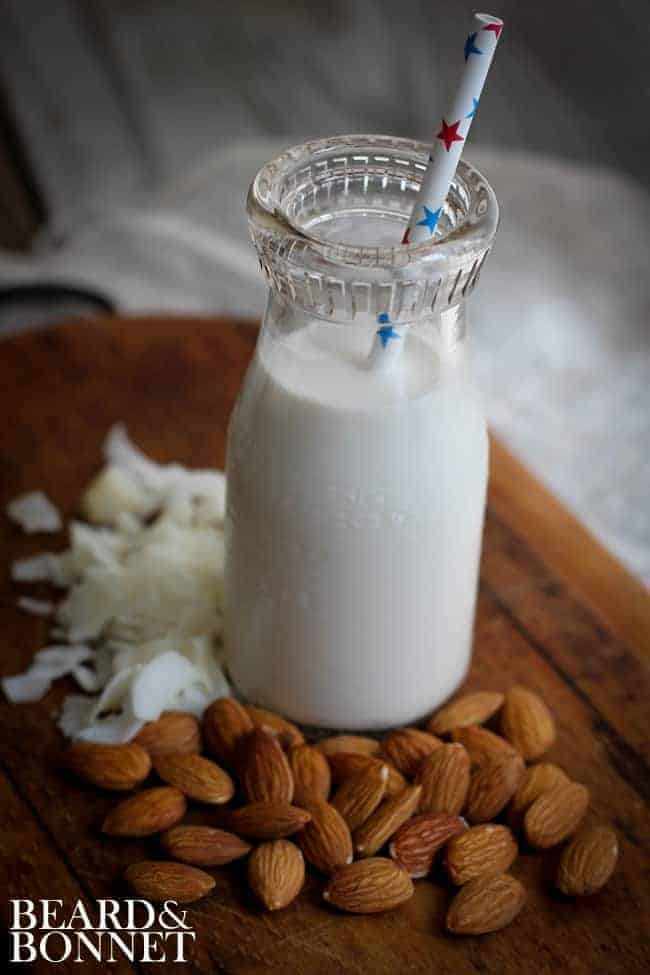 After a long week of hopscotching across the country my husband is coming home today and I simply cannot wait to see him! With that in mind I am going to be keeping this post short and sweet.
I make almond milk once a week for us to drink and use in smoothies. I usually stick to my standard slightly sweetened vanilla almond milk, but last week I decided to swap it up a bit and make coconut almond milk for us to enjoy. It was slightly richer than our usual, but had a great flavor that really worked well in my morning smoothie. The kids enjoyed sipping on this version too and it really was spectacular on top of their cereal in the morning.
I recently purchased a nut milk bag after my neighbor Beth suggested that I invest in one. I have to say that it makes the process of making nut milks at home so much easier and cleaner. If you are like us and make milk at home once a week or more it is worth the investment.
I hope you all have a great weekend Beard and Bonnet friends, go out and enjoy your family! Do something different like play a board game with your kids, or take a walk through the park. You could even spend some quality time teaching your kids how to turn almonds into almond milk; my kids love that kind of stuff.
Coconut Almond Milk
Our favorite vanilla almond milk gets an update with the addition of coconut and coconut cream.
1 cup

raw almonds

½ cup

flaked unsweetened coconut, I use Bob's Red Mill

3.5 cups

of filtered water, plus more for soaking

1

can full fat coconut cream

1

vanilla bean, scraped or

1 tsp

. vanilla extract

¼ tsp

. salt

1

-

3

Tbsp. evaporated cane syrup (you could use maple syrup, agave, or honey instead)
Instructions
Place the almonds and coconut in a bowl and cover with water. Allow to soak overnight. In the morning drain the soaking liquid and rinse the almonds and coconut until the water runs clear.
Combine the soaked almonds and coconut with 3.5 cups of filtered water in a high-speed blender and blend until smooth. This usually takes me about 2 or 3 minutes. Strain the mixture through a fine mesh sieve lined with cheesecloth or a nut milk bag.
Return the strained milk back into the blender with the remaining ingredients and blend until combined. Add more or less salt or sweetener to taste.
Recipe Card powered by