It's day 10 of our 12 Days of Gluten Free Cookies series!!! Oh man, because of that yummy bonus cookie yesterday from Joy the Baker I guess we will actually have 13 days of cookies..I think I need a new graphic. Oh well, you don't mind MORE cookies do you? I didn't think so.
If you have been around for the first few recipes of this series then you know exactly what I am about to say, but just in case you are new to the 12 Days of Gluten Free Cookies craze here are a few things you should know…
All of the recipes in this series are gluten free and vegetarian, some are vegan, and some are dairy free too. If you have a dietary restriction some of the recipes may just be a simple substitution away from fitting into your diet. So, please check the recipes before deciding that a cookie is not for you and if you have questions leave me a comment. I am here for you!!
I used King Arthur Flour – gluten free multi-purpose flour for all of the cookies in this series. I simply wanted to make sure that all of the ingredients I used for these cookies were easy to find. Second, I know that custom blending flours can be intimidating so for now we are going to stick with something easy.I also love Vanilla Extract from King Arthur Baking Company. Their Vanilla Extract is great quality and is a pantry staple that you can use time and time again in recipes.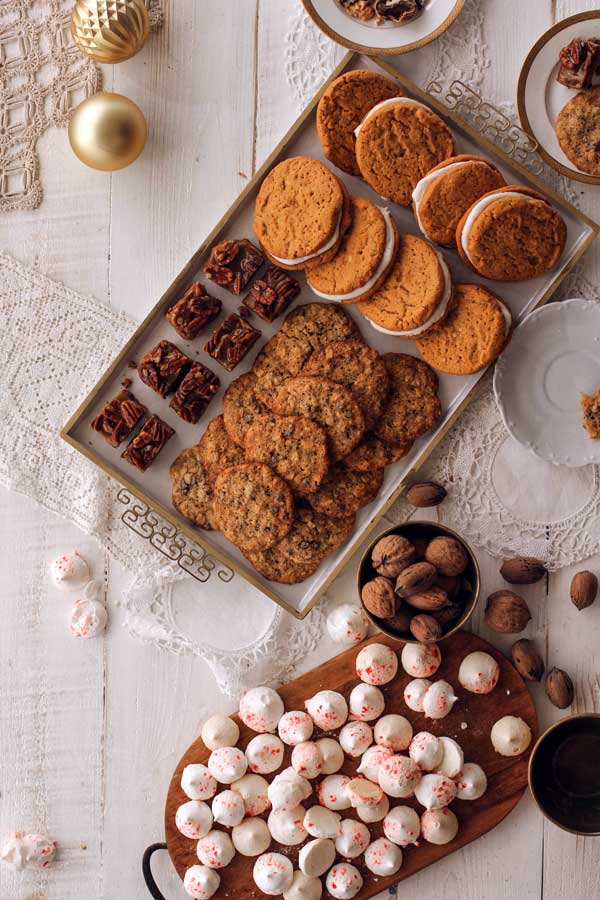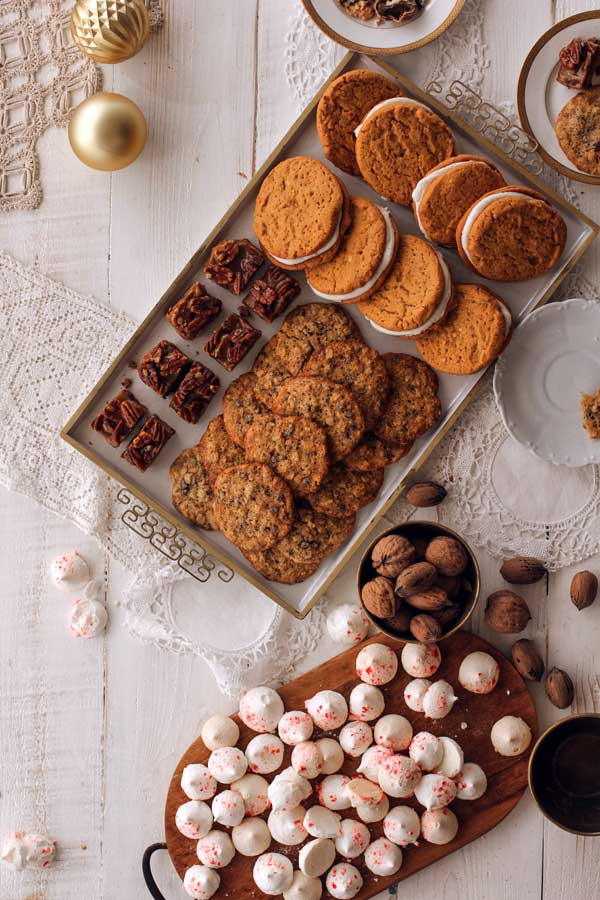 Today's Chocolate Chip Pecan Pie Bars are a cross between a pecan pie and a shortbread cookie with some chocolate thrown in. You can dig that right? Maybe you have seen my original recipe for pecan pie bars, they are the stuff that southern girl's dream of.
In case you didn't know, in the south we sometimes like to pair our pecans with chocolate and when we make pecan pies they are rich and decadent. Of course, these bars absolutely follow suit. They are super rich and honestly a little nibble goes a long way, which means when you make a big pan there is plenty for gifting and some left for you to enjoy too!
My original pecan pie bar recipe calls for Cup 4 Cup gluten free flour and it really does work great for the bars, however I baked this batch with King Arthur Flour Gluten Free Multi-Purpose Flour to see if there was much of a difference. I found that the only difference was that the crust was slightly crumbly when I went to cut the first test batch of bars into small cubes. My solution is simple, once the bars have baked and completely cooled refrigerate them until firm to make them easier to slice. Then the bars should be just fine to eat!
If you've tried this Chocolate Chip Pecan Pie Bar Recipe, I would be so grateful if you would rate it. Let me know what you think in the comments below. I just love hearing from you, and your reviews and comments really help others that visit This Mess is Ours!
Print
Chocolate Chip Pecan Pie Bars
Don't forget to rate the recipe, and let me know what you think about these Chocolate Chip Pecan Pie Bars in the comments below. I just love hearing from you. Your reviews/comments really help other people that visit This Mess is Ours!
Author:
Yield:

3

dozen

1

x
For the crust:

1 cup

plus 2 tablespoons unsalted butter, at room temperature

¾ cup

packed light brown sugar

½ teaspoon

salt

¼ cup

unsweetened cocoa powder

2 ¾ cups

gluten free all-purpose flour

½ cup

mini chocolate chips
For the filling:

½ cup

unsalted butter

½ cup

packed light brown sugar

¼ cup

plus 2 tablespoons honey

2 tablespoons

granulated sugar

2 tablespoons

heavy cream

¼ teaspoon

salt

2 cups

raw pecan halves

½ teaspoon

gluten free pure vanilla extract
Instructions
For the crust: Preheat the oven to 375°F. Place the softened butter and brown sugar into the bowl of an electric mixer fitted with the paddle attachment; mix on medium speed until light and fluffy, about 2- 2 ½ minutes. Add the salt and cocoa powder then mix to combine. Add the gluten free all-purpose flour, 1 cup at a time, mixing well after each addition. Continue mixing until the batter clings together in clumps. Fold in the chocolate chips gently.
In a 9 x 13 x 2-inch baking pan press the dough into an even ¼-inch thick layer. Prick the dough all over with a fork and place the pan in the refrigerator to chill for approximately 15-20 minutes. When the dough is firm transfer the pan to the preheated oven and bake until golden brown, 18-20 minutes. Transfer the pan to a wire rack to cool completely. Reduce the oven temperature to 325°F.
For the filling: Place the butter, brown sugar, honey, granulated sugar, and heavy cream in a saucepan over high heat. Bring to a boil, being sure to stir constantly until the mixture coats the back of a spoon, about 1 minute. Remove from the heat and add the salt, nuts and vanilla. **Be careful when adding the vanilla to the hot sugar mixture. It will splatter and foam** Stir to combine and pour the filling over the cooled crust in an even layer.
Bake for 15-20 minutes until the filling is bubbling, Transfer the pan to a wire rack and cool completely. Once the bars have cooled and the topping has set run a paring knife around the edges of the pan and invert the bars onto an empty sheet pan. Invert again onto a cutting board and use a sharp knife to cut into 1 x 3-inch bars. Bars can be stored in an airtight container at room temperature for a few days.
Notes
The prep time entered for this recipe is active prep time. This does not include the time for the butter to soften or for the crust to cool in between baking periods.
Recipe Card powered by
Want to be a part of our online community outside of the blog? It's easy!! All you have to do is follow @THISMESSISOURS on FACEBOOK, INSTAGRAM, TWITTER, YOUTUBE, or PINTEREST to see cooking demos and peeks into our day to day life.
What are the health benefits of pecans?
Pecans are packed with essential nutrients such as fiber, thiamine, and zinc. They are especially high in copper. This helps to produce red blood cells, boost the immune system, and improve nerve cell functions. Pecans are also known to promote heart health and brain functions.
Click here for more information on the health benefits of pecans.