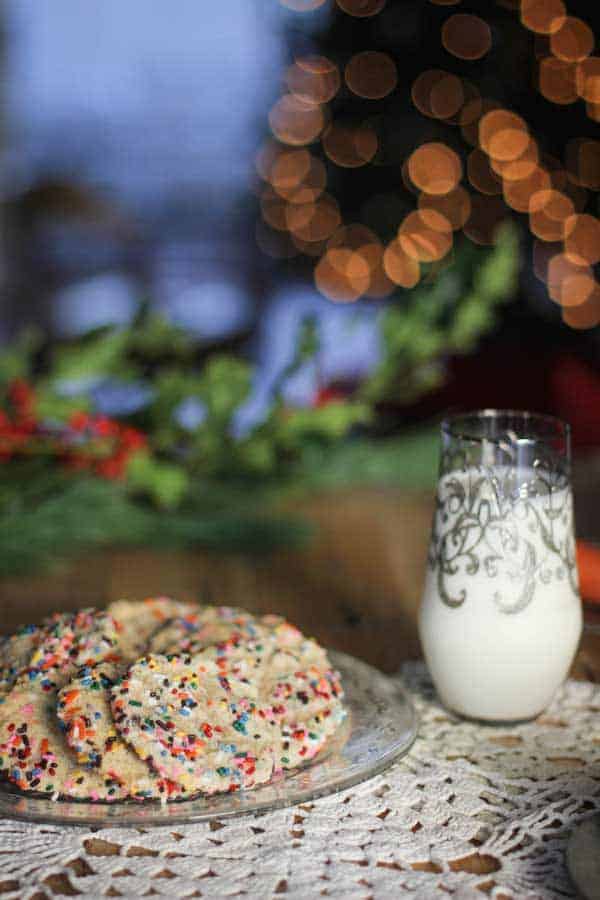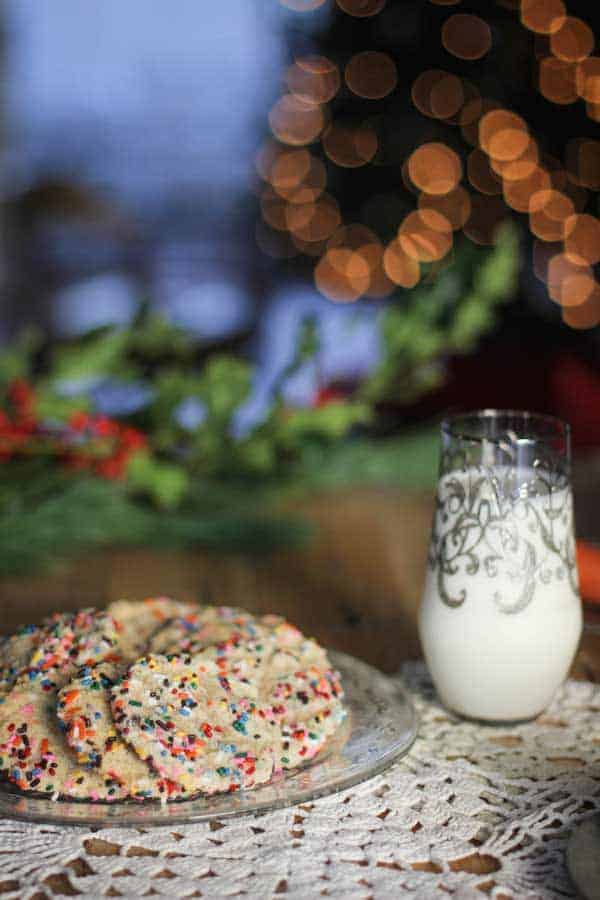 I asked one of the most amazing food bloggers I know, Joy Wilson,  if I could share a gluten free version of my favorite cookie from her new cookbook Homemade Decadence. And she said yes! So, here it is...hang on to your apron strings and grab your sprinkles. This Vanilla Bean Confetti Cookie Recipe is amazing.
If you have been around for the first few recipes of this series then you know exactly what I am about to say. But just in case you are new to the 12 Days of Gluten Free Cookies craze, here are a few things you should know…
All of the recipes in this series are gluten free and vegetarian. Some are vegan, and some are dairy free too. If you have a dietary restriction, some of the recipes may just be a simple substitution away from fitting into your diet. So, please check the recipes before deciding that a cookie is not for you. If you have any questions, leave me a comment. I am here for you!!
I used King Arthur Flour – gluten free multi-purpose flour for all of the cookies in this series. I simply wanted to make sure that all of the ingredients I used for these cookies were easy to find. Second, I know that custom blending flours can be intimidating. So for now, we are going to stick with something easy. I also love Vanilla Extract from King Arthur Baking Company. Their Vanilla Extract is great quality and is a pantry staple that you can use time and time again in recipes.
To know me is to know that I am a HUGE Joy the Baker fan. I mean, seriously, no one bakes goodies like that lady. (Except maybe my pastry chef mom - love ya mom!) So naturally, when Joy reached out to me and said she would like to send me a copy of her newest book, I was over the moon! It was like being a kid at Christmas flipping through the pages. Then when my eyes settled on her Vanilla Bean Confetti Cookie Recipe, I knew that my little fruit bandit and I had a cookie making date in our future.
Enjoy baking and decorating this Confetti Cookie Recipe with the family.
I have no words for the excitement that comes over a child when they see sprinkles, or as Kash calls them "sprinklers". He had the best time rolling the dough into the bowl of sprinkles. There were so many giggles! This is our fourth time making this confetti cookie recipe now, and to say my kids love them would be an understatement. They have even decided that these are the cookies that they are leaving Santa this year, along with a big fancy glass of milk, and a carrot or two for his reindeer.
I think Santa will be pleased and just may eat more than a nibble of our cookie offerings. What better way to spread holiday cheer than with a belly full of sprinkles?
Want to know more about Homemade Decadence? Although it is not a gluten free cookbook, I have tested quite a few recipes now using King Arthur Flour's gluten free multi-purpose flour. We've had really great success with all of them. If you haven't checked out Joy's site, she has a few tasty gluten free recipes to offer you there too - just click here.
If you've tried this Gluten Free Vanilla Bean Confetti Cookie Recipe, I would be so grateful if you would it. Let me know what you think in the comments below. I just love hearing from you and your reviews and comments really help others that visit This Mess is Ours!
Print
Gluten Free Vanilla Bean Confetti Cookies from Homemade Decadence
Author:
Yield:

18

cookies

1

x
1 ½ cups

gluten free all purpose flour

1 teaspoon

baking powder

1 teaspoon

cream of tarter

½ teaspoon

baking soda

½ teaspoon

Kosher salt

½ cup

(

1

stick) unsalted butter, at room temperature

¾ cup

sugar

1

vanilla bean

1

large egg

1 teaspoon

pure vanilla extract

½ cup

sprinkles (Preferably jimmies )
Instructions
In a medium bowl whisk together the gluten free flour, baking powder, cream of tartar, baking soda, and salt.
In the bowl of an electric mixer fitted with a paddle attachment, beat the butter and sugar at medium speed until light and fluffy, about 3 to 4 minutes. Split the vanilla bean and scrape the seeds into the bowl. Add the egg and vanilla extract, and beat until thoroughly combined.
Reduce the mixer speed to low, and slowly add the dry ingredients into the wet ingredients. The dough will be thick (you may have to finish incorporating the mixture with a spatula). Fold in ¼ cup of the sprinkles.
Place the remaining ¼ cup sprinkles in a bowl. Scoop up 2 tablespoons of dough and roll into a ball. Dip the ball in the bowl of sprinkles to cover lightly. Put the balls on a plate. Repeat with the remaining sprinkles and dough. Chill the dough for at least 2 hours.
Place racks in the center and upper third of the oven and preheat the oven to 350° F. Line 2 baking sheets with parchment paper.
Transfer the chilled dough balls to the prepared baking sheets, leaving about 2 inches of space in between each ball.
Bake until the cookies have spread and are just beginning to brown around the edges, but are mostly pale and soft, 8 to 10 minutes. Let cool on the cookie sheets for 5 minutes before transferring to wire racks to cool completely. The cookies will keep in an airtight container for up to 3 days.
Recipe Card powered by
Want to be a part of our online community outside of the blog? It's easy!! All you have to do is follow @THISMESSISOURS on FACEBOOK, INSTAGRAM, TWITTER, YOUTUBE, or PINTEREST to see cooking demos and peeks into our day to day life.
Frequently Asked Questions