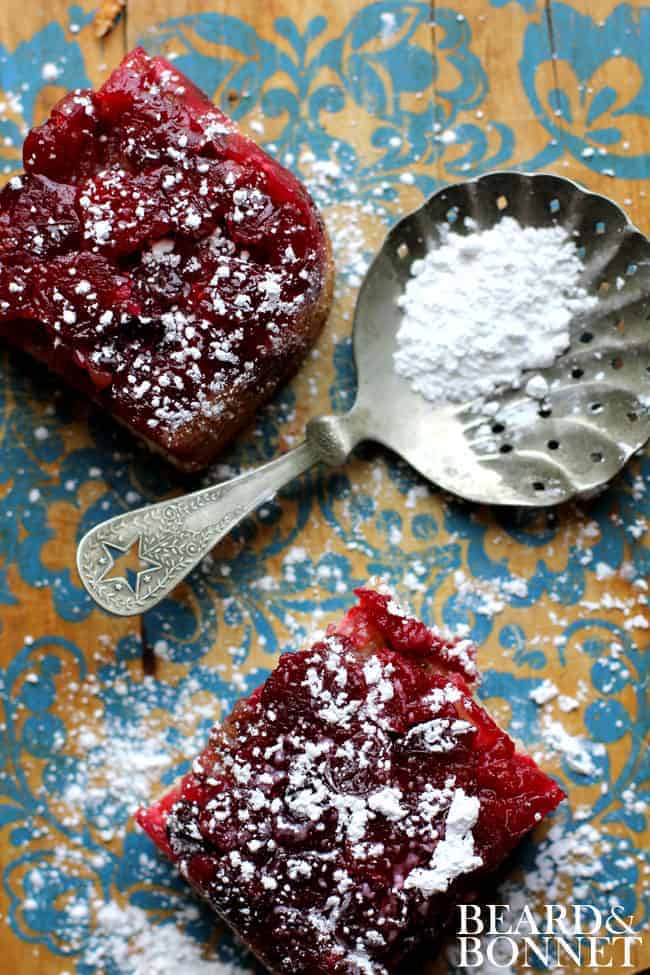 We have finally reached the end of the posts that I created while we were still in Georgia! I cannot wait to begin sharing with you what I have been working on here in California and although I am bursting at the seams to share my newest food discoveries with you this cake was too amazing to leave behind. I used a bag of frozen cranberries that I had on hand for this, but I am positive that fresh or frozen berries would be an amazing substitution. The coconut cake layer is soft and spongy like a pound cake. I love how it drinks up the sauce from the cranberries and still allows the subtle coconut flavor to come through.
Cranberry Coconut Upside Down Cake
Inspired by Simple Vegetarian Pleasures by Jeanne Lemlin
Serves 8
Fruit Layer:
2 cups fresh or frozen cranberries or other berries
½ cup finely chopped walnuts
½ cup sugar
Cake Layer:
8 Tbsp. Earth Balance or butter, softened, plus more for greasing dish
⅔ cup sugar
1 egg
½ tsp.g-free vanilla extract
¼ tsp. g-free coconut extract
1 cup Better Batter g-free all purpose flour
1 tsp. baking powder
¼ teaspoon salt
½ cup coconut milk
Confectioner's sugar for dusting
Preheat the oven to 350 F. Lightly grease a 1 ½ quart-capacity baking dish.
Arrange the cranberries evenly on the bottom of the dish. Sprinkle on the walnuts and sugar.
In a large bowl use an electric mixer to beat the butter and sugar together until light and somewhat fluffy. Add teh egg and the extracts, beat until very smooth and fluffy.
Sprinkle in the flour,baking powder, and salt; beat for another couple of seconds. Pour in the coconut milk and beat until combined.
Use a spoon to drop small mounds of batter all over the cranberries. Then use a narrow off set spatula to spread the batter evenly and cover all of the berries.
Bake approximately 45 minutes, or until the cake springs back when you gently press the center with your finger. Cool completely before serving. Dust the top of the cake with confectioner's sugar just before serving.