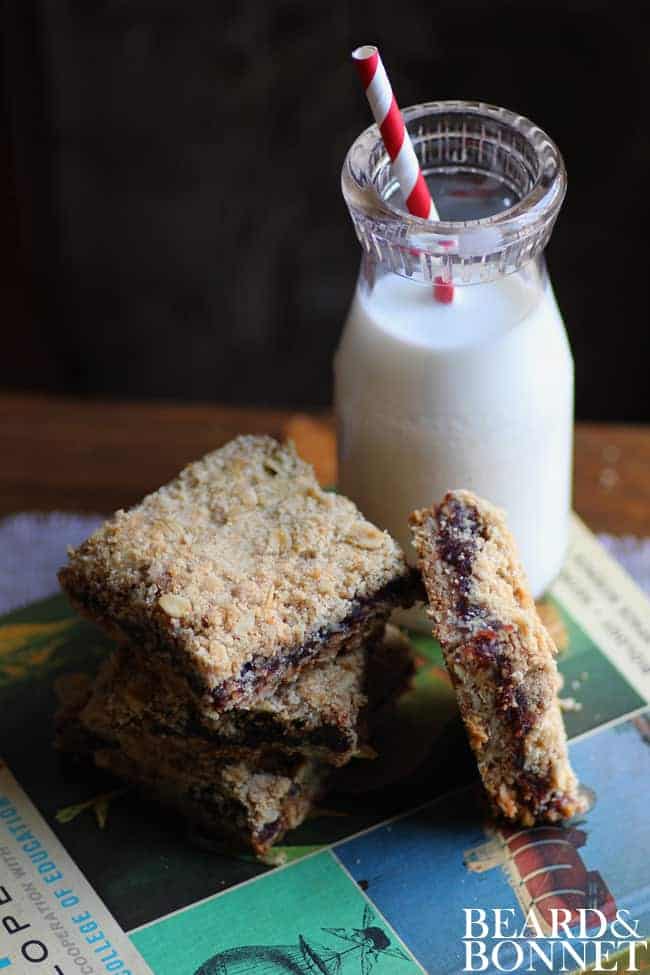 Sadly, Spring Break is over and for Eliza it was back to school this week. To make things worse it is CRCT testing for the next two weeks! YUCK! Good thing I made her a special snack to take along in her lunch bag. I know it won't make those seriously awful tests go away, but at least she has a yummy snack to munch on. These bars are packed with a rich, creamy date filling and are sure to brighten her day. If you are a Mom like me looking for a midday snack, these bars are perfect paired with a frosty cold glass of coconut milk!
If you happen to be looking for a fruitier version of these, check out these Raspberry Shortbread Bars, they're incredible!!
Crumble Date Bars
Inspired by Simple Vegetarian Pleasures by Jeanne Lemlin
Makes about 35 2-inch square bars
1 lb. fresh Medjool dates, pits removed
1/2 cup light brown sugar, packed
3/4 cup water
1 tsp g-free vanilla extract
1 1/2 cups Better Better g-free flour
1 1/2 cups g-free quick oats, I use Trader Joe's
1 cup light brown sugar, packed
1/2 tsp salt
1/2 tsp baking soda
12 Tbsp. very cold Earth Balance (butter if not vegan)
Combine the filling ingredients in a small saucepan over medium heat. Cook long enough to dissolve the sugar, about a minute. Allow the mixture to cool to room temperature, then puree in a food processor and set aside.
Preheat the oven to 350°F and lightly grease a 9×13 baking dish with Earth Balance.
In a large bowl, combine the Better Batter, oats, brown sugar, salt, and baking soda. Mix well. Cut the Earth Balance into small pieces, drop into the flour mixture, and toss gently to coat. Use your fingertips to rub the butter into the flour mixture until even crumbs are formed.
Pour half of the crumb mixture into the baking dish and pat down firmly with your hand to create the crust. Spoon the date mixture on top and in the corners then use a spatula to spread it evenly over the crust. *This part can be a little tricky, It will seem like you don't have enough to cover, but trust me it is the perfect amount. Crumble the remaining flour mixture over the top of the filling and gently press it down.
Bake 30-35 minutes, or until evenly golden brown. Cool completely before cutting into squares. Store at room temperature tightly wrapped, or you can freeze individually wrapped squares for up to a month. Bring to room temperature before serving.
*These bars are best after they have cooled completely!
We are happy to have shared this recipe at the Gluten-Free Friday's link up party hosted by Vegetarian Mamma! Hop on over to find more great gf recipes.
SaveSave