Today I am joining over 200 food bloggers in an effort to raise awareness about a growing epidemic here in America, hunger. According to Share our Strength, a startling 48.8 million Americans—including 16.2 million children— live in households that lack the means to get enough nutritious food on a regular basis. As a result, they struggle with hunger. These families lack the means to regularly put enough nutritious food on the table for everyone to live healthy, active lives. We call this growing epidemic  "food insecurity" which means the limited or uncertain availability of nutritionally adequate and safe food. Recently, we watched the movie A Place at the Table, and although we knew first hand that hunger is an issue here in America, we didn't realize just how bad it has become.
http://www.dailymotion.com/video/xx7bpu_movie-trailers-a-place-at-the-table_fun?search_algo=2#.UWGYwJNJ5LM
If you know Todd and I then you would know that this subject has been near and dear to hearts for some time now. You see, a few years ago we moved from our home in Long Beach, CA to a small town in West Georgia. We were drawn to the picturesque town full of Southern charm and Victorian era homes on significant plots of land. Away from the hustle and bustle of city life we were determined to begin growing our own food and focusing on our business.
It wasn't long before we started to notice that beyond the beautiful borders of Main Street there was a significant and surprising issue in our community-hunger. We became aware of children and elderly adults who were not receiving adequate meals, and unable to look away from the problem we set out to find a solution.  Our journey began by visiting the local food bank and Senior Center and simply asking what was needed. The answer: fresh and nutritious food!  Between the two organizations, more than 2000 hot meals per month were served to members of the community who had difficulty providing for themselves along with numerous food backpacks that were stuffed and delivered to kids at the school to get them through weekends.  Realizing that the entire population of our new home town was just under 3000 people, we understood the significance of this number. We heard over and over again that if it weren't for these two agencies, some of these people might not eat at all and the volunteer-driven organizations were struggling to keep up with the growing demand.
We quickly decided that the best plan of attack in our small town would be to launch a farmer's market in the heart of downtown. A market that would draw a wide and diverse crowd, could be easily accessible to people at any income level and it would be fun! After all, what better way to search for a solution to a hunger problem than to work with people who grow and prepare food? We realized that for it to be successful and accomplish our goals of reconnecting the community, feeding the hungry and bringing revenue to the town that it would need to be a very special market. We began to seek out local  farmers to test the water and find out if there would be any interest. Through that process we found that there were farmers in the area who were struggling as well. They needed a way to come to market and didn't have the tools to get there on their own. Some were even close to giving up their farms all together because times had become so difficult. We offered an inexpensive booth fee and our pledge to talk about this market to anyone that would listen in exchange for a donation of surplus crops to the food bank and Senior Center each market day. Their response to the idea was overwhelming and their excitement was contagious!
The idea grew quickly and generated immediate support from not only the town, but from the county agencies that governed it as well. The Handmade-Homegrown Market created a healthier more connected and sustainable community by providing access to locally grown produce, homemade food and handmade crafts. It empowered a grassroots solution to local hunger issues in our small town and served the community well. Sadly our work lives have pulled us away from that small town, but we still feel connected and tied to it and the people there.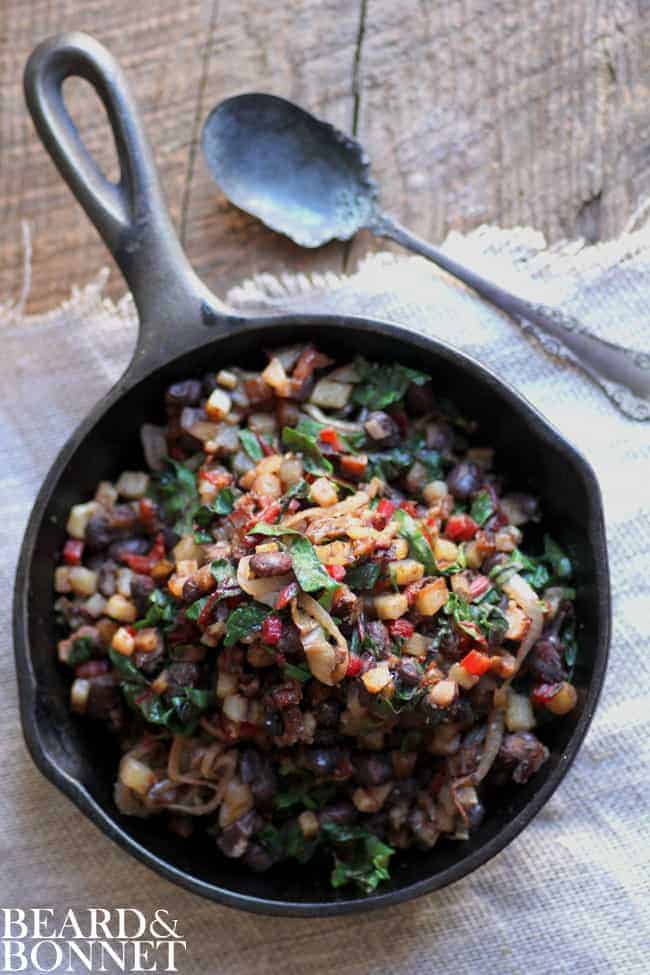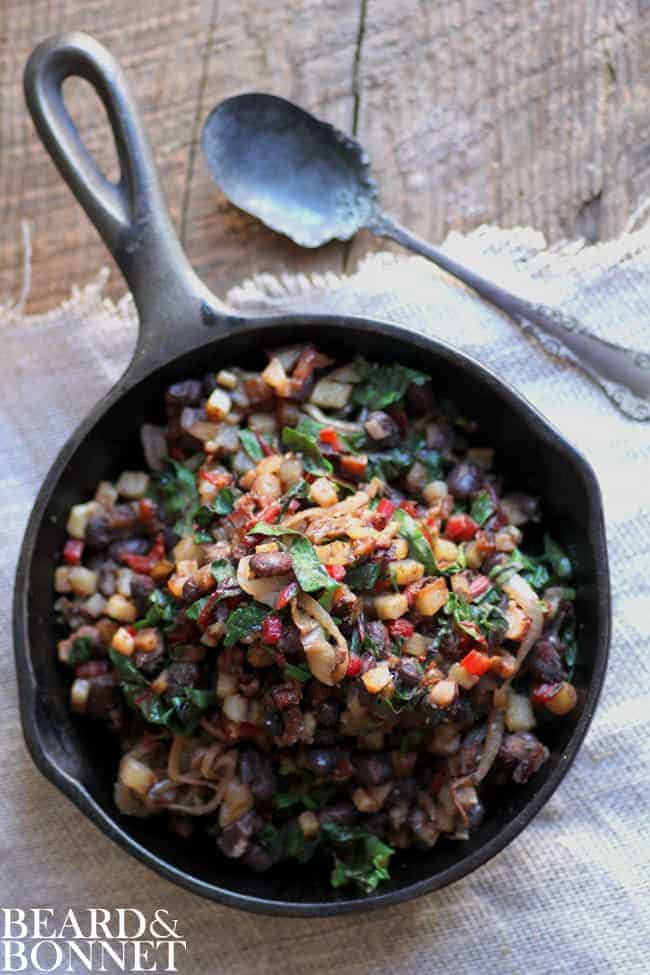 Potato, Black Bean, & Swiss Chard Hash
Serves 4
2 large russet potato, scrubbed and cut into a very small dice
2 Tbsp. Earth Balance, Olive oil, or Ghee
¼ cup white onion or 2 small shallots, thinly sliced
2 cups cooked black beans or 1 can rinsed and drained
1 bunch of Swiss chard, sliced into thin ribbons and thick stems diced
1 - 2 tsp. cumin, optional
1 tsp. paprika, optional
Generous pinch of kosher salt
Black Pepper
Place the olive oil in a heavy bottomed skillet over medium-high heat. Add the potatoes and a generous pinch of Kosher salt, toss well to coat. Cover the skillet with a tight fitting lid and cook for 7-9 minutes, tossing or flipping occasionally to ensure that all sides of the potatoes are browning and getting crisp.
Add the onions and Swiss chard stems to the skillet and cook for an additional 2-3 minutes until softened  Add the black beans to the skillet and mix well; gently arrange into a single layer in the pan. Leave to cook for 2-3 minutes, flipping once or twice, to ensure that the beans are heated through and getting crisp.
Add the ribbons of Swiss chard and cook briefly until it wilts slightly. Remove from the heat and sprinkle in the spices, black pepper, and additional salt to taste. Serve immediately.
Why this recipe?
I developed this dish for a few reasons, mainly because when using seasonal ingredients you can cook this meal for around $5-$6 for a family of  four. The greens and beans can be substituted out depending on availability and price of  food with ease and this dish takes a small amount of time to prepare. Besides all of those reasons this meal is packed with vitamins and minerals essential for leading healthy, active lifestyles. Here are a few suggestions of ways you can swap up this recipe:
Potato, Kale, and White Bean Hash
Sweet Potato Casserole Hash
Potato, Pepper, and Pinto Hash
How can you help?
Not all communities have the need for a market like ours, however if you have the need and would like to start one we documented our journey building this market at feedmytown.com and you can find a basic blue print for beginning your own there.
In a charged Congressional session, cuts are being proposed to federal nutrition programs that help feed children at risk of hunger.Urge your elected officials to protect these programs this year by clicking here. 
No matter what your ethnic background, religious, or political beliefs I think we can all come together on one thing, hunger on this scale should not be happening here in America and we the people have to do something to help change it!
We are happy to have shared this recipe at the Gluten-Free Friday's link up party hosted by Vegetarian Mamma! Hop on over to find more great gf recipes.