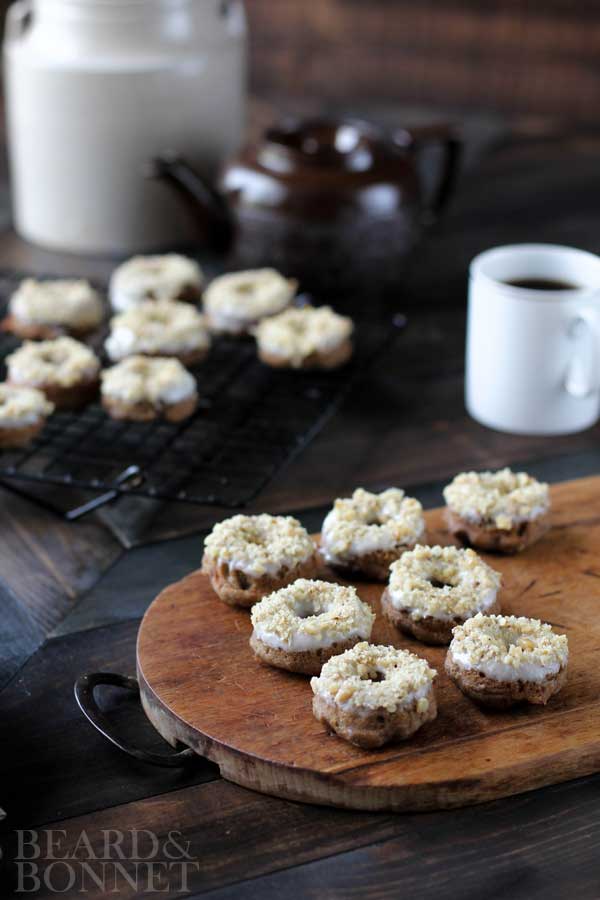 Do you ever stand around your kitchen staring in the fridge or the pantry craving something, but not being able to put your finger on what it is? This happens to me a lot. Sometimes it's a simple fix like a mix of salty and sweet snacks other times it's a more complex craving that I just can't shake. A few weeks go I was having one of those moments where I wanted something like banana bread, but I wanted a donut too. I had neither of them on hand so I tried to shake the craving, but it just kept coming back. So, I decided to take it to the oven, create a little dessert fusion, and curb that craving once and for all.
Can I just say that banana bread donuts are freaking AMAZING?! I have made these little gems now 3 times and I am sure I will make them 3 more before the month is over. Honestly, my family might disown me if I don't!
I tried 2 different custom flour blends when I was testing these donuts the first time and the combination of teff and sorghum flours in the mix was the winner by a mile. The donuts were softer, had a richer flavor, and stayed fresh at room temperature longer than my other flour blend. I see a lot more baked goods using this flour combination in my future.
looking for more ways to satisfy your banana cravings? Check out these Banana Peanut Butter Overnight Oats too!!
Print
Gluten Free Banana Bread Donuts
Author:
Yield:

approx. 36 mini donuts
For the donuts
Coconut oil for greasing the pan

1 cup

superfine sorghum flour

½ cup

teff flour

¾ teaspoon

baking powder

¼ teaspoon

baking soda

⅛ teaspoon

kosher salt

½ teaspoon

xanthan gum

¼ teaspoon

ground cinnamon

¼ teaspoon

freshly grated nutmeg

¼ cup

full fat coconut milk

¾ cup

mashed banana

¼ teaspoon

pure vanilla extract

6 tablespoons

unsalted butter, softened

¼ cup

granulated sugar

1

egg
For the toppings
1 cup

powdered sugar

3 ½ tablespoons

full fat coconut milk

½ cup

walnut halves, toasted and finely chopped
Instructions
Make the donuts:
Preheat the oven to 350°F and lightly grease the wells of a mini donut pan with coconut oil and set aside.
In a large mixing bowl, whisk together the sorghum, teff, baking powder, baking soda, salt, xanthan gum, cinnamon, and nutmeg. In a separate bowl whisk together the coconut milk, mashed banana, and vanilla.
In the bowl of an electric mixer fitted with the paddle attachment, beat together the butter and sugars on medium speed until light and fluffy, about 2 minutes. Stop the mixer and scrape down the sides of the bowl. Add the egg and beat on medium speed until combined, about 1 minute.
Reduce the speed to low and add the flour mixture in 3 additions, alternating with the coconut milk mixture and beginning and ending with the flour. Beat each addition until just blended.
Scoop a scant tablespoon of batter into each prepared well. Bake for about 8 minutes, rotating the pan halfway through, until a toothpick inserted into the donuts comes out clean. Transfer the pan to a wire rack and let cool for 5 minutes before removing the donuts to the wire rack to cool completely.
Repeat this process with the remaining batter.
Decorate the donuts
Make the icing by whisking together the powdered sugar and coconut milk until completely combined with no lumps remaining. When the donuts are completely cool dip one side of the donut into the icing until covered then dip into the chopped toasted walnuts.
Notes
If you are using a standard sized donut pan bake according to your pan's directions.
Recipe Card powered by
SaveSave
SaveSave