Ever since I made Stuffed Miso Eggplant for my family a few weeks ago they have been begging for more eggplant recipes. I have been roasting and grilling eggplant every chance I get since then and this take on eggplant is my family's favorite so now I am sharing it here with you.
Long, tender Japanese eggplant are halved, scored, and brushed with oil then roasted until the flesh turns golden. A generous layer of Thai green curry paste, miso, coconut butter, and a few other key ingredients are then slathered over the scored eggplant and broiled until crisp and slightly charred. I could eat it like this and be happy, but my family is full of people that love texture in their meals so I knew there had to be a crunch factor involved to go with the creamy eggplant.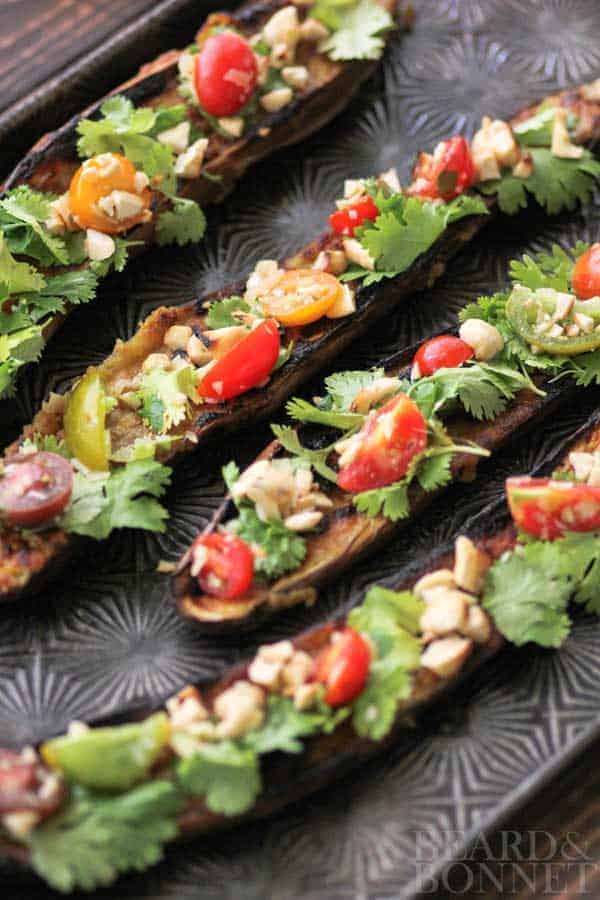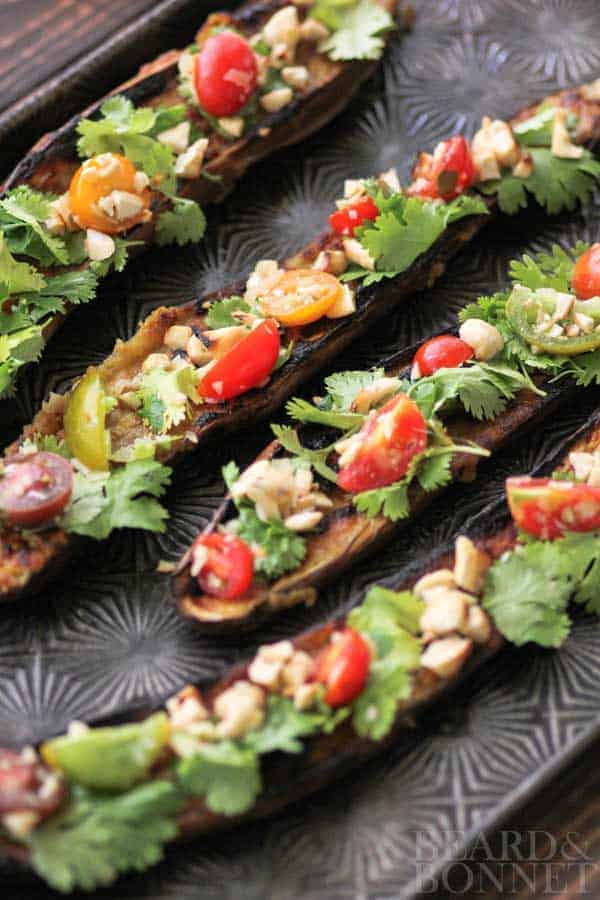 I decided to top those beautiful roasted eggplant with a salad of fresh cilantro leaves, heirloom tomatoes, pickled ginger, and roasted cashews. Todd couldn't help, but make googly eyes at the pairing of 2 of his favorite ingredients; eggplant and cilantro. The kids were all about it too it was a little sweet, a little spicy, and super colorful which to them equals dinner perfection. Bonus: the kids thought black rice as a side dish was super cool!
If you've tried this Green Curry and Miso Roasted Eggplant Recipe, I would be so grateful if you would rate it. Let me know what you think in the comments below. I just love hearing from you, and your reviews and comments really help others that visit This Mess is Ours!
Print
Green Curry & Miso Roasted Eggplant with Cilantro, Cashew, & Pickled Ginger Salad
Don't forget to rate the recipe, and let me know what you think about this Green Curry and Miso Roasted Eggplant in the comments below. I just love hearing from you. Your reviews/comments really help other people that visit This Mess is Ours!
3

Japanese eggplant, cut in half through the stem lengthwise

1 tablespoons

+

2 tablespoons

olive oil, divided

¼ cup

gluten free yellow miso

1 tablespoon

gluten free green curry paste

½ tablespoon

coconut butter

2 tablespoons

freshly squeezed orange juice

¼ cup

cashews, toasted and chopped

1 cup

cilantro leaves

½ cup

sliced cherry tomatoes

1 tablespoon

pickled ginger, minced
Instructions
Preheat oven to 425°.Score the flesh of the eggplant by cutting large x's into it with a pairing knife. **Be careful not to cut through the eggplant when scoring** Brush both sides of the eggplant halves with the 1 tablespoon of oil and place on a parchment paper-lined baking sheet. Roast the eggplant, flipping once, until very tender, about 20 minutes. Remove from oven. Arrange a rack in upper third of oven and heat to broil.
Meanwhile, whisk the yellow miso, green curry paste, coconut butter, 2 tablespoon olive oil, and orange juice together until combines. Smear top of eggplant slices with miso sauce. Broil until golden and charred in places, 3–5 minutes.
While the eggplant is cooking combine the cashews, cilantro, tomatoes, and pickled ginger in a bowl and stir to combine.
When the eggplant has begun to slightly char around the edges remove from the oven and top with the salad.
Recipe Card powered by
Want to be a part of our online community outside of the blog? It's easy!! All you have to do is follow @THISMESSISOURS on FACEBOOK, INSTAGRAM, TWITTER, YOUTUBE, or PINTEREST to see cooking demos and peeks into our day to day life.
What are the health benefits of eggplant?
Eggplant is a nutrient-rich, low calorie, high fiber fruit. Positive benefits include the reduction of the risk of heart disease and moderation of the levels of blood sugar. The high level of antioxidants also helps to fight against damage caused by free radicals.
Click here for more information on the health benefits of eggplant.
Frequently Asked Questions