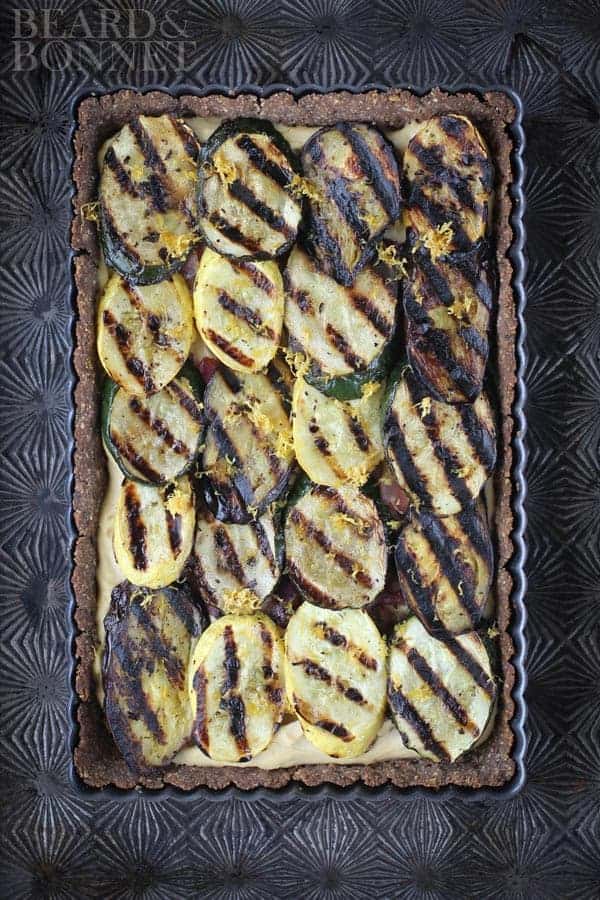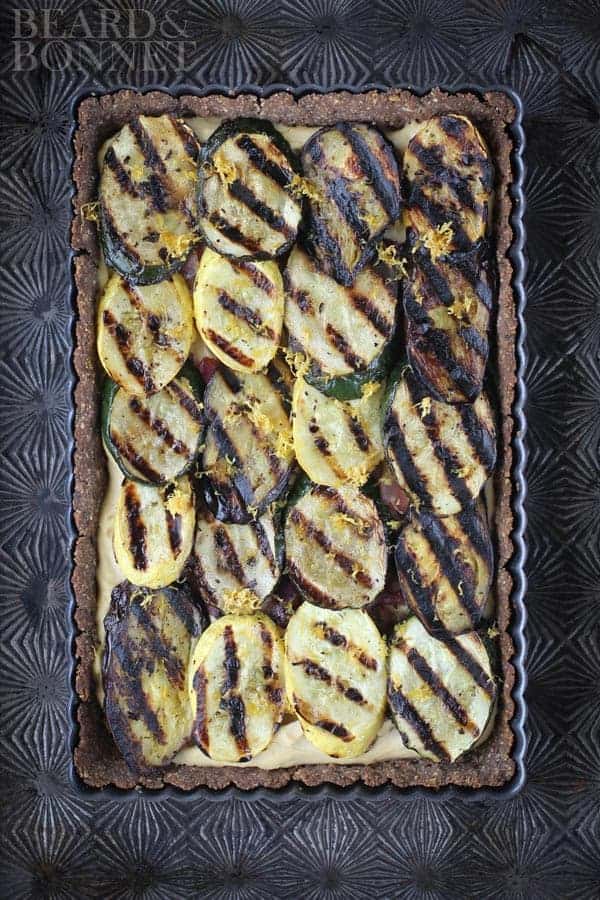 Seeing as how we have officially rolled into summer I assume that everyone has broken out their grills, or if you are like me, your grill pan.
I have been obsessing over grilled zucchini and yellow squash for a few weeks now. I can't get enough, my family is sort of over it, and I am still going strong. Seeing as though my family has threatened to boycott eating all grilled veggie sandwiches, grilled veggie skewers, and grilled veggie pizza's I decided to throw this grilled vegetable and hummus tart at them instead. Hey, they didn't say anything about being burned out on grilled veggie tarts!
I have been working on this savory tart shell for a while now and I have to say that I am really happy with how it turned out. The tart dough combines two of my favorite gluten free flours, teff and almond. These two flours together produce a crust that is simultaneously crispy and tender. It' s sort of like gluten free magic!
Once the shell is prebaked I filled it with hummus and topped it with an assortment of grilled veggies like red onion, eggplant, zucchini, and squash. This tart is great served hot, at room temperature, or even cold. Which makes it perfect for entertaining! Be prepared for the ooh's and ahh's as you bring the tart to the table…just don't let on to anyone how easy it was to make!
Print
Grilled Vegetable and Hummus Tart (Gluten Free & Vegan)
---
Author:

Prep Time:

30 mins

Cook Time:

30 mins

Total Time:

1 hour

Yield:

5

-

6

1

x
Scale
Ingredients
For the tart shell
1 cup

teff flour

1 cup

almond flour

1/2 teaspoon

kosher salt
freshly ground black pepper to taste

1 tablespoon

Italian seasoning

1/3 cup

olive oil

1/4 cup

very cold club soda
For the vegetables
1/4 cup

olive oil, plus more for grill pan

1 tablespoon

freshly squeezed lemon juice

1/2 teaspoon

kosher salt
freshly cracked pepper to taste

1

garlic clove, minced

1 teaspoon

Italian seasoning

1

medium sized red onion, thickly sliced into rounds

1

medium sized zucchini, sliced

1

medium sized yellow squash, sliced

1

small Italian or Japanese eggplant, sliced
For filling the tart
---
Instructions
Make the tart shell
Preheat the oven to 400°F.
In a mixing bowl combine the teff flour, almond flour, salt, pepper, and Italian seasoning with a whisk.
In a separate small bowl combine the olive oil and the club soda, whisk vigorously for at least 1 minute until the mixture appears creamy and slightly frothy.
Pour the oil and club soda mixture into the flour mixture and stir with a fork to combine until there is no dry flour left (If the mixture seems too dry you can add a tablespoon or two more of club soda, but only if it is necessary.)
The dough at this point will not be in one mass, but instead will appear crumbly, this is exactly what you are looking for.
Pour half of the dough into an ungreased 11 x 7 x 1.125 tart pan with a removable bottom. Gently and evenly press the dough into the tart pan all the way up the edges. When you need more dough to build up the side of the tart pan or to patch a hole simply pour a little more into the pan. Once the tart shell is compete prick the dough all over with a fork.
Bake the tart shell for 12 minutes, some cracking may occur, but this is OK. Allow the shell to cool slightly before continuing.
Grill the veggies
Preheat a grill pan over medium high heat and generously grease the pan with olive oil. In a large bowl whisk together the olive oil, lemon juice, salt, pepper, garlic, and herbs until combined. Toss the sliced vegetables in the marinade until they are completely coated.
Place the veggies in an even layer on the preheated grill pan and allow them to cook until dark grill marks have formed, about 1 1/2 – 2 minutes for smaller slice s more for thicker sliced veggies. Flip and grill the other side until the veggies are tender. Remove from the heat and set aside.
Assemble the tart
Preheat the oven to 350°F. Gently spread 1 cup of hummus into an even layer across the bottom of the tart shell. Chop the grilled onions into small pieces and scatter a layer of the onions over the top of the hummus. Starting at a corner begin alternating the slices of vegetables across the tart, slightly overlapping each row until the onion and hummus layers are completely covered. Sprinkle the lemon zest over the top of the tart and bake for 8-10 minutes to heat the tart through.
Allow to cool slightly, remove from the pan, and slice into pieces to serve.
---
Notes
You will probably have grilled vegetables left over after building your tart. I usually save them for grilled veggie sandwiches or salad the next day.
Inspired by eCurry
Recipe Card powered by