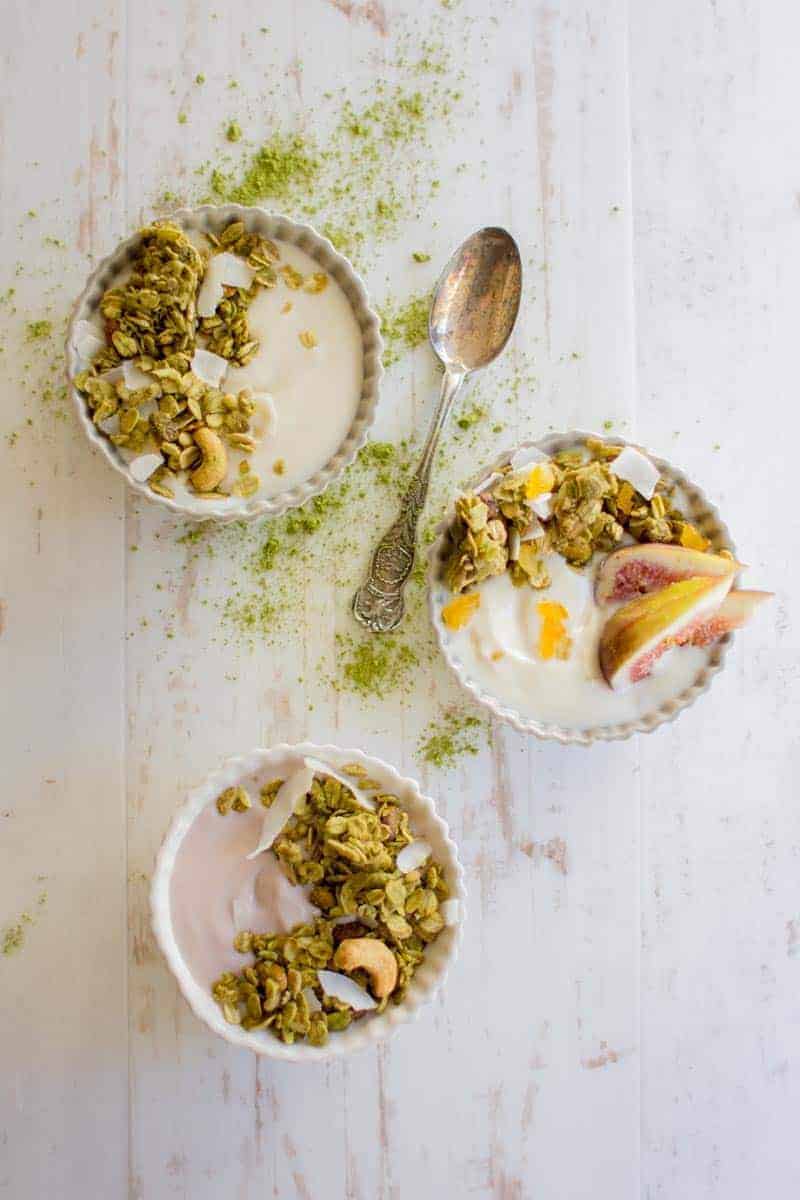 Confession: I am the WORST about eating breakfast during the week. I try, I really do! I make an effort, but inevitably I somehow forget in the chaos of our morning routine to feed myself. Honestly, if it weren't for having a gigantic bag of this Green Tea Granola recipe hanging out in my cupboard I probably would have lost my mind from hanger a few times this summer.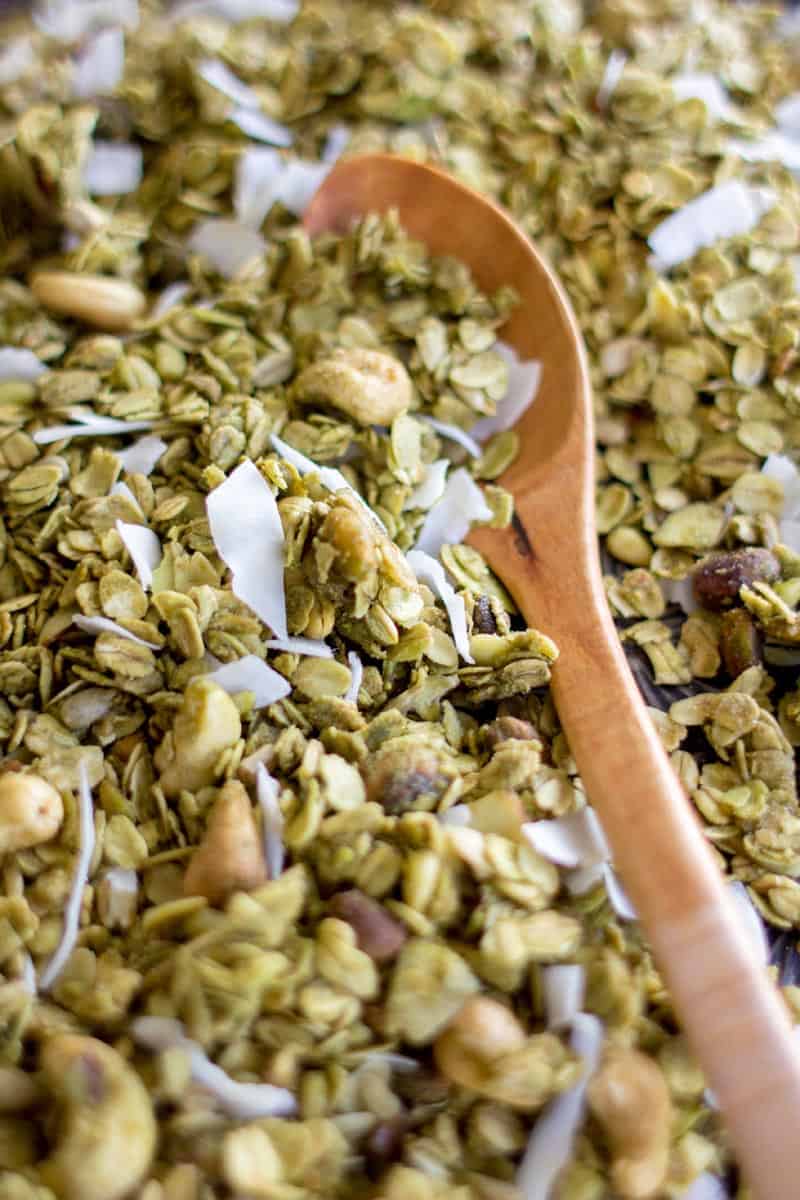 On days I forget to eat breakfast my morning starts to completely unravel by about 10:30. It's funny that I don't automatically think "Oh, I should eat something!" instead I tend to let myself get frustrated, irritable, and generally not all that pleasant before my stomach and brain communicate and I realize that my problem is most definitely hunger.
This Green Tea Granola recipe is breakfast in a pinch when you're on the run like me.
You probably know that moment too right?! In that moment it doesn't really matter to me what I eat, I just have to eat something and FAST! Friend, I'm telling you that is never a good place to be. Not ever! It is almost impossible to resist the urge to dive head first into a bag of salt & vinegar chips. So, I have to have a plan in place, one that covers my butt when I forget to feed myself & also one that helps me to hopefully prevent this entire unhealthy potato c hip laced debacle all together.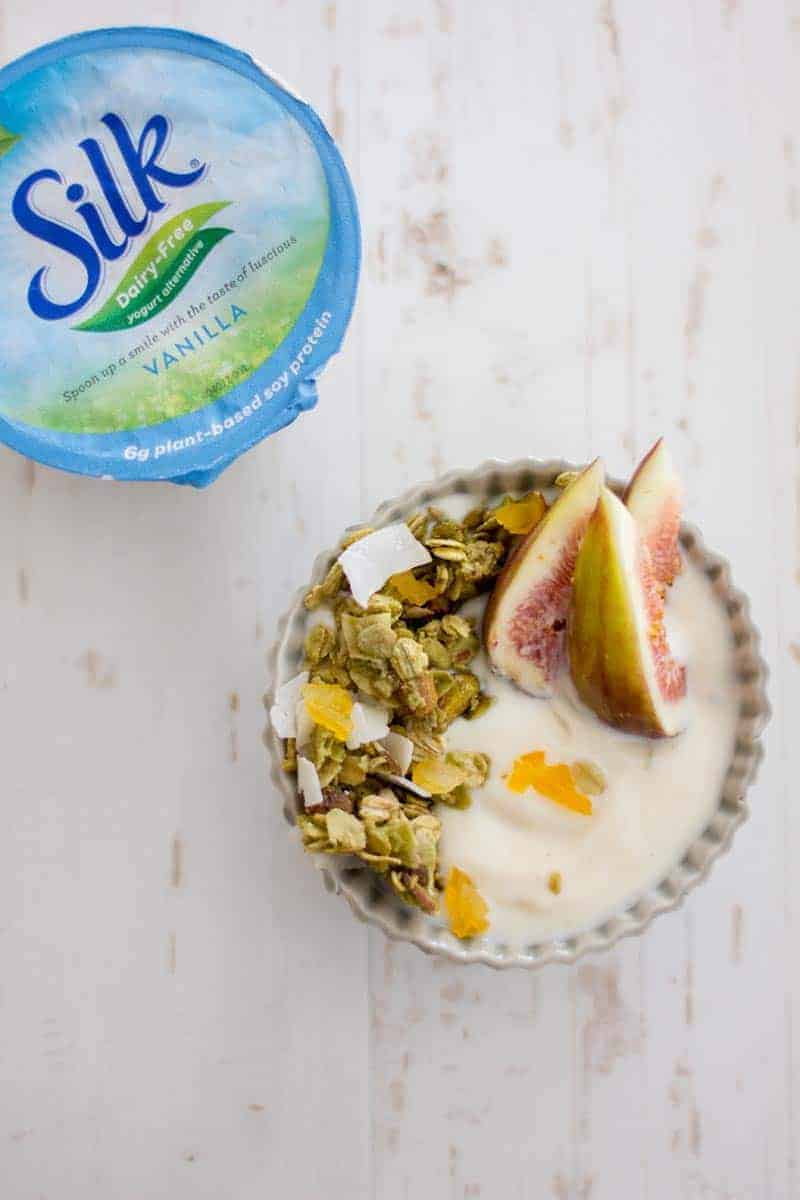 This Green Tea Granola is just that - delicious, fast, healthy and convenient. Plus, when I scatter it over Silk vanilla yogurt it turns from a snack to a meal that is loaded with protein and pretty darn good for me too. Plus, I actually look forward to indulging in a bowl right when I wake up in the morning, so more days than not I am feeding myself breakfast now. Seriously, that is an accomplishment!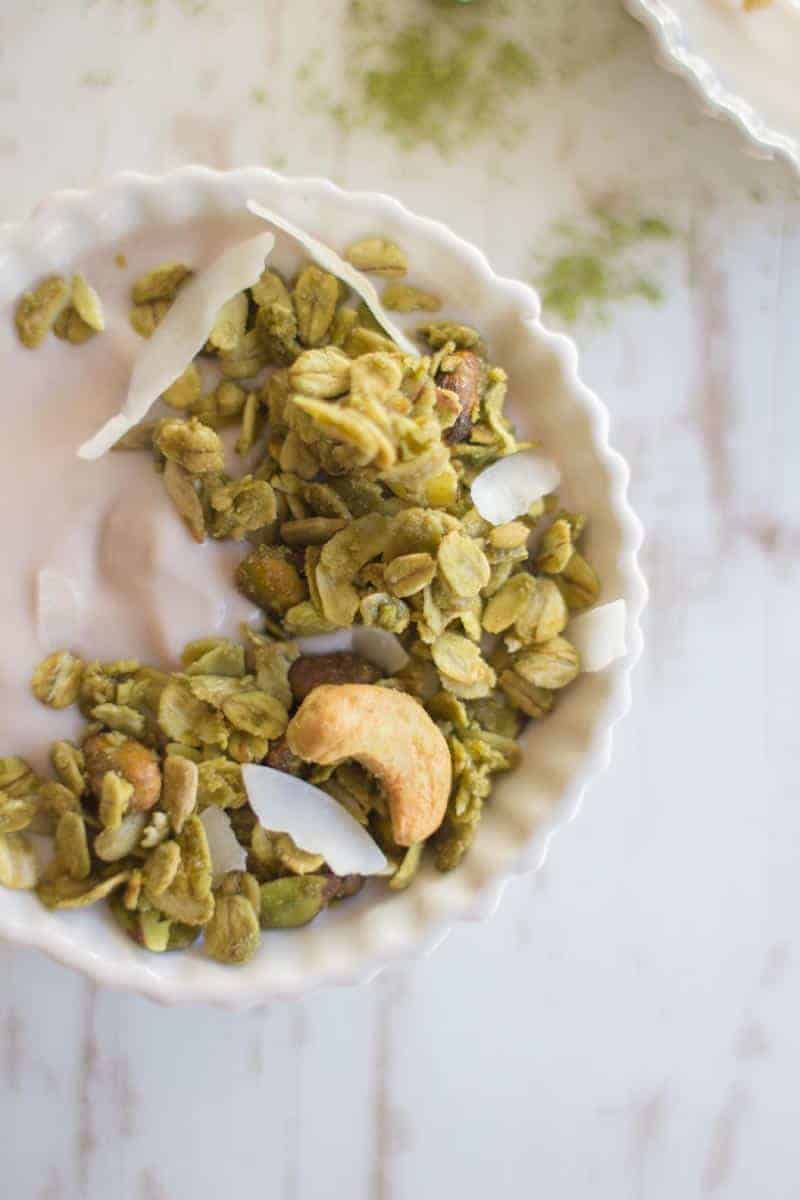 If you've tried this Green Tea Granola Recipe, I would be so grateful if you would rate it. Let me know what you think in the comments below. I just love hearing from you, and your reviews and comments really help others that visit This Mess is Ours!
Print
Green Tea Granola
This granola is great on it's own for snacking, or over yogurt bowls for breakfast. My favorite way to enjoy it is sprinkled over vanilla ice cream with fresh fruit for dessert.
Don't forget to rate the recipe, and let me know what you think about this Green Tea Granola in the comments below. I just love hearing from you. Your reviews/comments really help other people that visit This Mess is Ours!
Author:
Yield: about

8 cups

1

x
4 cups

gluten free oats

½ cup

raw pistachios

¼ cup

sliced almonds

¼ cup

raw pine nuts

¼ cup

sunflower seeds

¼ cup

raw cashews

½ cup

firmly packed brown sugar

1 tablespoon

matcha tea

¼ teaspoon

kosher salt

⅓ cup

coconut oil

¼ cup

maple syrup

1 tablespoon

maple sugar, optional

2 teaspoons

vanilla extract
optional add in's
½ cup

coconut flakes

½ cup

chopped dried apricots
To serve
Instructions
Preheat the oven to 300°F and line a baking sheet with parchment paper, set aside.
In a large bowl mix the oats, pistachios, almonds, pine nuts, sunflower seeds, cashews, brown sugar, matcha and salt together.
In a small saucepan combine the oil, maple syrup, and maple sugar. Bring to a simmer over medium heat. Once simmering remove from the heat and stir in the vanilla. Pour the hot liquid over the oats mixture and stir well until everything is combined and covered in the sticky syrup.
Spread the granola on the prepared pan an bake until golden brown, for about 30 minutes, stirring once or twice. Transfer the sheet pan to a cooling rack and all ow the granola to cool completely before mixing in the optional add in's.
Recipe Card powered by
This is a sponsored conversation written by me on behalf of Silk. The opinions and text are all mine.
Want to be a part of our online community outside of the blog? It's easy!! All you have to do is follow @THISMESSISOURS on FACEBOOK, INSTAGRAM, TWITTER, YOUTUBE, or PINTEREST to see cooking demos and peeks into our day to day life.
What are the health benefits of oats?
Oats are a gluten free grain that is packed with protein and fiber. The numerous amount of vitamins and minerals in oats makes them a great alternative to other grains. Among others, magnesium, iron, zinc, and Vitamin B are highly concentrated in oats. All of these positive nutrients help to lower blood sugar and cholesterol levels, promote gut health, and reduce constipation.
Click here for more information on the health benefits of oats.
Frequently Asked Questions