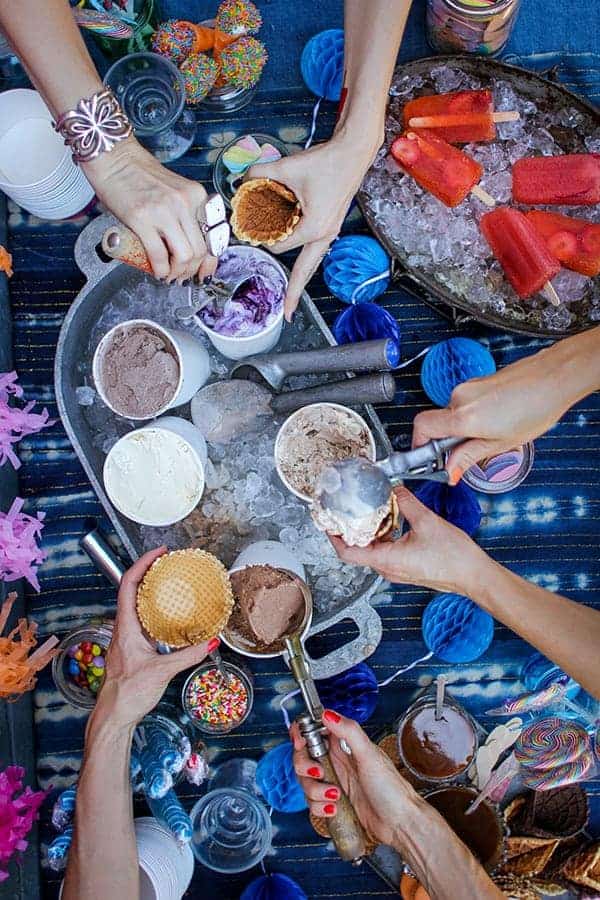 One of my absolute favorite things about summers growing up in the south were the ice cream socials. Every church, club, and neighborhood threw an ice cream party and I made it a point to attend as many as I possibly could. Some people would bring hand churned ice cream (yes, hand churned!), some people would bring the toppings, and others would bring cones, drinks, and serving utensils. Between the fun games and activities, the ability to eat my weight in ice cream, and the it was pure magic!
For years I have wanted to recreate the ice cream socials of my youth for my own kids, and now thanks to my Friends Who Fête pals, Aida of Salt & Wind and Kate of ¡Hola Jalapenõ! that dream has finally come true! A few weeks ago we gathered our families together for an epic ice cream feast in LA. The food was spectacular, the games were incredible, and the memories we made will go with us and our kids forever.
Looking to create some summertime memories of your own? We're sharing all of our party details, recipes, and games so you can create lasting memories for your friends and family too!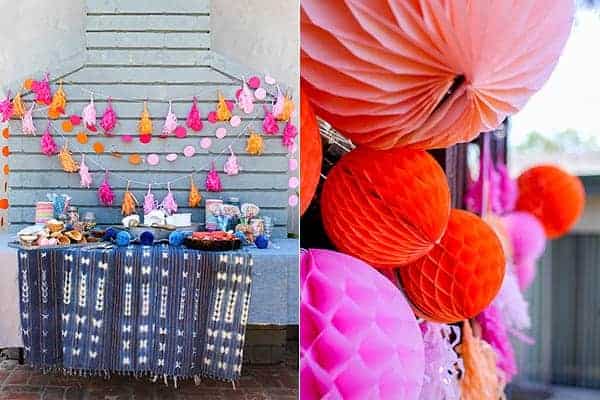 DECORATE || Decorating for a laid back ice cream social shouldn't be a hassle. Colorful party decorations like honeycombs and tassel garlands are easy to put up and take down but can make any space feel festive! Plus they can be used over and over so you really get your money's worth out of them. Top your favorite fabrics with colorful bowls and serving utensils to really make your serving table pop.
Indian batik fabric || Denim fabric || White pint sized ice cream cartons || Colorful ice cream serving cups || Vintage ice cream scoops || Colorful honeycombs || Paper tassels || Assortment of jars for toppings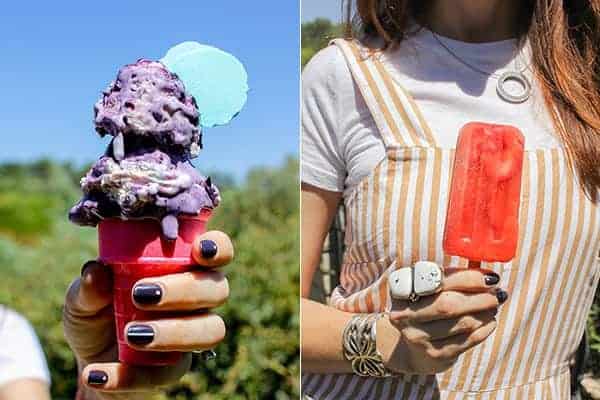 THE FROZEN TREATS || Whether you choose to buy store bought ice cream or make your own be sure to offer a variety of flavors for your guests to choose from. We served up 6 decadent ice cream flavors and 1 fun cocktail turned popsicle for the adults.
Strawberry Aperol Spritz Poptails || This Mess Is Ours
Chocolate Chocolate Ice Cream || Salt & Wind 
Chocolate Almond Butter Cup Ice Cream with Almond Butter Swirl|| Salt & Wind 
Hazelnut Chocolate "Baci" Ice Cream || Salt & Wind 
No-Churn Vanilla Cream Cheese Ice Cream || ¡Hola Jalapenõ!
No-Churn Blueberry Mezcal Swirl Ice Cream || ¡Hola Jalapenõ!
No-Churn Churros Con Chocolate Ice Cream || ¡Hola Jalapenõ!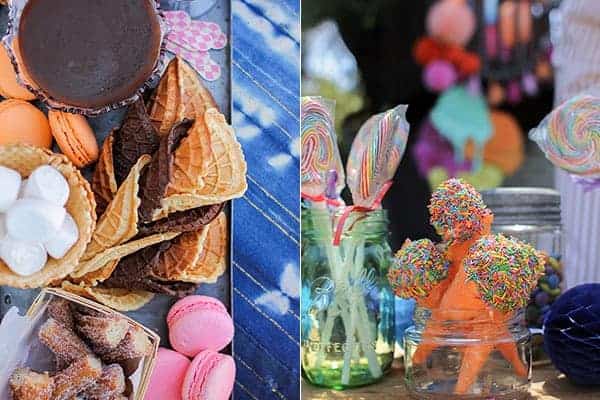 THE TOPPINGS || Our eyes may have been bigger than our stomachs when it came to toppings, but the kids didn't mind at all. We made a few homemade sauces and a big batch of gluten free waffle cones but everything else we picked up at the store. Waffle bowls for our non-gluten free party people, a variety of candies ranging from gigantic lollipops for the kids to the more traditional sprinkles and even a dozen French macarons from a local bakery. Seriously, anything goes at an ice cream party!
Gluten Free Waffle Cones - This Mess Is Ours
Mexican Hot Chocolate Sauce - ¡Hola Jalapenõ!
Coffee Salted Caramel Sauce - Salt & Wind
Assorted candies|| miniature ice cream cone candies , swirl lollipops, rainbow twist lollipops, m&m's (GF), sprinkles (GF), French macarons (GF)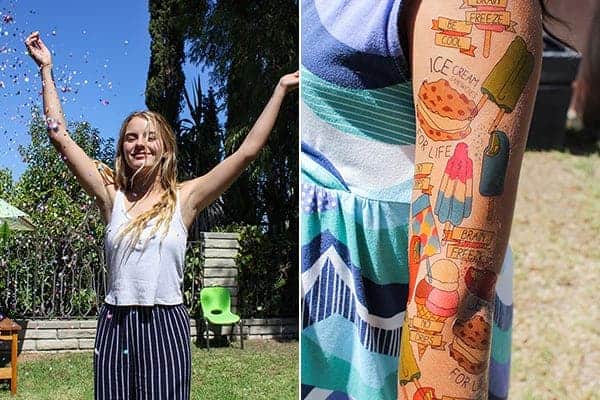 THE ENTERTAINMENT || I don't know what I enjoyed more, watching the kids enjoy all of the activities or actually indulging in all of the decadent ice cream. We knew our party would last a few hours, so we factored in time for a few games through out the party that we could participate in with them as well as some time for free play in the tree house which we filled with punch balloons.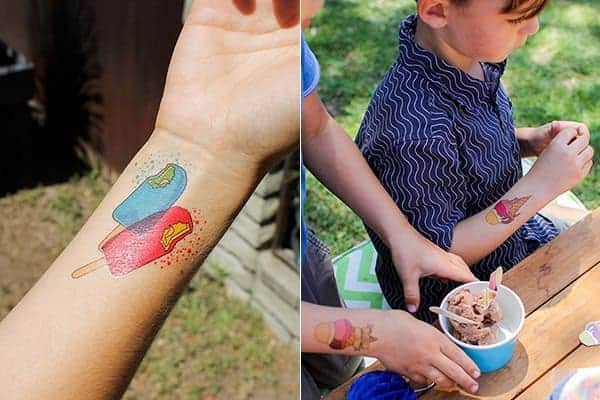 DIY Temporary Tattoos || Wat kid doesn't love a temporary tattoo? Heck, I love them too! Todd and I worked together to design a fun downloadable pdf with all of our favorite frozen treats then used our office printer and a few sheets of temporary tattoo paper (yes, that is seriously a thing!) to create these fun designs that you can download for your party too - just click here! Our oldest had a great time putting tattoos on all of the littles, especially that full sleeve Louisa requested!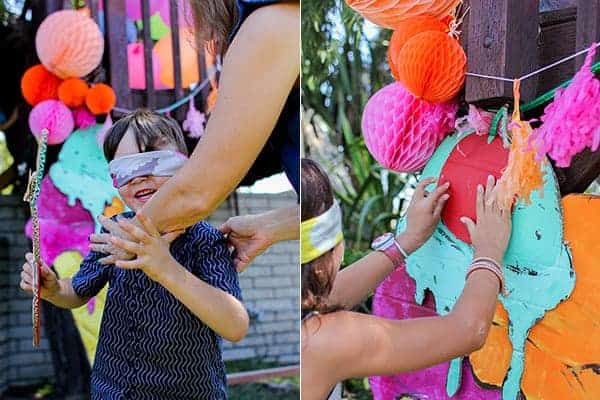 Pin the Cherry on the Ice Cream Cone || Recycle those empty Amazon boxes into a giant ice cream cone and cherry for a modern twist on the old party classic, pin the tail on the donkey! We cut out a triangle for the cone and a few scoop shapes then painted them the same colors as our decorations.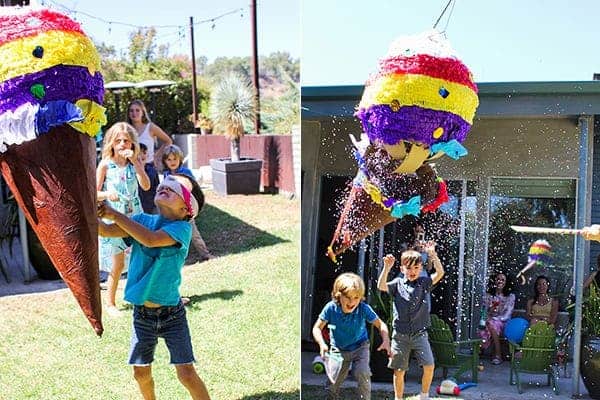 Ice Cream Cone Piñata || Kate really out did herself by finding an ice cream cone shaped piñata and the kids went crazy for it! It was such a fun way to end the party and the kids thought it was awesome that they were able to collect their own candy take always from the party!
Here are a few more fun games you could buy or make for your ice cream social:
Ice cream matching game || Ice cream bean bag toss || Ice cream shooters || Punch balloons 
Want to be a part of our online community outside of the blog? It's easy!! All you have to do is follow @THISMESSISOURS on FACEBOOK, INSTAGRAM, TWITTER, YOUTUBE, or PINTEREST to see cooking demos and peeks into our day to day life.
Frequently Asked Questions
SaveSaveSaveSave
SaveSave
SaveSave
SaveSaveSaveSaveSaveSave
SaveSaveSaveSave
SaveSave
SaveSave
SaveSave