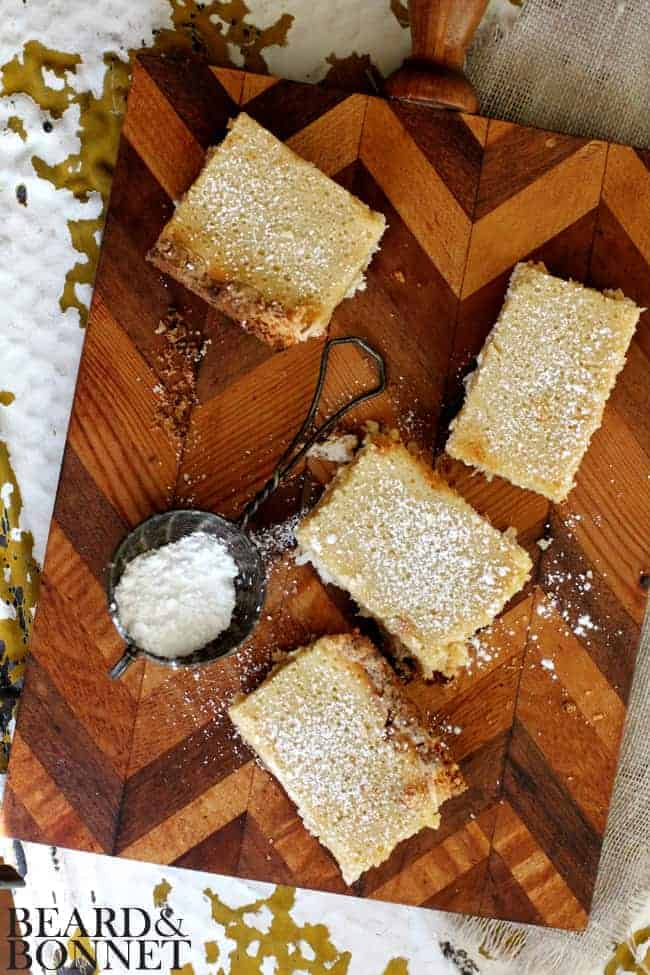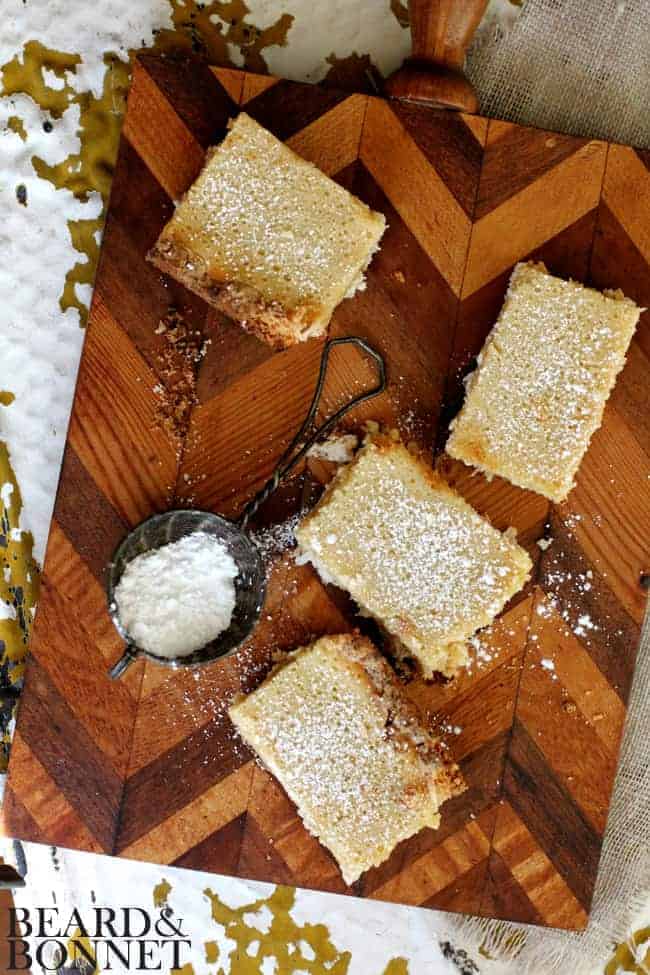 I may have mentioned my obsession with lemongrass in a few posts before we moved. I have made cocktails and curry with this fragrant little stalk and now I finally get the chance to share these delectable Lemongrass Bars with Coconut Shortbread Crust. In my hunt to find recipes that would use items that I had in the pantry before we moved I came across this rendition of a lemon bar in one of my cooking magazines and I knew that this was the perfect recipe to use up the last of my lemongrass and coconut. I used Earth Balance instead of butter so the crust was a little crumbly but I am sure that butter would probably solve this minor problem. We loved the delicate taste of the lemongrass paired with the coconut crust, there is no other way to describe it than a mouthful of happiness!
Lemongrass Bars with Coconut Shortbread Crust
Adapted from Bon Appetit Magazine
Makes 24 bars
Crust:
1 ½ cups Better Batter gluten-free all purpose flour
1 cup sweetened shredded coconut
½ cup powdered sugar
½ tsp. salt
½ cup + 3 Tbsp. butter or Earth Balance at room temperature
Filling:
1 ¼ cups sugar
½ cup lemongrass paste
5 Tbsp. fresh lemon juice
3 large eggs
¼ cup Better Batter gluten-free all purpose flour
Powdered sugar
Crust:
Preheat the oven to 350 F. Grease a 13x9x2-inch glass baking dish. In the bowl of an electric mixer combine the flour, coconut, powdered sugar, and ½ tsp. salt and set on stir setting until combined. Add butter; beat on low speed until moist clumps are formed. Press the dough onto the bottom and ½- inch up the sides of the baking dish. Bake until crust is golden, about 20-25 minutes.
Filling:
In a food processor combine the sugar and lemongrass paste pulse until combined. Add the lemon juice and process for 30 seconds until combined. Add the eggs and process to blend. Add the Better Batter and a pinch of salt; pulse until smooth.
Reduce the oven temperature to 325 F. Pour the filling over the hot crust and bake until firm, 22-23 minutes. Cool in pan on rack.
Cut lemongrass bars lengthwise into 4 strips, then crosswise into 6 pieces. Dust the bars with powdered sugar and serve.
If you've tried this Lemongrass Bars with Coconut Shortbread Crust Recipe, I would be so grateful if you would rate the recipe. Let me know what you think in the comments below. I just love hearing from you and your reviews and comments really help others that visit This Mess is Ours!
Want to be a part of our online community outside of the blog? It's easy!! All you have to do is follow @THISMESSISOURS on FACEBOOK, INSTAGRAM, TWITTER, YOUTUBE, or PINTEREST to see cooking demos and peeks into our day to day life.
What are the health benefits of coconut?
Coconut is loaded with minerals like manganese which help to promote bone health and is essential in the body's metabolism. Other minerals in coconut like copper and iron contain necessary antioxidants that the body uses.
Click here for more information on the health benefits of coconut.