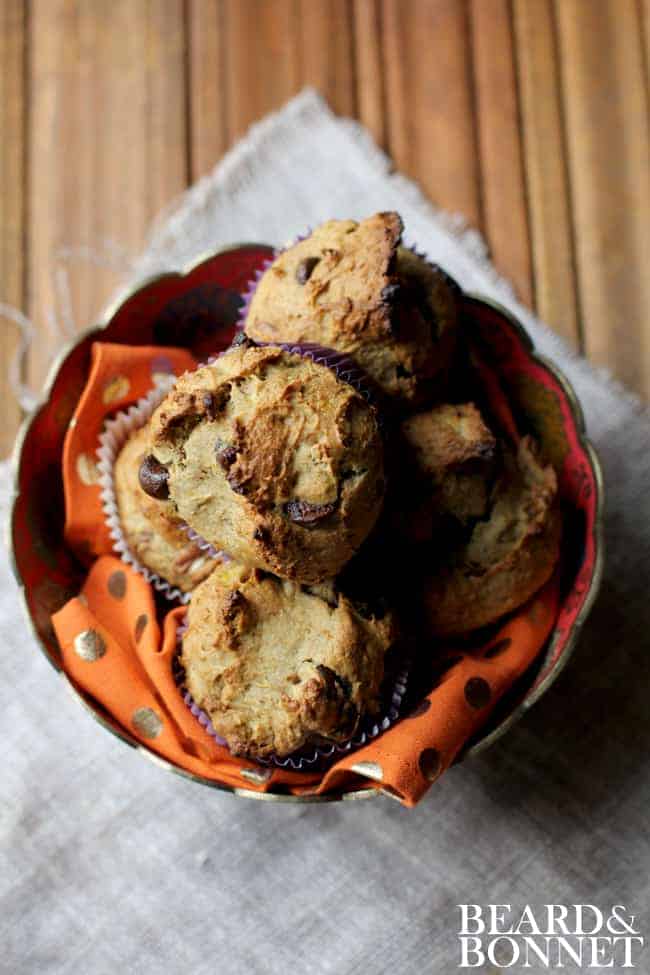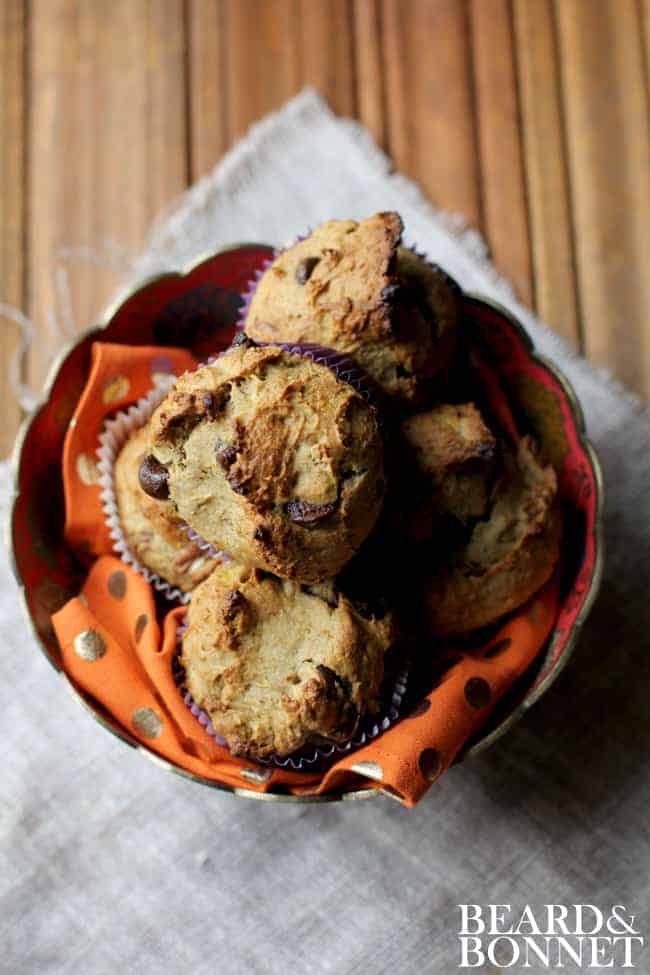 Have I mentioned that I love muffins? Seriously, I love them...a lot! I could eat them everyday for breakfast, snacks and lunch on the run. I promise that you would never hear a complaint out of me. These banana chocolate chip muffins are my newest muffin obsession. Before the move I made them every weekend for almost a month. When I found myself making a batch in the middle of the week to get me through to the weekend I knew it was time to share with you here. What is your favorite muffin flavor?
Banana Chocolate Chip Muffins
¾ cup dark brown sugar
6 Tbsp. butter or Earth Balance, softened
6 Tbsp. ground golden flax seed
1 tsp. g-free vanilla extract
2 eggs
2 cups Better Batter g-free all purpose flour or other g-free baking mix
1 tsp. salt
1 tsp. baking soda
3 ripe bananas, mashed
½ cup semi-sweet chocolate chips
½ cup chopped pecans
Preheat the oven to 350° F and line a muffin pan with paper liners.
Beat the sugar, butter, ground flax, vanilla, and eggs together in the bowl of an electric mixer until smooth and creamy.
Combine the flour, salt, and baking soda together in a separate bowl and stir with a whisk to combine. Add the dry ingredients to the creamed sugar mixture, ½ cup at a time, mixing after each addition until completely combined. *The batter will be stiff at this point. Beat the bananas into the batter with the mixer on low speed. Fold the chocolate chips and pecans into the batter. Fill the prepared muffin cups ¾ of the way full with the batter. *My daughter likes to use our ice cream scoop for this part!
Bake in the preheated oven for about 25 minutes or until a toothpick inserted into the center of a muffin comes out clean. Cool in the tins for 10 minutes before removing to cool completely on a wire rack.