Can dogs eat bananas? In short, yes, dogs can eat bananas, but there are limits. A diet of nutritious dog food is an irreplaceable food staple that keeps dogs healthy. But that doesn't mean that snacks are forbidden!
***Please note, I am not a veterinarian, just a very passionate dog owner! The information in this blog post documents our own personal experiences, research, and the recipes that we feed our dogs under our veterinarian's careful supervision. Please, consult with your vet and use your own personal judgment when considering transitioning to a 100% human grade food diet for your pup.***
Sharing food with family and friends has always been a way to show the love and care we feel for each other. It has long been a tradition to break bread in celebration or support. And each night (at least we try), we gather our loved ones at the table for a hearty meal and conversation (again, we try).
And what about our furry four-legged friends? While we can't ask them, I am pretty sure that they love sharing a snack at least as much as we do. And seriously, who can resist those big, begging puppy dog eyes when they're staring at that tasty banana you just peeled?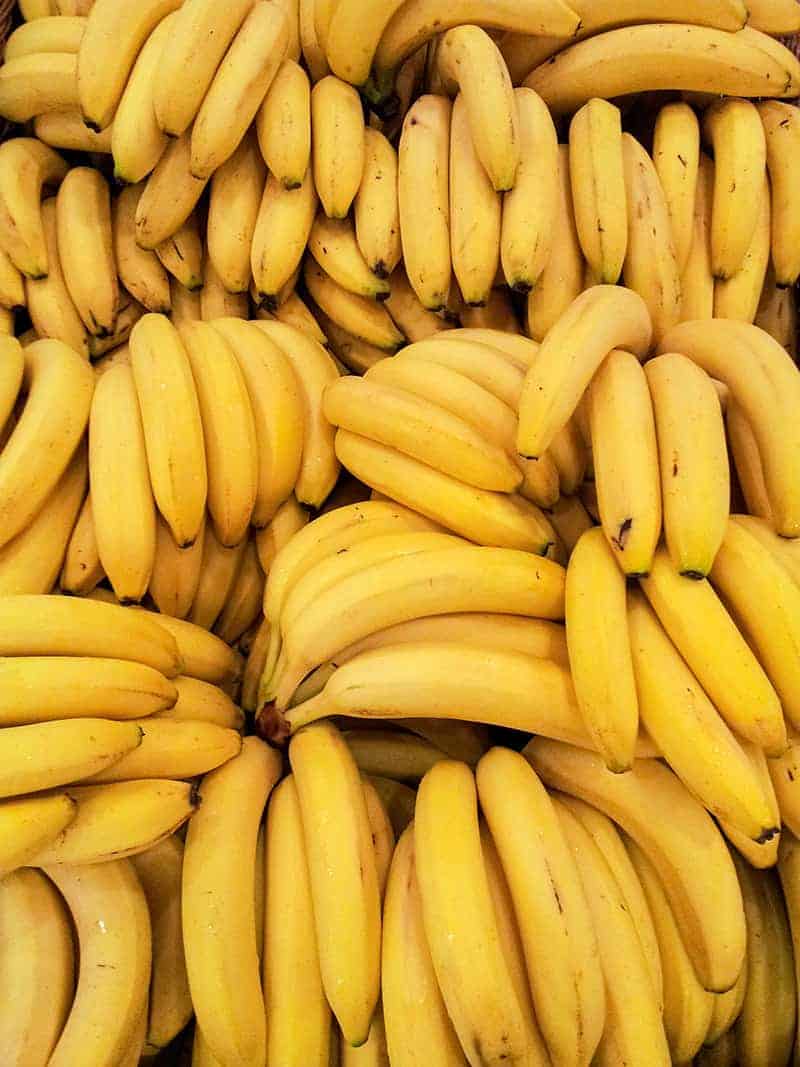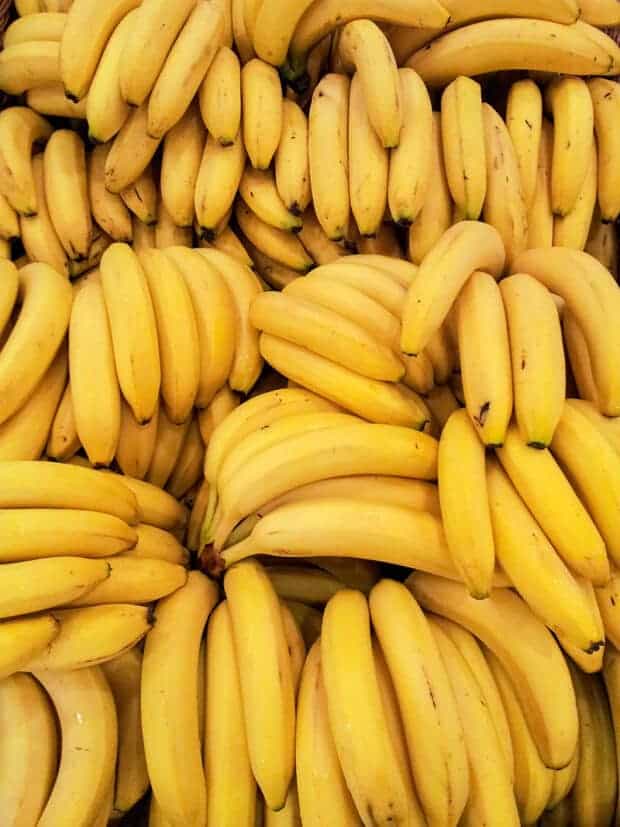 Bananas can be an excellent snack for dogs. Many fruits and vegetables are much more nutritious than the salty, processed, and potentially dangerous dog treats that we commonly buy at the grocery store.
But as a dog's body and digestive system are different from humans, you should know several things before feeding your dog bananas. This post gives you all the information necessary to enjoy those banana-centric bonding experiences with your dog worry-free.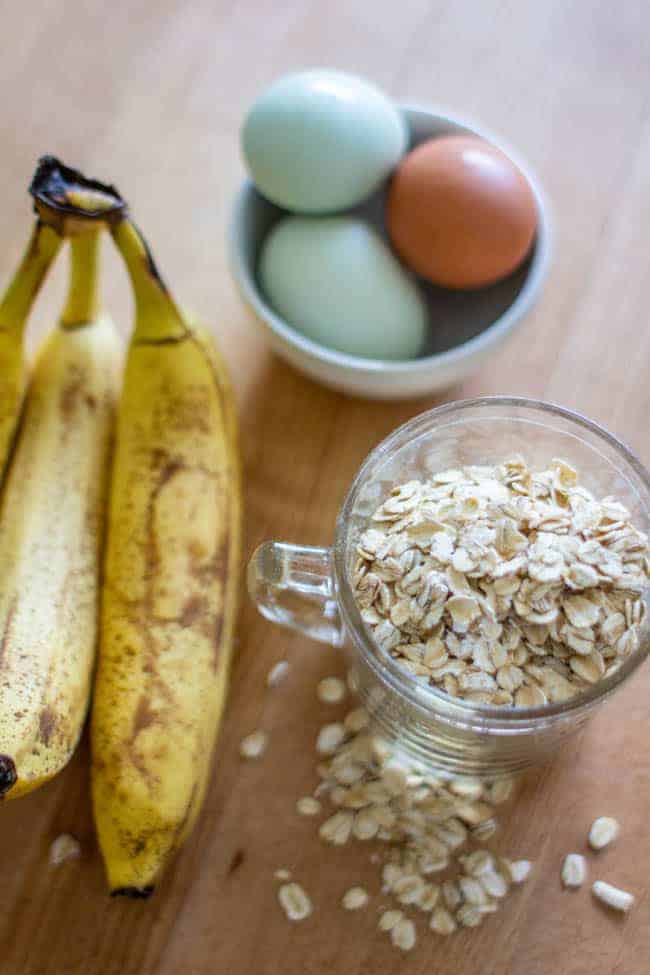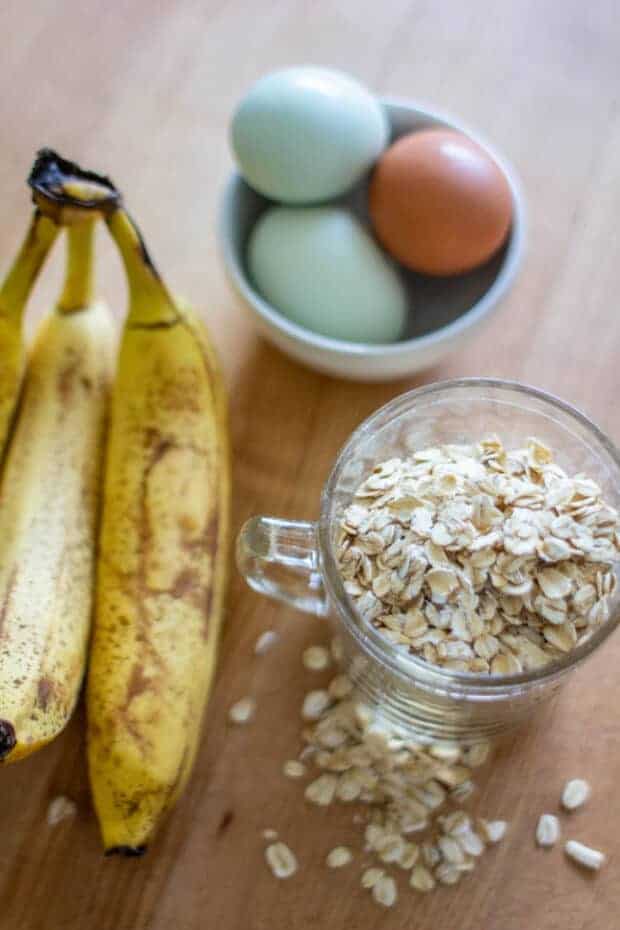 Are bananas healthy for dogs?
Bananas are one of the best fruits for dogs to eat. They contain necessary vitamins and minerals that keep you and your dog healthy in the short and long term. While not all nutrients react the same with both body systems, bananas are a pretty safe bet if you want a nutritious treat for your pup.
The following is a list of the leading nutrient components of bananas and how they will affect your dog's body:
Also known as Vitamin H, biotin is a complex B vitamin essential for many of your dog's body functions. Biotin is mainly known for its job in maintaining the health of the skin and coat. It's often used in shampoos and other skincare products.
However, biotin also aids the body in several different areas. These include forming and growing muscles, increasing energy, improving endocrine system functions, and metabolizing food.
High-quality, plant-based dietary fiber should always be at the top of your dog's nutritional needs list. It efficiently aids the digestive system in breaking down foods and mitigating the growth of harmful gut bacteria. Healthy fiber treats both constipation and diarrhea.
Fiber is also essential in the weight control of dogs. As obesity is the leading cause of canine illnesses, this is key to providing long and healthy life. Adding more fiber to the diet will cause your dog to get full quicker, even while eating fewer calories.
Magnesium is a powerful mineral that significantly affects both the physical and emotional health of your pup. It balances out the mood, thereby increasing happiness and decreasing unwanted behavior.
Physically, magnesium gives a boost to muscle function and regeneration. This helps your dog's body stay healthy and energized, even in his later years.
The most widely known nutritional benefit of bananas, potassium, works wonders for the body. It regulates fluid amounts and muscle contractions, maintaining a necessary balance.
Potassium enhances the muscular system, including the heart, guaranteeing healthy muscle growth and function. The effects include increased motor skills, regular heartbeats, and increased blood flow.
Additionally, it increases metabolism, bone density, and cognitive functions. Potassium is a must for any healthy dog's diet.
Vitamin B6 is the jack of all trades when it comes to health. It is a crucial factor in the proper functions of hormones, blood cells, and the nervous system.
It is also necessary to absorb other vitamins and minerals in the digestive process, including fat, protein, and Vitamin B12. Maintaining good levels of B6 is required for the transformation of fatty acids into amino acids.
Production of red blood cells, enhanced by B6, is necessary for standard brain functions and RNA and DNA synthesis.
The antioxidant and anti-inflammatory properties of Vitamin C are well known and rightfully praised. It boosts the immune system, reduces cognitive decline in elder dogs, and rids the body of cancer-causing free radicals.
While dogs' bodies produce Vitamin C, physical and emotional stress can reduce the growth rate and amount of reserve. So if you notice symptoms of anxiety in your dog (skin issues are a significant cause), make sure that he is getting plenty of Vitamin C.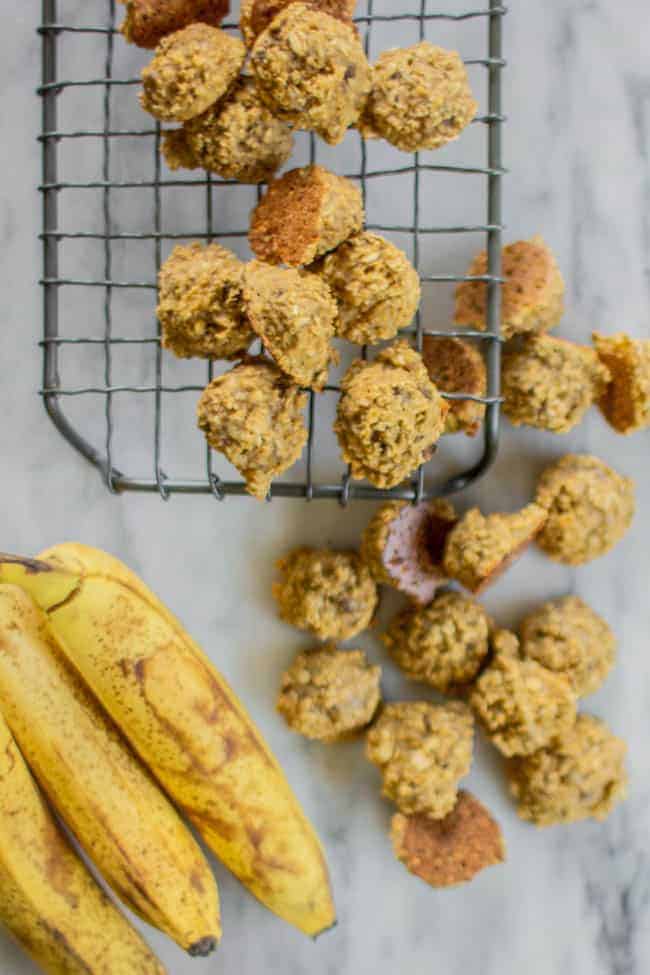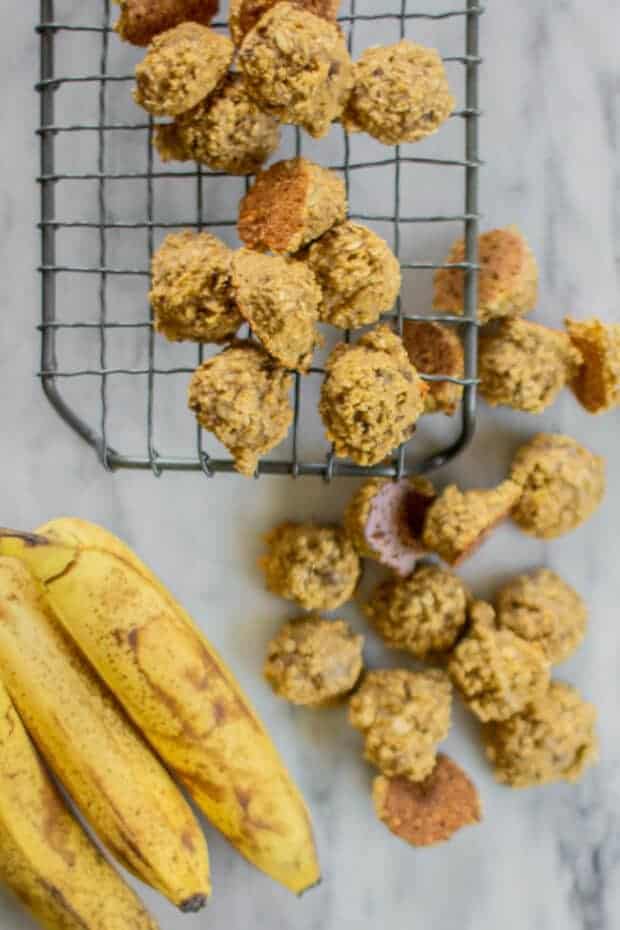 Can dogs eat banana peels?
While banana peels are not poisonous to dogs, they should never be allowed to eat them. Unfortunately, the peel still has a tasty residue and a sweet smell that makes it very enticing. Some might even say that its qualities are very "ap-peel-ing" to dogs. Anyway, make sure the banana peel is discarded where your dog can't get to it.
Banana peels contain way too much fiber for one sitting, and ingesting them will create quite an upset tummy for your pup. In a worst-case scenario, the large peel can be a choking hazard or even cause a bowel obstruction. If you suspect this might have happened, contact your veterinarian immediately.
Can there be other risks associated when your dogs eat bananas?
We've established a long list of positive nutritional aspects of bananas. Now, let's talk about some possible negative issues that could occur when your dog eats bananas, specifically overindulgence and, to a lesser degree, allergies.
Like most fruits, bananas contain natural sugars and starch, negatively affecting dogs way quicker than humans. In addition, after overindulging in bananas, dogs have a tendency for an upset stomach, often followed by diarrhea.
Moderation is the key to maximizing the benefits of bananas. For example, larger dogs can eat up to half a banana per day; smaller dogs should be limited to just a few slices.
Though very rare, dogs can have allergic reactions to bananas. When first giving bananas to your dog, be on the lookout for signs of allergies, including coughing, sneezing, itching, and breathing trouble.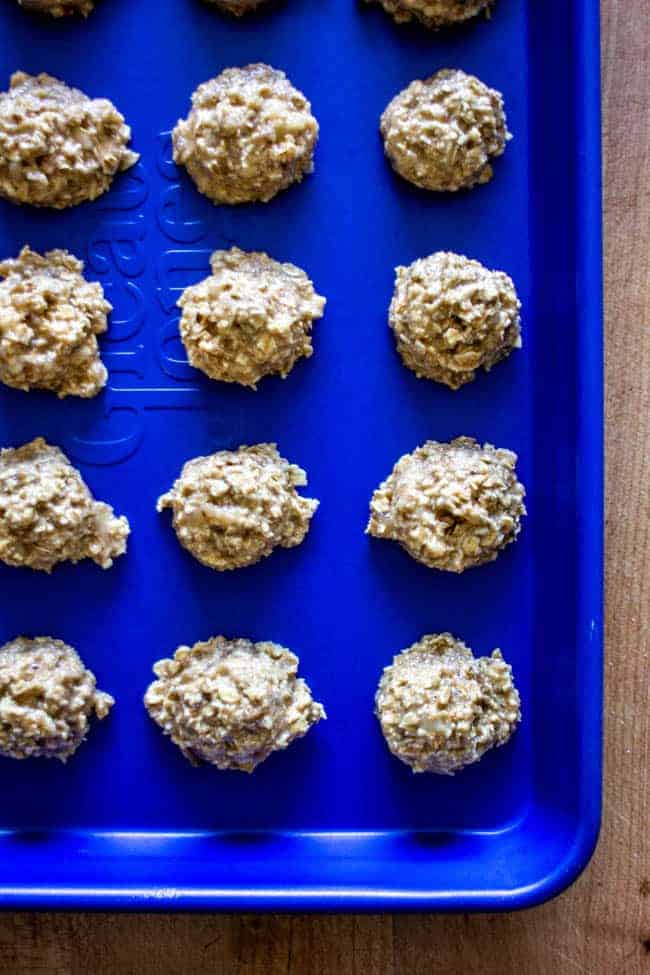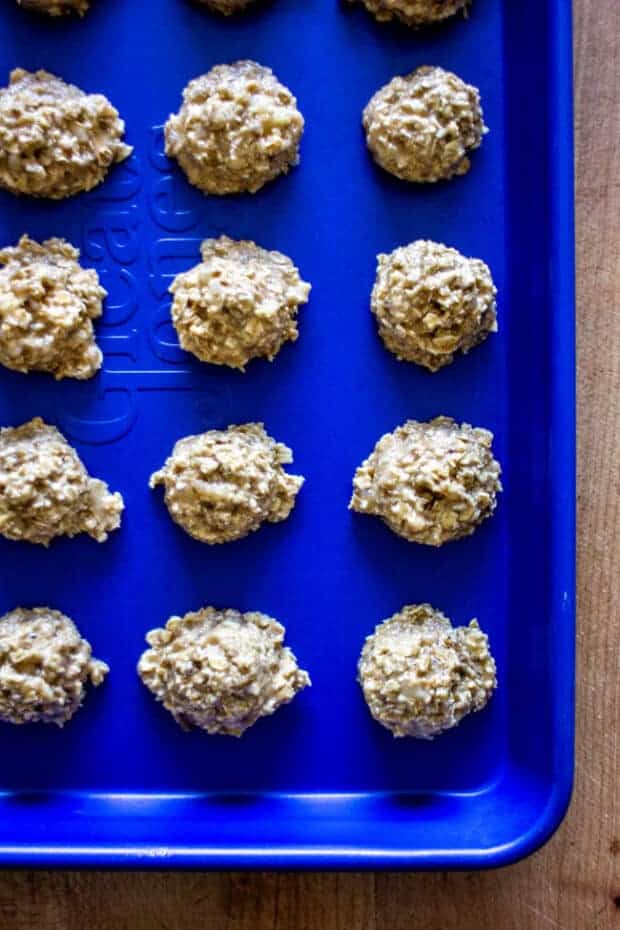 Recipes for bananas that your dogs can eat
If your dogs are like mine, they'll eat a banana anytime, anywhere, and anyway you give it to them. Whether chunked, sliced or mashed, most pups will immediately devour the sweet fruit without giving it a second thought.
However, there are times when a more delicate presentation is needed. Perhaps your dog isn't eating all his nutritious kibble, or maybe you are just feeling a little creative. Whatever the reason, it is always helpful to know various ways to turn bananas into healthy treats.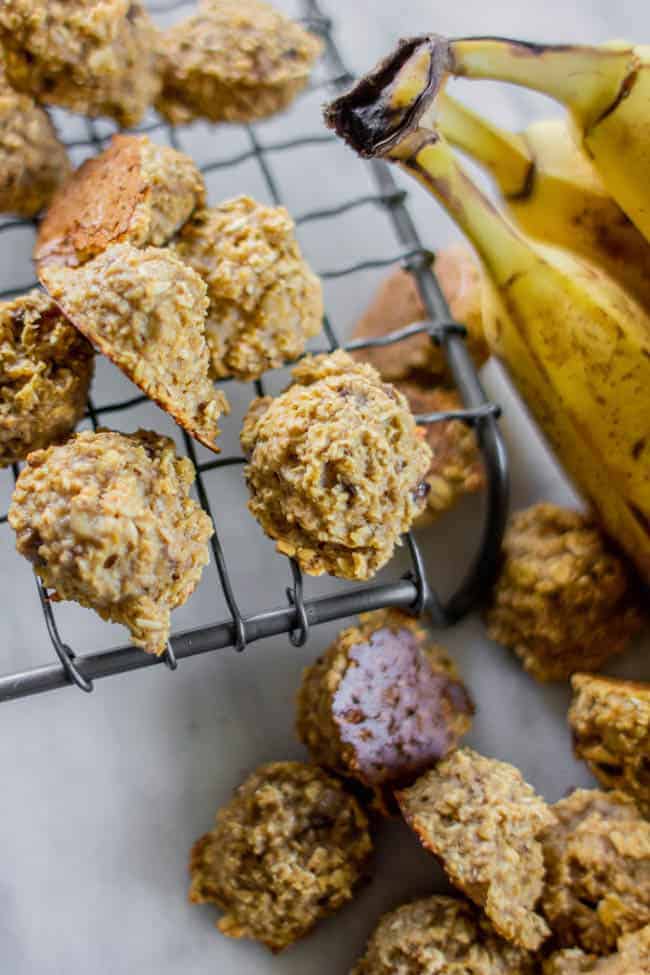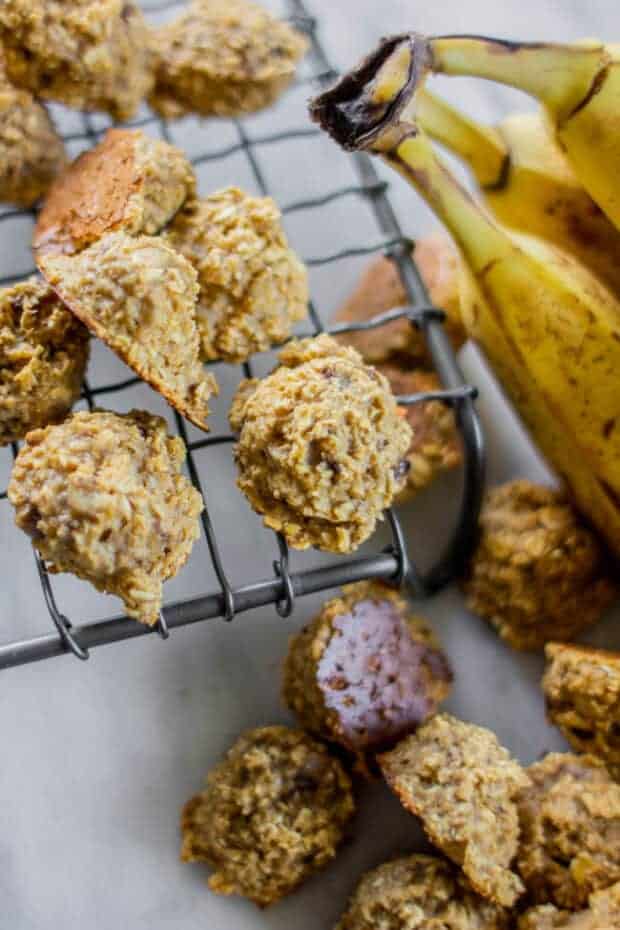 Check out this list of quick and easy banana recipe ideas to prepare for your dog:
Sliced and Frozen
Try freezing a banana to turn it into a combination of both snack and chew toy. To avoid any choking risks, cut it in slices first or chunked for bigger dogs.
Your dog will love the texture of this cold treat, and it can even relieve pain for teething puppies or any dog with jaw or tooth issues. There is also the added benefit of watching your dog take longer than a millisecond to eat a treat.
Mashed With a Meal
If your dog is not eating his kibble or homemade dog food, he is not getting the nutrition he needs to maximize health and happiness. Adding a better-tasting ingredient to the dinner bowl is a great way to encourage dogs to eat healthy (kind of like when your mom used to put cheese in your broccoli). Next time your dog needs prompting to eat his meal, mix the dry food with some mashed banana.
Peanut Butter-Banana Mashup
And now for dessert! If you want to see a wagging tail, mash up some banana and mix with a few spoonfuls of peanut butter. Can a dog's life get better than that?
Always remember to make sure that the peanut butter is xylitol-free. The sugar replacement can be toxic for dogs.
Of course, I couldn't resist sharing a dog treat recipe that our dogs adore that showcases bananas!!
While Hooch is happy with unsweetened dehydrated banana chips, Rebel LOVES herself some banana bread. This Easy Banana Bread Dog Treat recipe only requires 3 ingredients and is delicious enough that our kids like to dip them straight out of the oven in maple syrup for themselves!
If you've made our Soft Baked Banana Dog Treats recipe I would be so grateful if you would rate the recipe and let me know what you think in the comments below!
Print
Easy Banana Bread Dog Treat recipe
Ever wondered can dogs eat bananas? This simple 3-ingredient dog treat recipe for your furry friend is inspired by homemade banana bread. This recipe for soft dog treats is perfect for dogs that require a softer treat but are actually delicious enough that humans can eat them too. (Of course, the humans around here dip them in maple syrup for themselves. No maple for the dogs though!) 
Author:
Prep Time:

5

Cook Time:

15

Total Time:

20 minutes

Yield:

4

dozen

1

x
Category:

Dog food

Method:

baked

Cuisine:

Dog food

Diet:

Gluten Free
3 cups old fashioned rolled oats
3 peeled bananas, ripe is best for flavor, but our dogs don't care if they are ripe or not
2 eggs 
Instructions
Preheat the oven to 350°F and line a baking sheet with parchment paper.
In a food processor combine the rolled oats and peeled banana. Pulse until combined, but the oats still have some texture. Add the eggs and process until completely incorporated.
Scoop the desired amount of the mixture out onto the prepared baking sheet with a small cookie scoop. Bake for 15 minutes. Cool completely.
If you won't use all of the treats within 3 days, freeze any extra treats and thaw as needed.
Notes
Substitutions: You can substitute oat flour for old-fashioned oats. 2 ½ cups of oat flour equals approximately 3 cups of oats. The treats won't have the same texture as ours, but will still be delicious. 
Serving suggestions: Serving size will vary from 2-3 treats per day for small dogs to 6-8 treats per day for larger dogs. 
Storage solutions: This recipe makes quite a few treats. Any fresh baked treats you won't use in 3 days time freeze and store in an airtight container for up to 6 months. You can take out as many as you need for a few days at time to thaw. 
Nutrition
Serving Size:

2 small banana bread bites

Calories:

57

Sugar:

1.8 g

Sodium:

6.1 mg

Fat:

0.4 g

Carbohydrates:

10.1 g

Protein:

1.9 g

Cholesterol:

15.5 mg
Keywords: banana dog treat recipe, easy banana dog treats, banana bread recipe for dogs, dog food recipes, soft treat for dogs, soft baked treat for dogs
Recipe Card powered by
Looking for even more healthy homemade dog treat and dog food recipes? Keep scrolling for more!!!
Clearly, the answer to the question, can dogs eat bananas? Is a resounding YES! But, did you know that your dog can eat other types of fruits and vegetables also?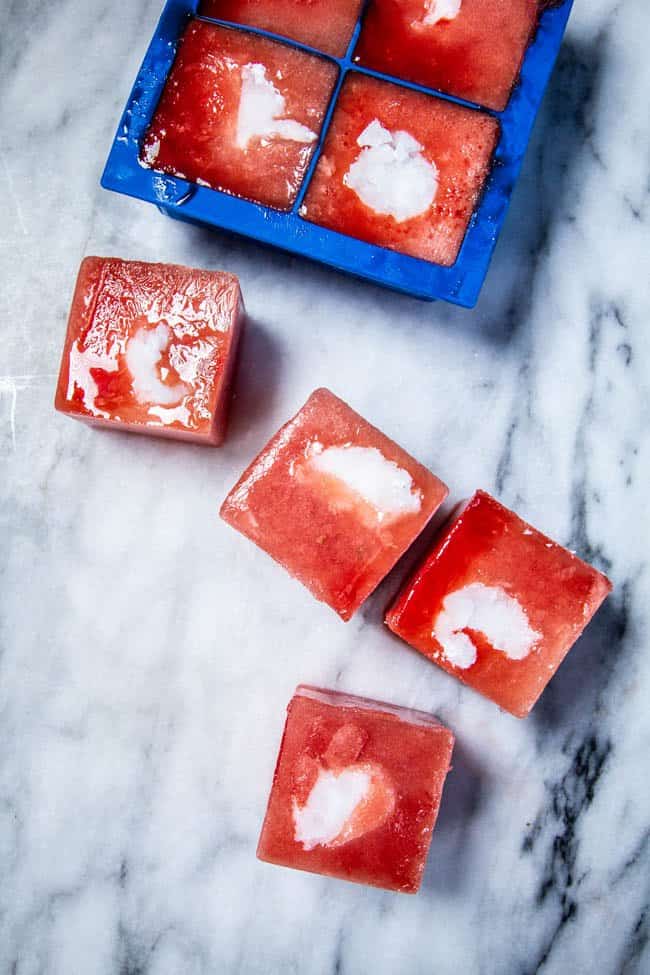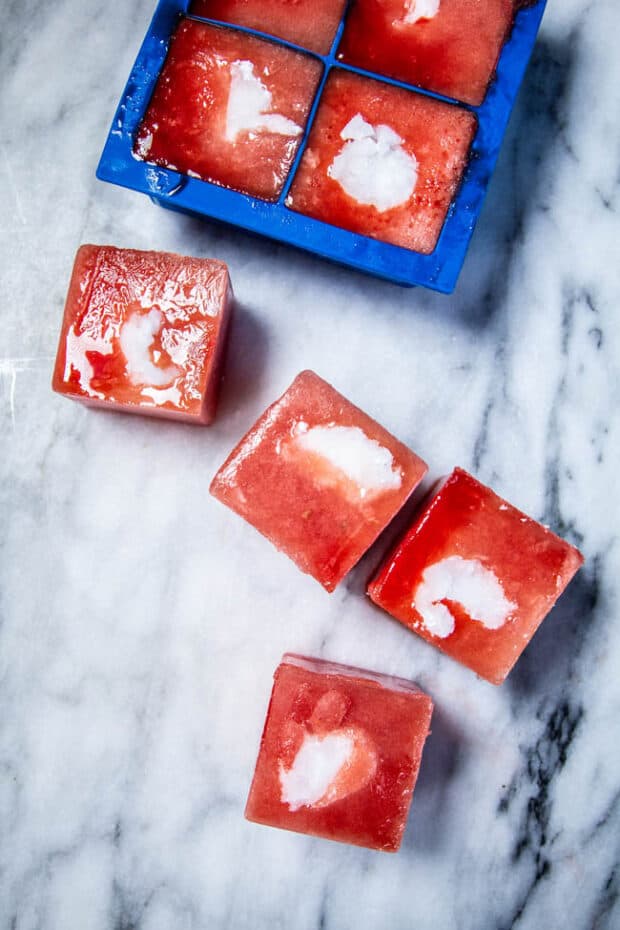 Can dogs eat watermelon? Of course! There are few treats that dogs enjoy better than a sweet, cold chunk of summer melon.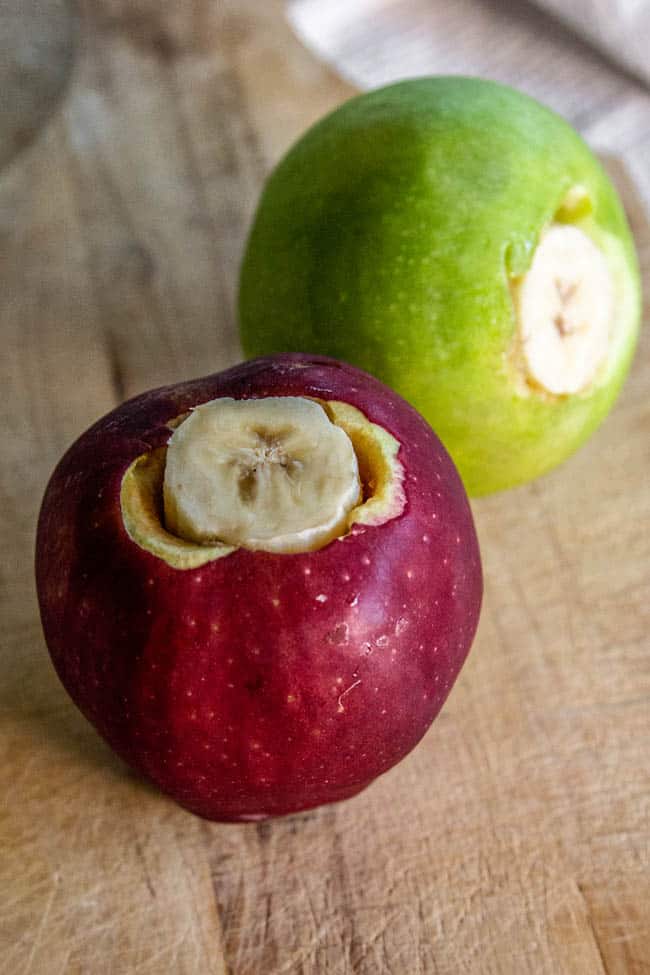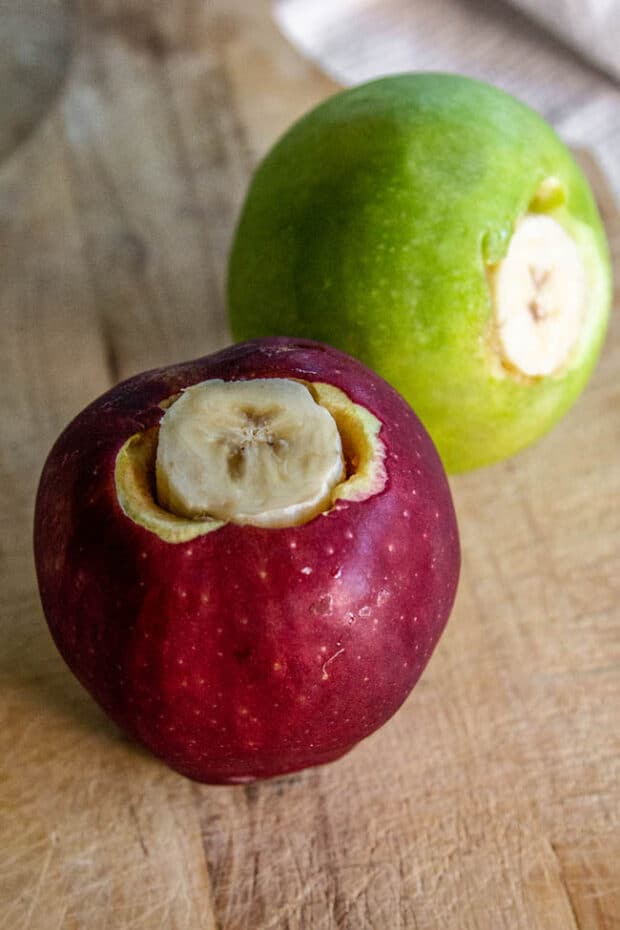 DIY Apple Kong for Dogs
We freeze this apple kong for dogs and offer them to our pit bull mix Rebel when she is bored or we just need to keep her attention held for a few minutes. She literally dances when she sees them come out of the freezer.
The halved banana just slips right down into where the core and seeds were, so it isn't a hard-to-make treat either. As it melts the banana transforms into the consistency of ice cream - creating a lickable melty center to this frozen treat that literally drives her bananas!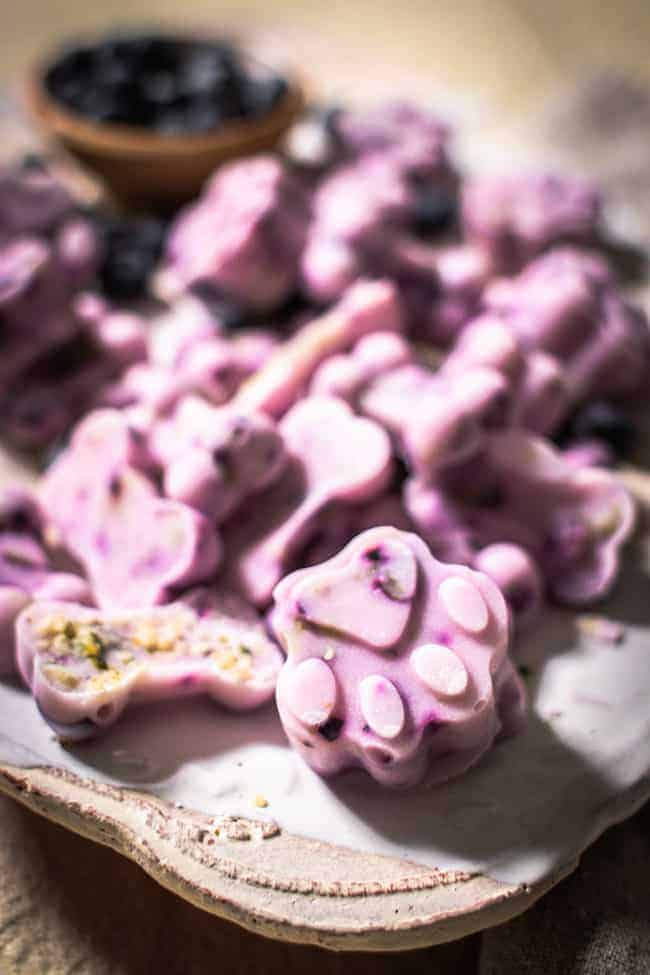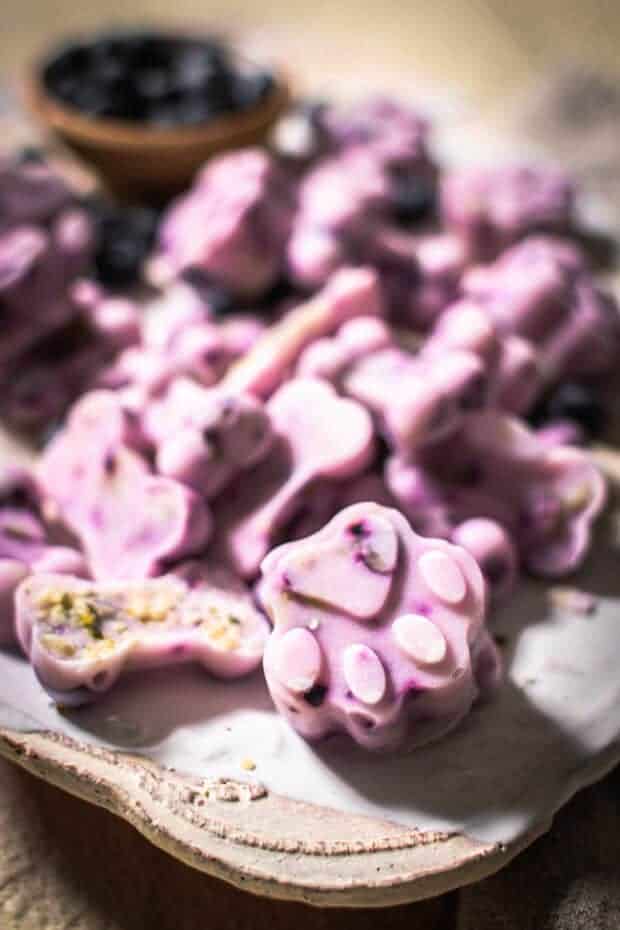 Can dogs eat blueberries?
Blueberries are one of the best fruits that dogs can eat! This flavorful little superfood packs quite a nutritious punch loaded with vitamins, minerals, and other nutrients.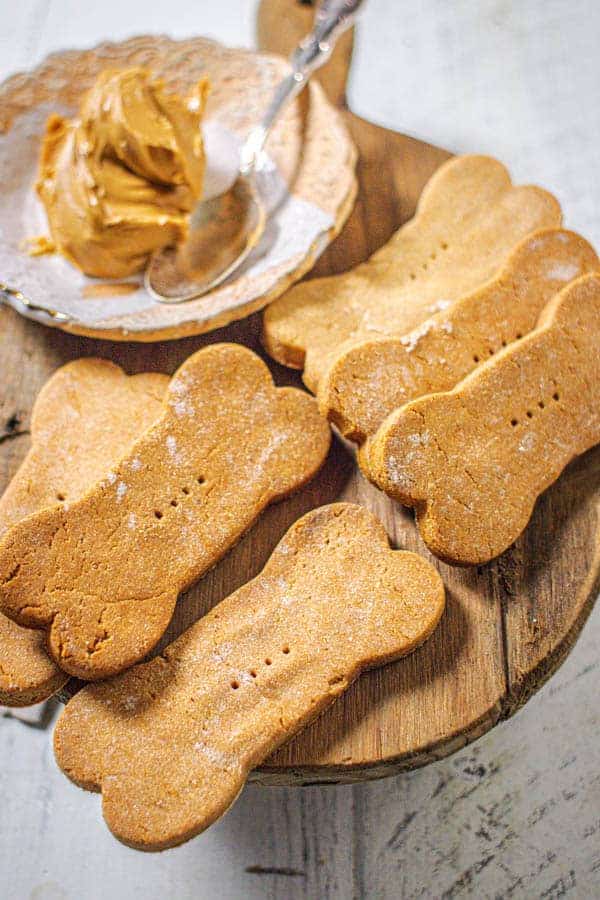 This dog treat recipe requires 10 minutes of hands-on time and only 4 ingredients! Trust us when we say that this will be your dog's new favorite treat!
These peanut butter dog treats are simple to make, gluten-free, and full of good for your dog ingredients.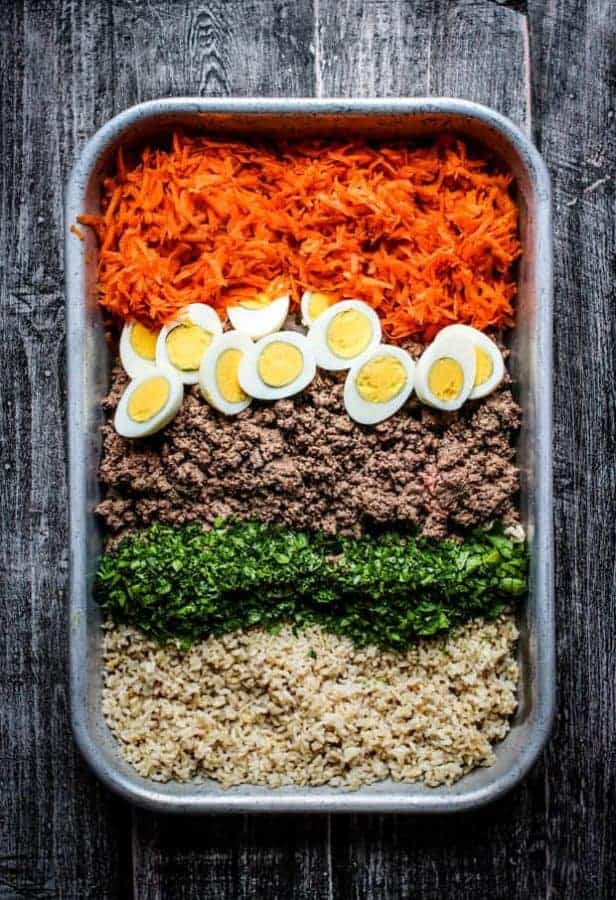 It's a fact, feeding your pup a diet of 100% human-grade dog food is easy, cost-effective, and WAY better for them than a traditional doggie diet of processed kibble!
This easy homemade dog food recipe combines lean ground beef, wholesome brown rice, fresh vegetables, hard-boiled eggs, and tender herbs for a healthy, vibrant alternative to traditional dog food that has given our 11-year-old dog a new lease on life!