Can dogs eat blackberries? The answer is yes! Blackberries are in fact a delicious, antioxidant-rich fruit that your dog will love. Our Soft Baked Blackberry Dog Treats are sure to be a hit with any pup but are especially good for dogs that need softer treats due to issues with their teeth.
***Please note, I am not a veterinarian, just a very passionate dog owner! The information in this blog post documents our own personal experiences, research, and the recipes that we feed our dogs under our veterinarian's careful supervision. Please, consult with your vet and use your own judgment when considering transitioning to a 100% human-grade food diet for your pup.***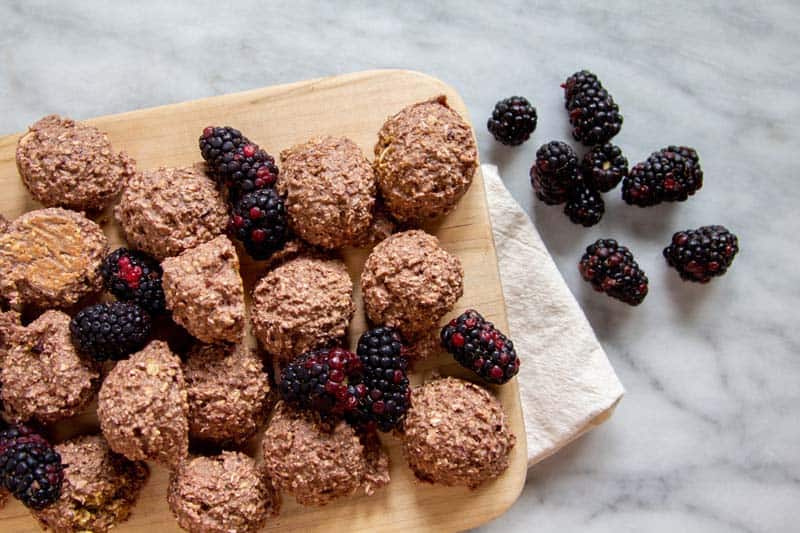 Benefits of treating your dog blackberries.
Fresh blackberries are a naturally sweet, slightly tart berry that dogs love! They are one type of human-grade food that is safe for dogs to eat. Blackberries make a healthy treat or snack to add to your dog's diet, here's why:
Since blackberries are high in fiber they keep your pup feeling fuller for longer.
Blackberries are low in calories, which is helpful for dogs on a weight-loss or weight management plan.
Blackberries are high in water content which is helpful for hydration.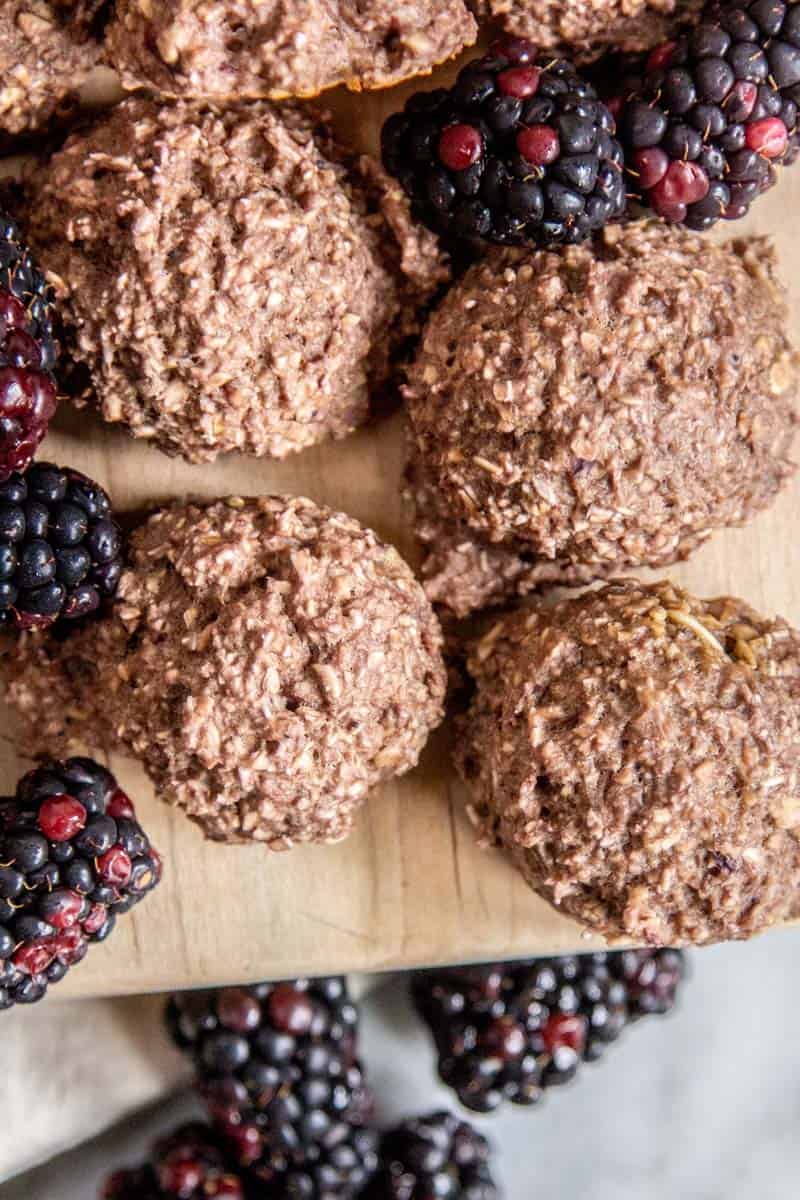 How many blackberries can dogs eat per day?
Overindulgence is often a problem for pups when it comes to fresh fruit. It tastes so good - they just want to keep eating more! But, as their owner, it is important to know how much is the appropriate amount to feed. Otherwise, you may be dealing with an upset tummy due to overindulgence.
How many fresh blackberries can dogs eat per day?
Small dogs: Two fresh blackberries a day would be plenty.
Medium dogs: Could have four to five a day.
Large dogs: Can have six to eight per day.
These Soft Baked Blackberry Dog Treats have blackberries and bananas spread throughout the batter with a few other ingredients. They aren't as potent as feeding fresh blackberries to your pup - but still should be fed in moderation; they are treats after all.
How many Soft Baked Blackberry Dog Treats can you treat your dog per day?
Small dogs: 1-2 Soft Baked Blackberry Dog Treats per day.
Medium dogs: 2-3 Soft Baked Blackberry Dog Treats per day.
Large dogs: 4-5 Soft Baked Blackberry Dog Treats per day.
It is, rare but should your dog experience an adverse tummy reaction to blackberries you can check out the article below for what to do.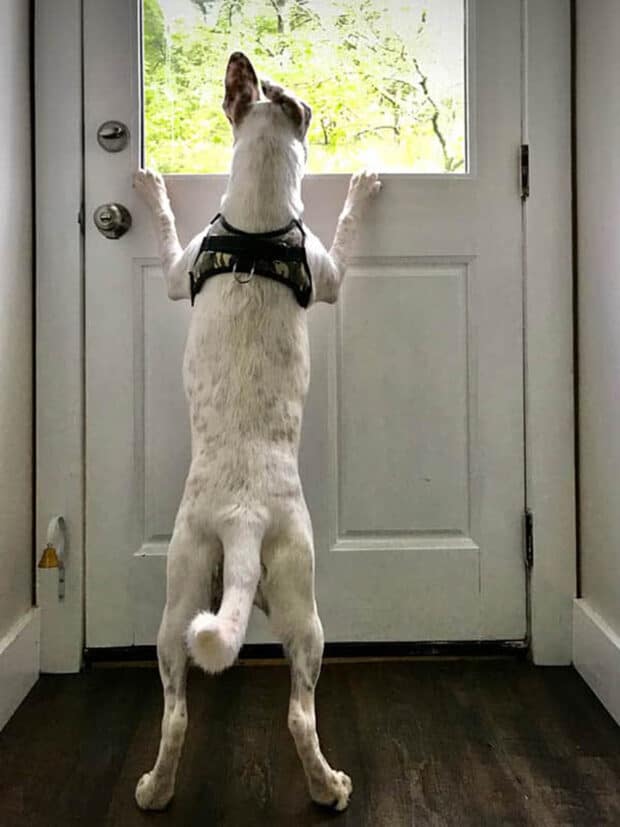 There can be many reasons for a dog's upset stomach, ranging from mild tummy aches to severe intestinal issues. There are times when you should seek out a vet and times when you will be able to heal your pup on your own. The trick is knowing what to do for your specific issue, just as you do for your human family.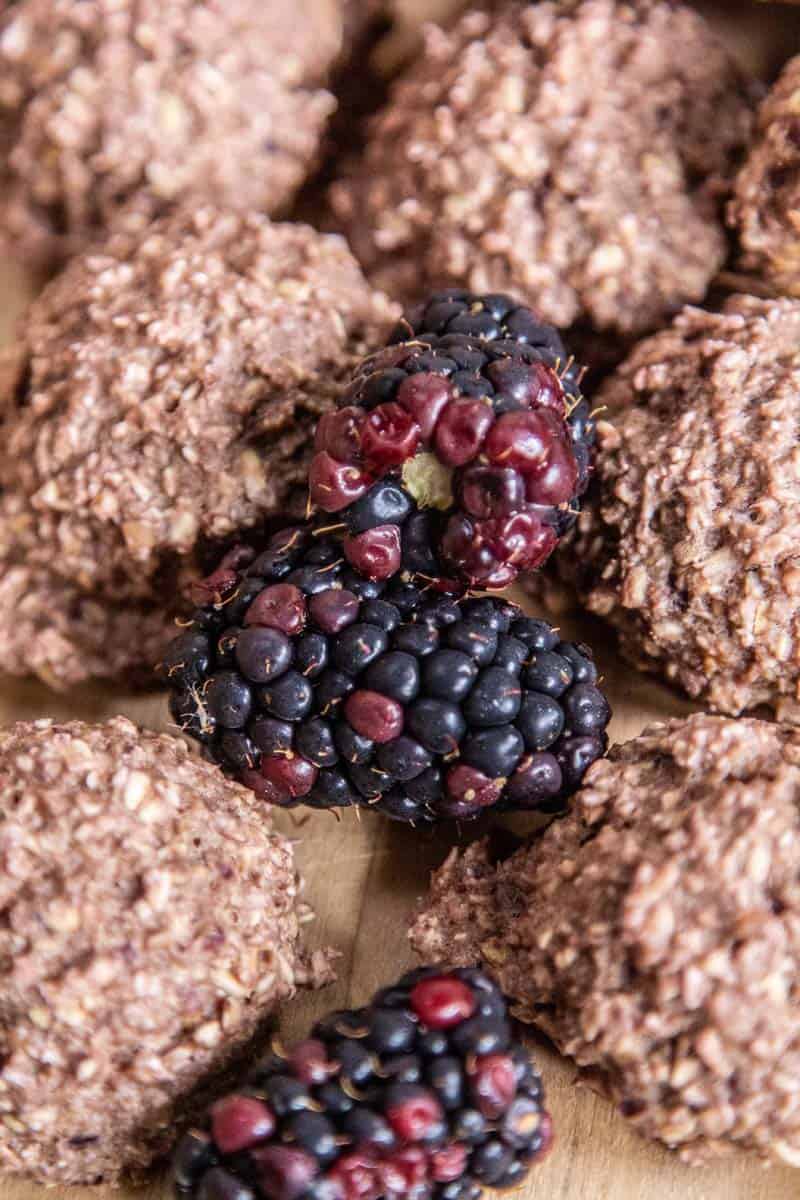 Tips for beginning to incorporate blackberries into your dog's diet.
Start small when feeding your dog blackberries.
If your dog has never eaten blackberries, start by feeding him or her no more than 3 blackberries to see if they have a negative reaction, like an upset stomach or allergic reaction.
Watch for gastrointestinal upset.
Because of their high fiber content, blackberries can upset your dog's digestive system. Keep an eye out for stomach pain, gas, diarrhea, or other gastrointestinal issues. If those occur, discontinue treating your dog with blackberries. If you aren't sure how to treat your dog's tummy upset click here.
Don't feed whole blackberries to small dogs.
Blackberries can be a choking hazard for smaller dogs. To avoid choking, cut them into smaller, bite-sized pieces or mash the blackberries to break them up and serve that way.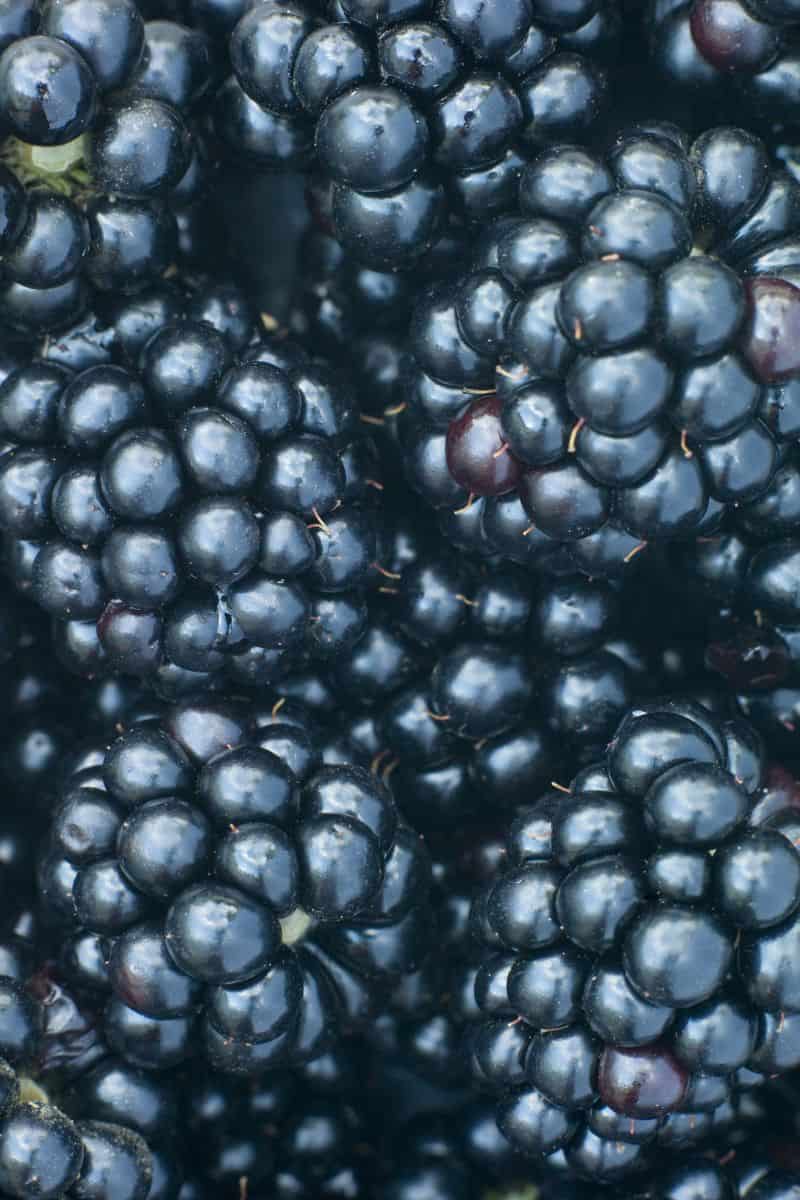 Don't feed too many at one time!
All that fiber could make your pup feel so full they don't want to eat their regular food, which is an important part of their diet. Treats should be no more than 10% of your dog's daily diet and, as they contain sugar, blackberries need to be served in moderation.
Avoid wild blackberries and ones with added sugar content.
It's best to feed your dog fresh blackberries you find at the grocery store or farmer's market. If you buy frozen blackberries, check the label to make sure they don't contain added sugar or artificial sweeteners like xylitol, sometimes labeled "Birch Sugar", which is highly toxic to dogs.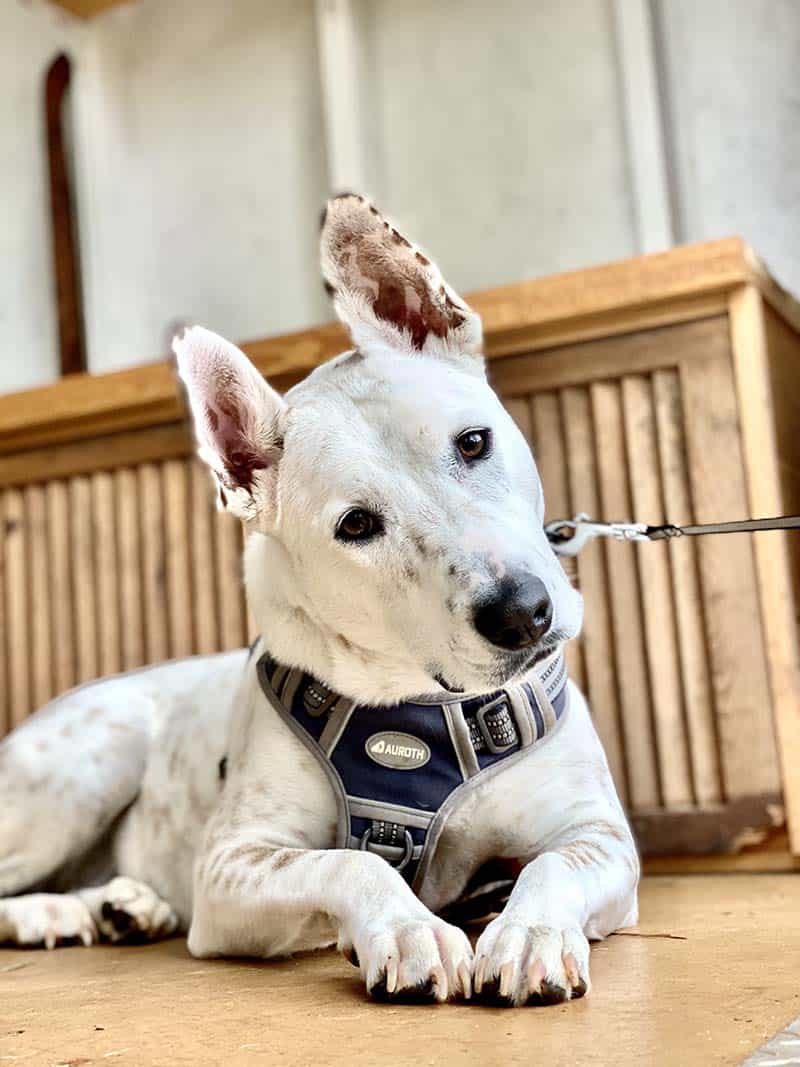 While our dogs love these Soft Baked Blackberry DOg Treats, they are suckers for crunchy biscuit-style dog treats too. Click here for a great crunchy blackberry dog treat from the American Kennel Club.
Looking for more homemade dog treat recipes? We have you covered!
Our dogs are fruit fanatics! We have tested LOTS of fruit-filled dog treat recipes, but these are our pup's favorites that we treat them with regularly.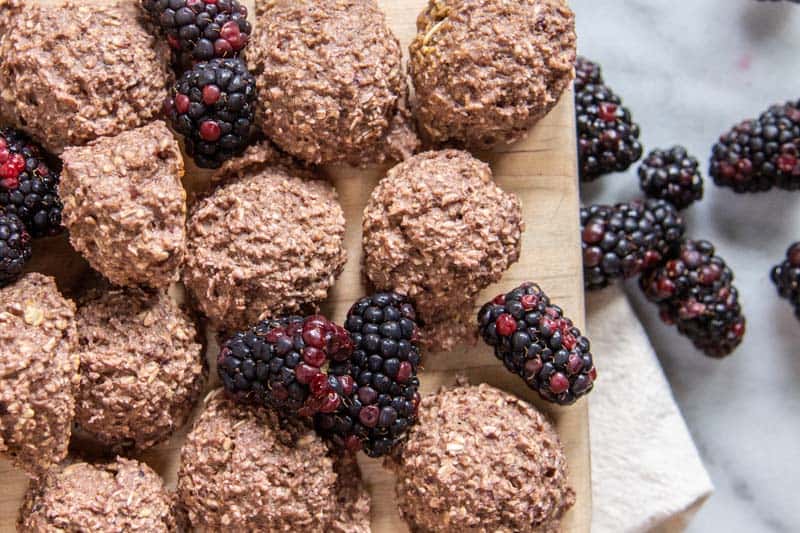 If you've made our Soft Baked Blackberry Dog Treats recipe I would be so grateful if you would rate the recipe and let me know what you think in the comments below!
Print
Soft Baked Blackberry Dog Treat
Have you tried this recipe and loved it? Please, take the time to rate the recipe with a star rating and consider leaving a comment. This helps others like you find our recipes! 
Can dogs eat blackberries? The answer is yes!
Blackberries are in fact a delicious, antioxidant-rich fruit that your dog will love. This 4-ingredient recipe for soft dog treats is perfect for dogs that require a softer treat but are actually delicious enough that humans can eat them too.
Author:
Prep Time:

5

Cook Time:

15

Total Time:

20 minutes

Yield:

24

1-inch scoop sized treats

1

x
Category:

dog treats

Method:

Baked

Cuisine:

dog food
3 cups old-fashioned rolled oats
1 pint of fresh blackberries, rinsed
1 peeled banana, ripe is best for flavor, but our dogs don't care if the bananas are ripe or not
2 eggs 
Instructions
Preheat the oven to 350°F and line a baking sheet with parchment paper.
In a food processor combine the rolled oats, blackberries, and peeled banana. Pulse until combined, but the oats still have some texture. Add the eggs and process until completely incorporated.
Scoop the desired amount of the mixture out onto the prepared baking sheet with a small cookie scoop. Bake for 15 minutes. Cool completely.
Store these treats in the refrigerator as they are made with fresh fruit and will spoil quicker at room temperature. If you won't use all of the treats within 3 days, freeze any extra treats and thaw as needed.
Notes
Substitutions: You can substitute oat flour for old-fashioned oats. 2 ½ cups of oat flour equals approximately 3 cups of oats. The treats won't have the same texture as ours, but will still be delicious. 
Serving suggestions: Serving size will vary from 2-3 treats per day for small dogs to 6-8 treats per day for larger dogs. 
Storage solutions: This recipe makes quite a few treats. Any fresh baked treats you won't use in 3 days time freeze and store in an airtight container for up to 6 months. You can take out as many as you need for a few days at time to thaw.
Nutrition
Serving Size:

2 treats

Calories:

53

Sugar:

1.2 g

Sodium:

6.1 mg

Fat:

0.5 g

Carbohydrates:

9.1 g

Protein:

2 g

Cholesterol:

15.5 mg
Keywords: soft baked dog treat, blackberry dog treat, can dogs eat blackberries, blackberry
Recipe Card powered by
Frequently asked questions about feeding dogs berries.
The following berries are toxic and should never be fed to your dog. Ingesting these can lead to vomiting, diarrhea, excessive drooling, seizures, or trouble breathing:

Mistletoe berries.
Gooseberries.
Salmonberries.
Holly berries.
Baneberries.
Pokeberries.
Juniper berries.
Dogwood berries.
Blackberries (and raspberries) naturally contain a small amount of the substitute sweetener Xylitol, which is toxic to dogs. Rest assured, your dog would have to eat a massive quantity of blackberries to be poisoned, but it's important to note that berries should be fed in moderation.