Is your pup feeling queasy? Next time you think there may be digestive issues, be prepared and know exactly what to give dogs with an upset stomach.
There can be many reasons for a dog's upset stomach, ranging from mild tummy aches to severe intestinal issues. There are times when you should seek out a vet and times when you will be able to heal your pup on your own. The trick is knowing what to do for your specific issue, just as you do for your human family.
***Please note, I am not a veterinarian, just a very passionate dog owner! The information in this blog post documents our own personal experiences & research. Our dogs are always under our veterinarian's careful supervision. Please, consult with your vet and use your own personal judgment when caring for a sick dog***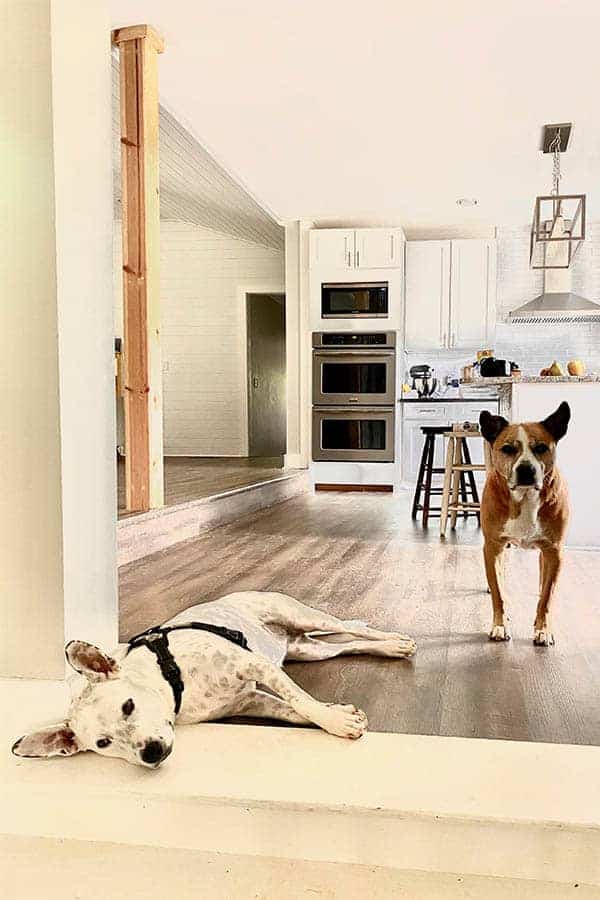 If your dog is vomiting or has diarrhea, the odds are that they ingested something that their body is rejecting. As we all know, this is pretty common in dogs. Dogs will eat or at least taste anything that has the slightest smell. Even the yuckiest of things!
Fortunately, dogs have an evolutionary mechanism that allows their bodies to expel anything toxic, whether parasites, bacteria, or an indigestible foreign object. Most of the time, the body will rid itself of these toxins by vomiting or through diarrhea. When the system is once again clear, your dog should be feeling better and happier.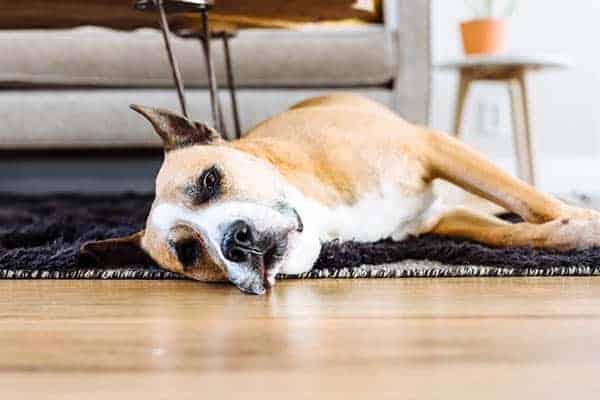 Of course, other times call for a more direct and hands-on approach.
Bacterial infections, food allergies, and critical digestive issues, like ulcers and cancer, will NOT improve over time. If your dog is acting lethargic, has a bloody stool, or is vomiting/having diarrhea continuously, you should immediately call your veterinarian.
If you are at all unsure of the severity of your dogs condition, contact your vet. Better safe than sorry.
The rest of this post will cover what to do when your dog is experiencing mild, temporary stomach sicknesses.
You will learn about symptoms of upset tummies, steps to take to determine the severity of the illness, and a list of veterinarian-approved home remedies that should get your pup back to feeling normal.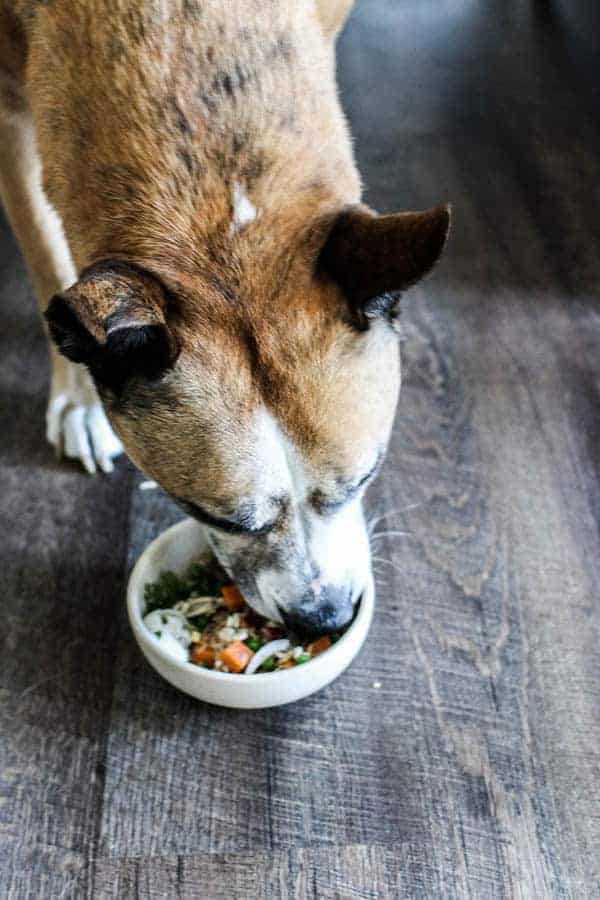 Steps to follow for dogs with an upset stomach - Know what to give them
Several symptoms may occur when your dog has an upset stomach. These include constant salivation or gulping, eating grass, licking their lips, and lack of appetite. However, the most common symptoms, and the ones which we're the most familiar with, are vomiting and diarrhea.
Follow these steps to determine the severity of the illness before moving on to home remedies.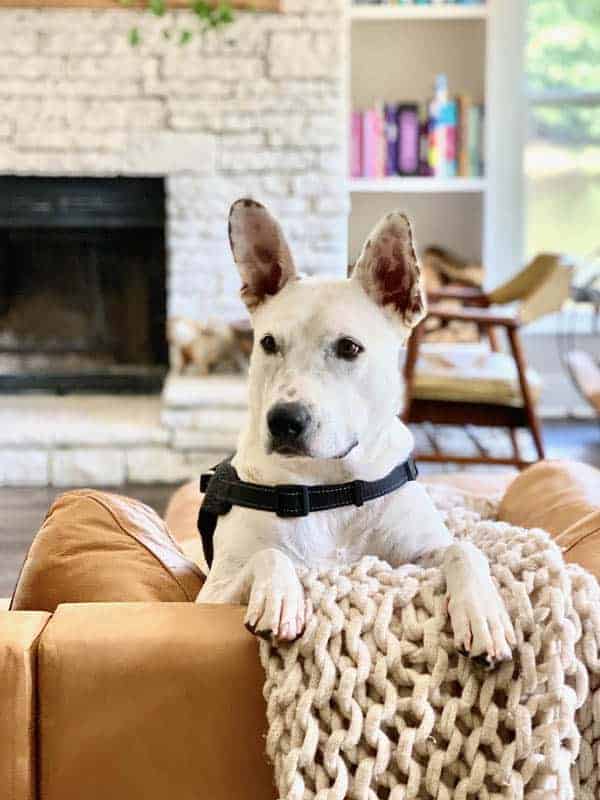 What to do if your dog is vomiting
Dogs will usually give out warnings when they're about to vomit. They will often begin gagging and acting strangely for a few moments before vomiting. This gives you a small window to get him outside before he does some real damage to your carpet.
After you see your dog vomit, follow these steps to determine if you can cure it with home remedies or if you should schedule a vet visit:
Symptom Check - Make sure that your dog is not exhibiting the more serious symptoms of digestive or intestinal illness. Symptoms of lethargy, bloody stool, and non-stop vomiting are all reasons to stop where you are and call the vet.
Dehydration Check - Dehydration can be a serious problem if left unchecked, and possibly lead to organ failure. You can perform a few simple tests to determine if your dog is dehydrated.

Firstly, check the elasticity of your dog's skin. With two fingers, pinch the skin on the back your dog into a tent-like shape. After you release the skin, it should immediately settle back down into its normal position. If the skin slowly moves downward or stays as it is, your dog is probably dehydrated.
Next, check the gums. A hydrated dog should have pinkish gums that are covered in slimy saliva. If the gums are dry and tacky to touch, dehydration is most likey taking place.
If your dog fails either of these tests, contact your vet to determine if professional attention is needed.

Fasting - If you make it through the previous tests without complications, you can continue to the fasting phase. Avoid feeding your dog any food for at least 12 hours. This will give the body time to rest and recover, hopefully ending the illness. If your dog is still vomiting after fasting, you should contact your veterinarian as it may be much more serious than an upset stomach.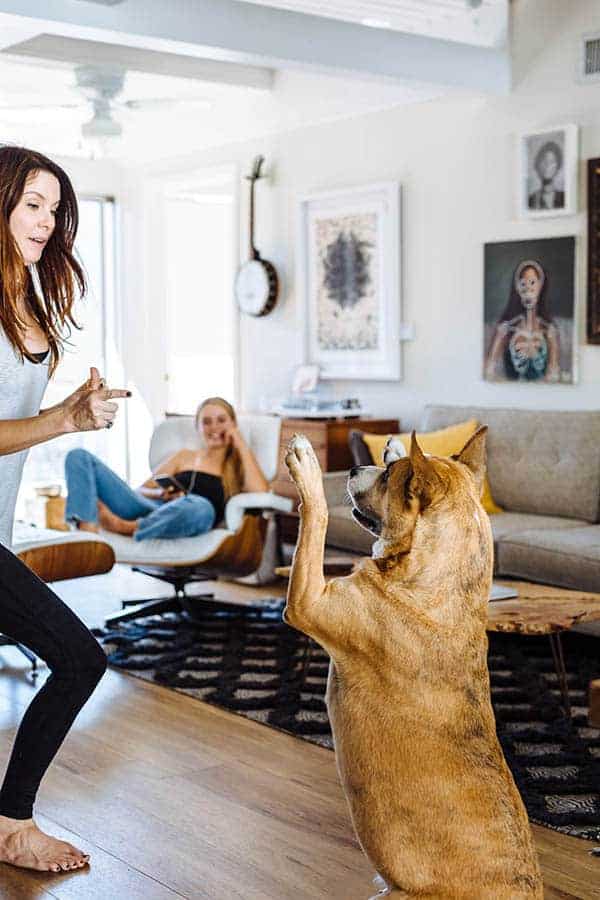 What to do for dogs with diarrhea
Unlike with vomiting, dogs will often have diarrhea with little or no warning. It can hit quickly, and indoor dogs may not be able to get your attention in time to get outside. If your dog is having diarrhea or a rumbling tummy, it may be a good idea to sit outside with your dog for a while until the symptoms subside.
Next, you should follow the exact steps laid out in the previous section. After checking for severe symptoms, dehydration, and initiating the fasting phase, your dog should be feeling much better. If diarrhea persists, contact your veterinarian.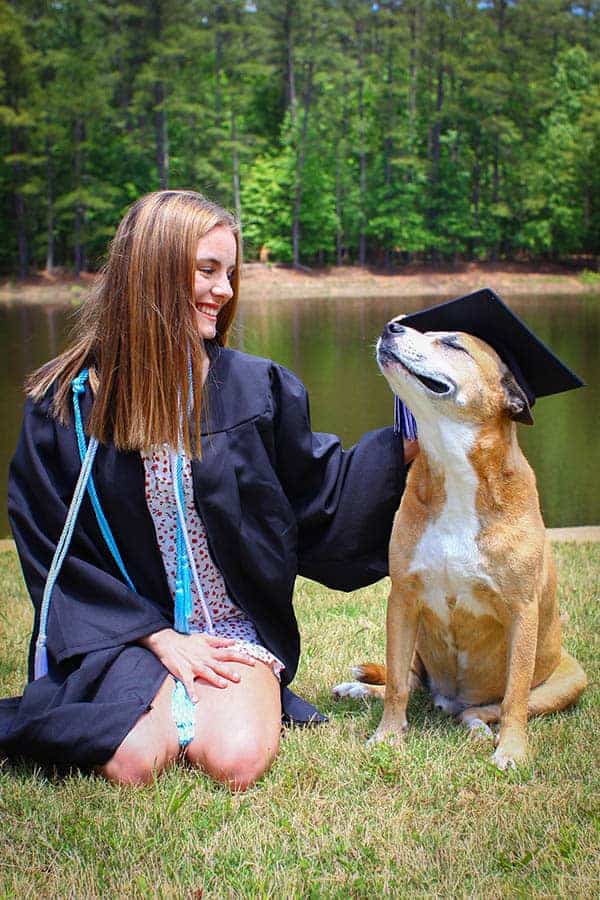 What should you give to dogs with an upset stomach? Home remedies for dogs
Once you've determined that your puppy's illness is not severe and can be treated at home, you can begin trying different veterinarian-approved home remedies based on a bland food diet. The following foods should help your sick pooch get back on track to full recovery.
Boiled turkey or chicken
Opt for turkey if you suspect your dog might have a chicken allergy. Chicken is in the top 5 food allergens for dogs. Proteins are common food allergens. Feeding your dog a single food for years increases their potential to develop an intolerance or allergy to one or more ingredients.
Boil boneless, skinless turkey or chicken breasts and shred them into easily digestible pieces for a bland and healthy meal. Make sure to remove any pieces of tissue or skin that may be harmful to a dog's sensitive stomach.
White rice
Boil a cup of plain white rice (no sugar or salt) until it becomes creamy and serve it to your dog at room temperature. Boiled chicken and rice are often used together to create a digestion-friendly meal that your dog will love.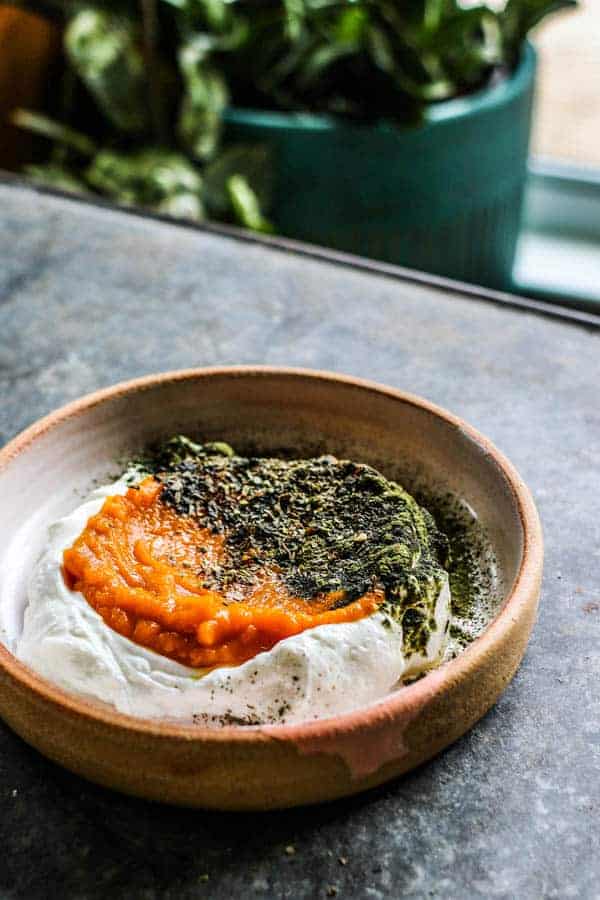 Pumpkin is a great way to introduce essential nutrients back into your dog's body. Full of fiber, vitamins, and minerals, it is an easily digestible food that will soothe and fill up your dog's tummy. It can also be combined with rice to create an extra tasty meal.
While fresh pumpkin is good for dogs as well, canned pumpkin contains a much more concentrated amount of nutrients that will serve an ailing pup much better. Be sure that you get plain canned pumpkin or pumpkin puree. Anything that includes sugar or other additives, like pumpkin pie filling, should always be avoided.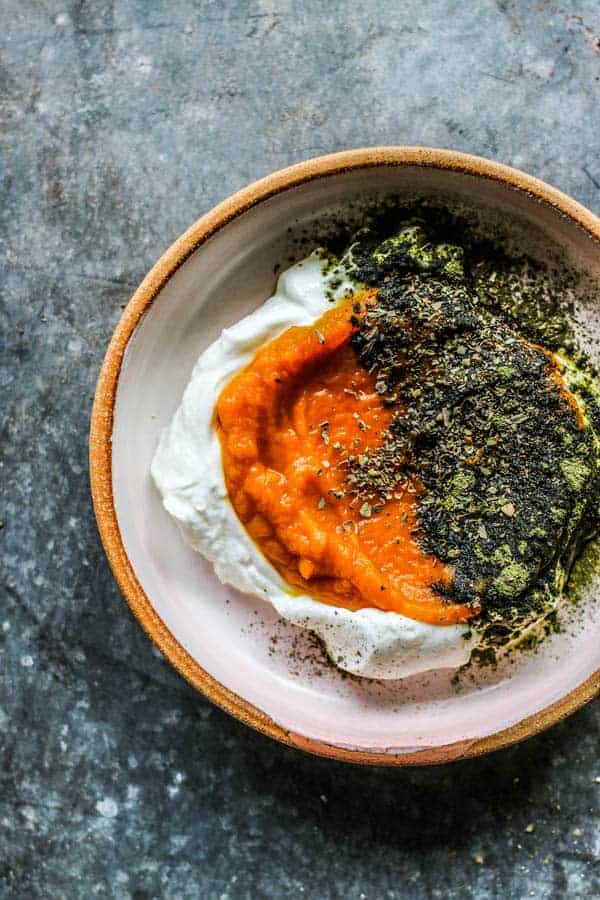 Our dogs receive pumpkin for breakfast a few days a week, they love it, it helps keep their gut in check, and it's really good for them.
These yogurt bowls are filled with good for your dog ingredients like plain, fat-free Greek yogurt, 100% pure pumpkin puree, plant-based vitamin and mineral powder, and my Homemade Dog Food Seasoning.
Sweet Potatoes
Sweet potatoes have similar nutritional profiles as pumpkin, being chockful of fiber and several essential vitamins and minerals that soothe an upset stomach.
Chop and boil the sweet potato until it is cooked all the way through, as raw sweet potato can contain harmful toxins for dogs. Mash them up and serve unseasoned.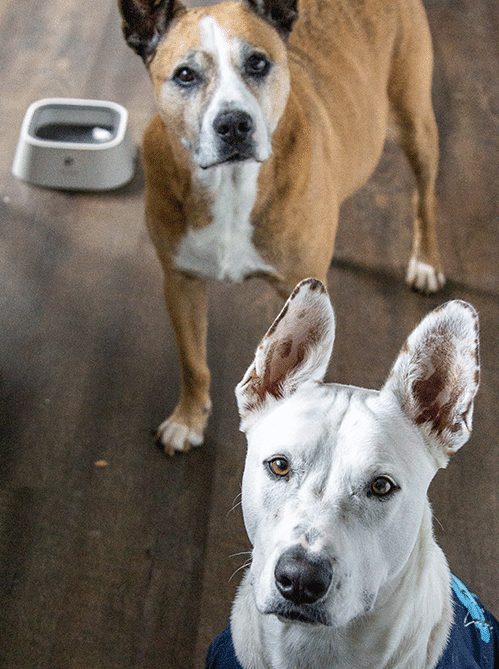 Other ways to soothe a dog with an upset stomach.
In addition to these bland foods, dogs with upset stomachs should get plenty of rest. They should avoid strenuous physical activity like long walks, playing, and fetching. Too much activity will add stress to an already maxed out body, delaying or inhibiting recovery.
Additionally, dehydration, common for dogs who have vomited or had diarrhea, can worsen if you allow your dog to play and run like usual.
This is what we keep on hand to give our dogs with an upset stomach.
Just like you have a medicine cabinet in your home for the humans, you should have a stash of "over the counter" items like the ones below for the times when your dog's belly is uneasy.
I always keep the products below on hand. Some like the probiotics I use regularly to maintain a healthy gut biome for our pups. But, others like the Fast-Acting Advanced Diarrhea treatment I keep on hand for situations when we need to get our dog's serious relief, fast!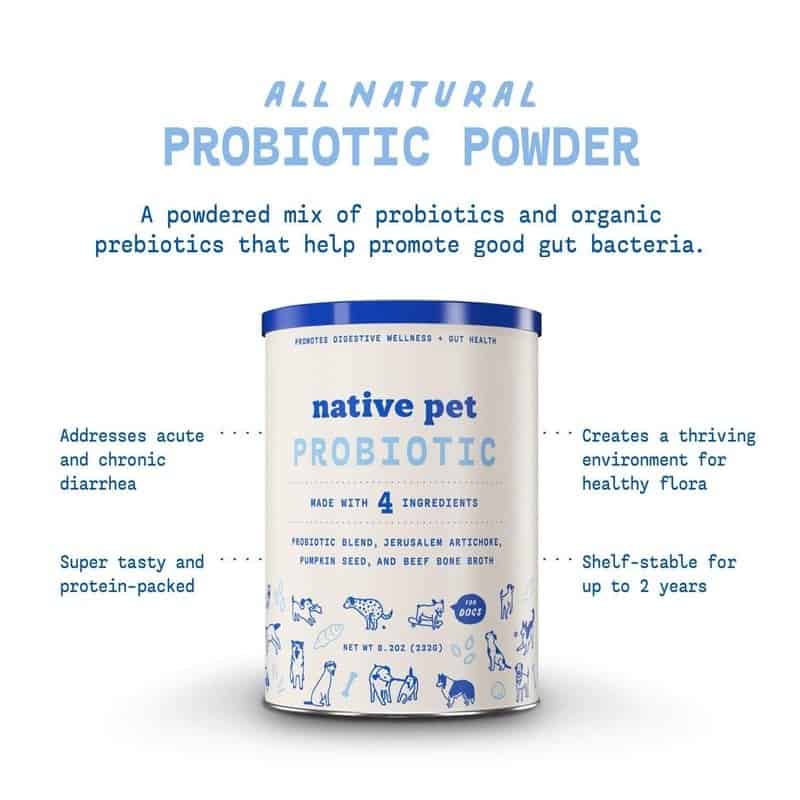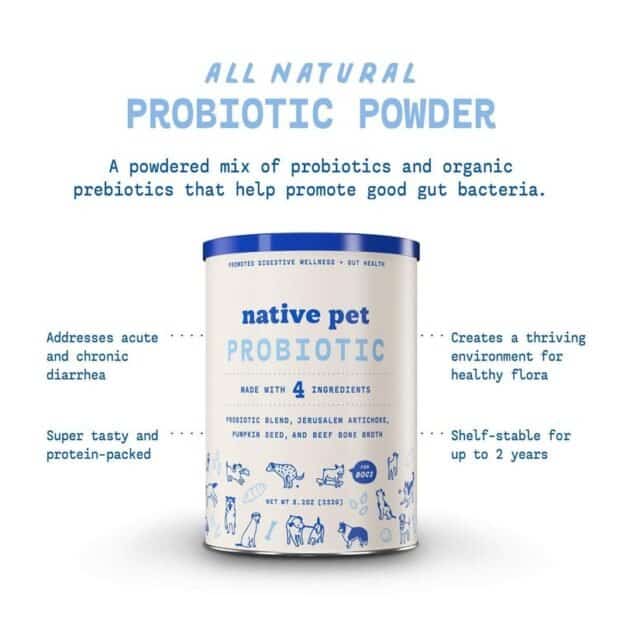 This powdered mix of probiotics and organic prebiotics help promote good gut bacteria and addresses acute and chronic diarrhea.
Super tasty and protein-packed, it's made with only 4 simple and effective ingredients. Vet-developed, nutritionist-approved.
Click here to learn more about native Pet Probiotic.
Use the code THISMESSISOURS20 at checkout for 20% off!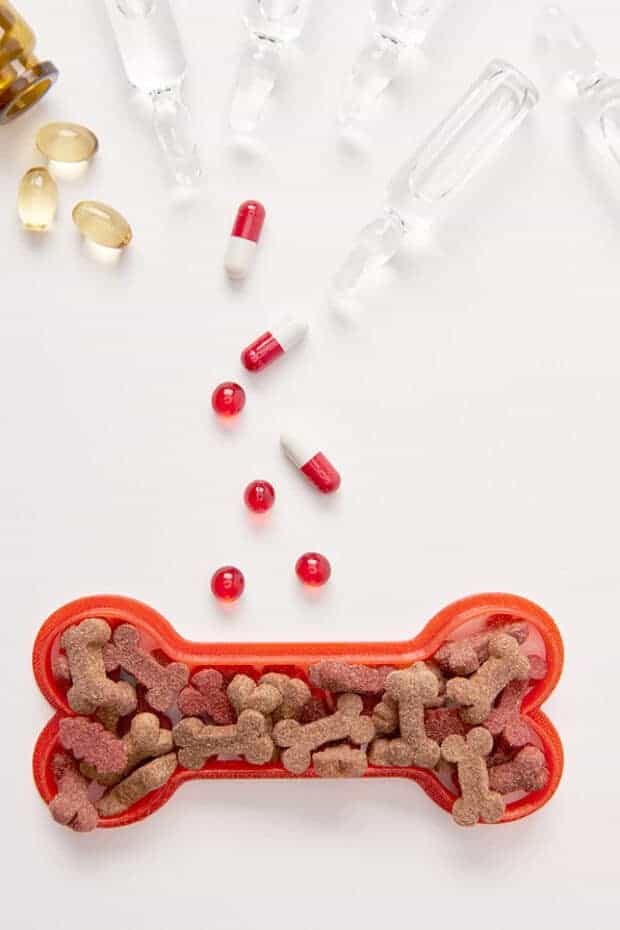 This post is sort of like a round-up of our personal doggie medicine cabinet if you will.
These are the products I keep on hand at all times. From the vitamins and supplements that we use daily, to the exact products we reach for when our pups are feeling ill.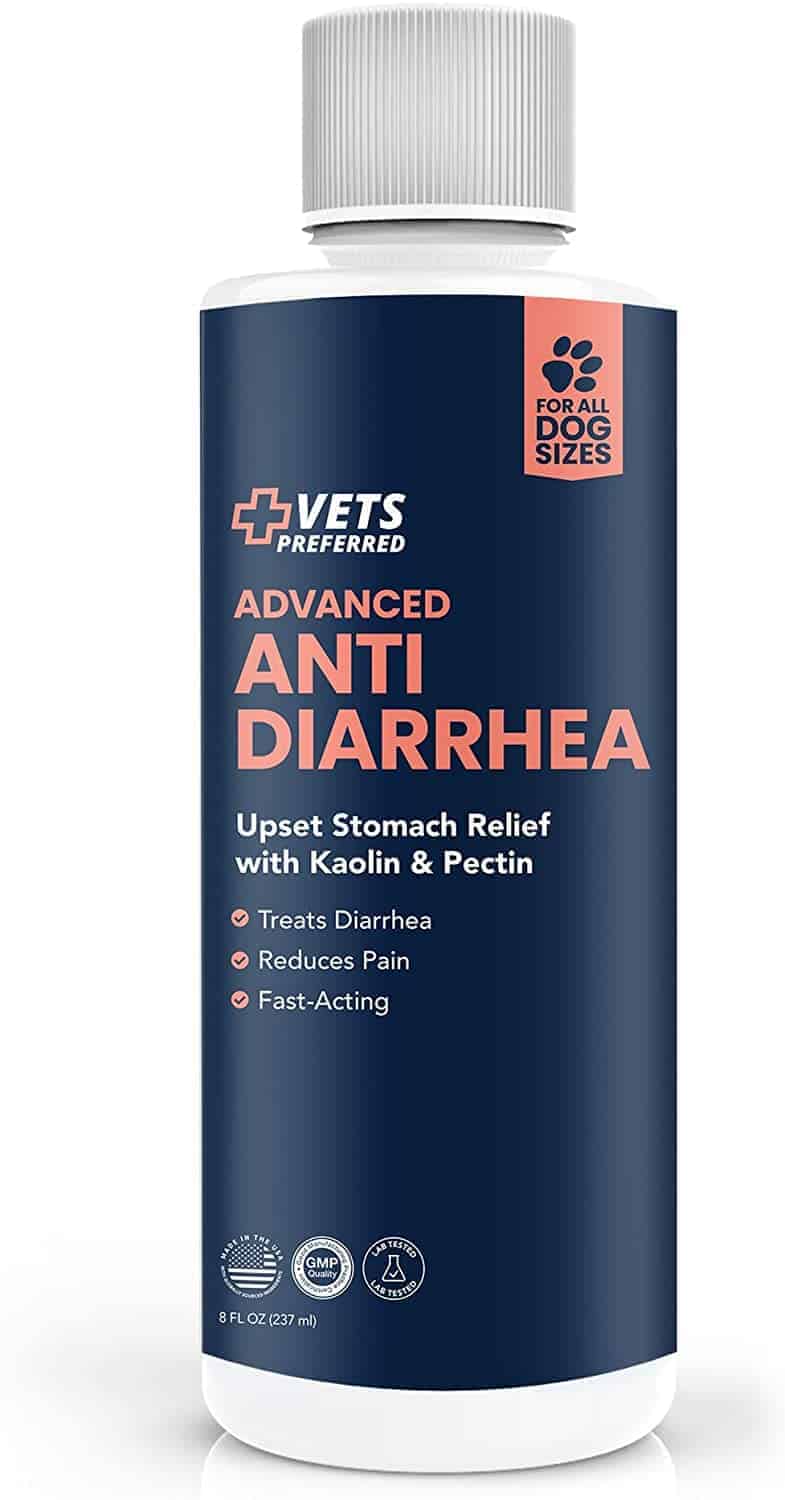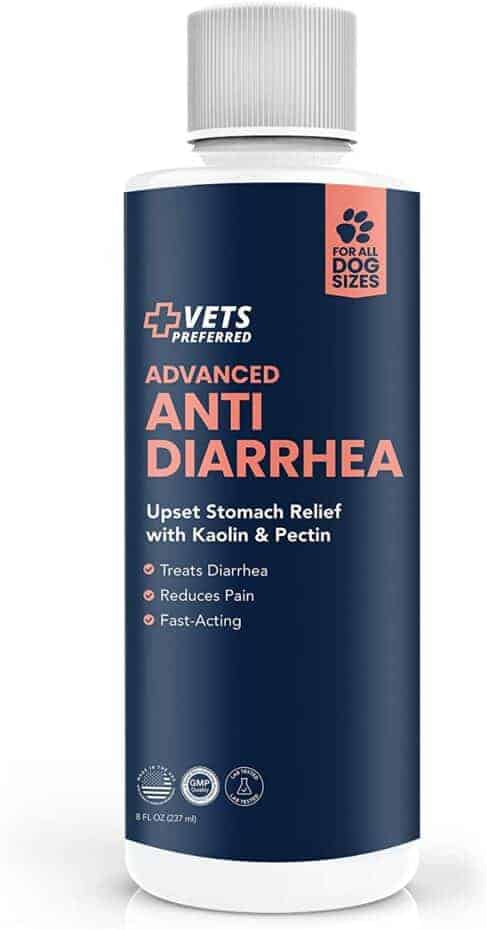 We always keep this on hand for unexpected stomach distress and trust us, like humans at times your dog will have them!
This works for dogs sort of like a Pepto Bismol does for humans and it has never let us down.
The trick is to be prepared and have it stowed away in the medicine cabinet when you need it.
Now that you have these tips in your arsenal, you can know what to give dogs with an upset stomach next time. Often the illness will be mild enough to deal with on your own at home.
But if you have any concerns at all, don't hesitate to get in touch with your veterinarian!
Looking for more articles to keep your dog happy and well-fed?! Keep scrolling for more!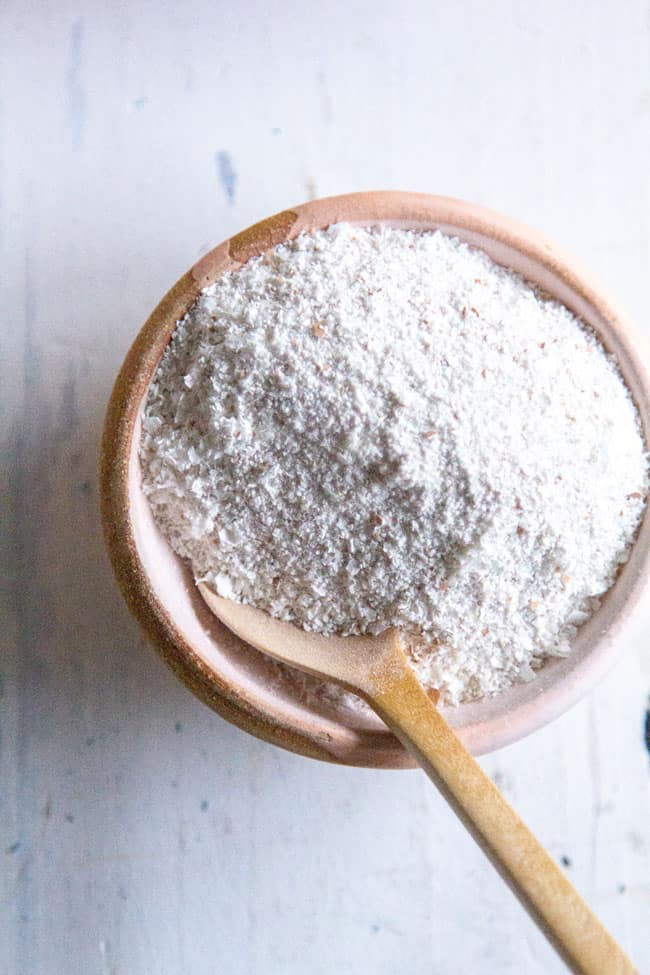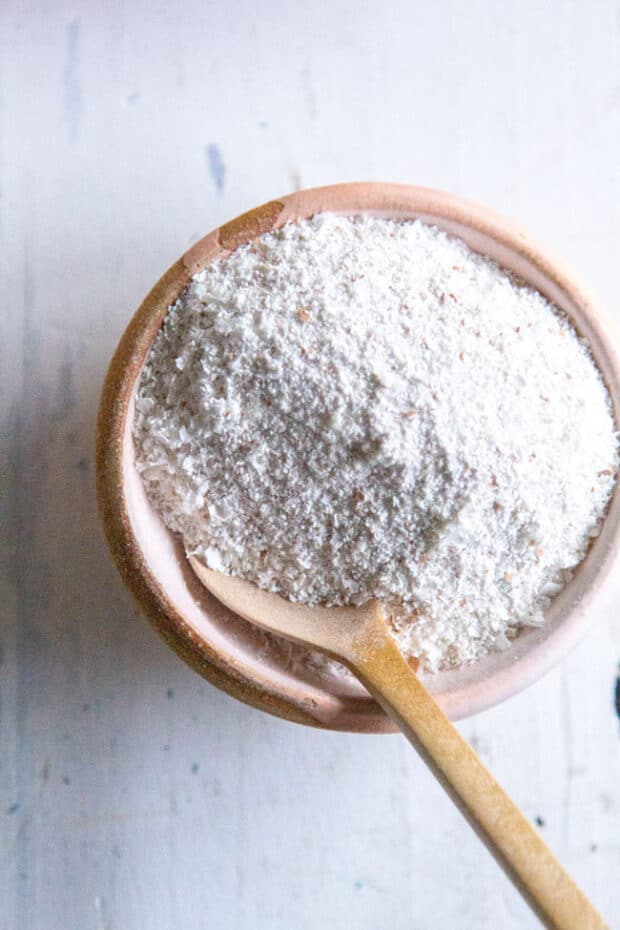 Calcium is one of the most critical nutrients for dogs. It plays a significant role in bone health, muscle movement, and blood clotting. This simple homemade, powdered supplement is a 1-ingredient calcium powerhouse that can be added on top of homemade dog food to ensure they are getting an adequate amount of calcium in their diet.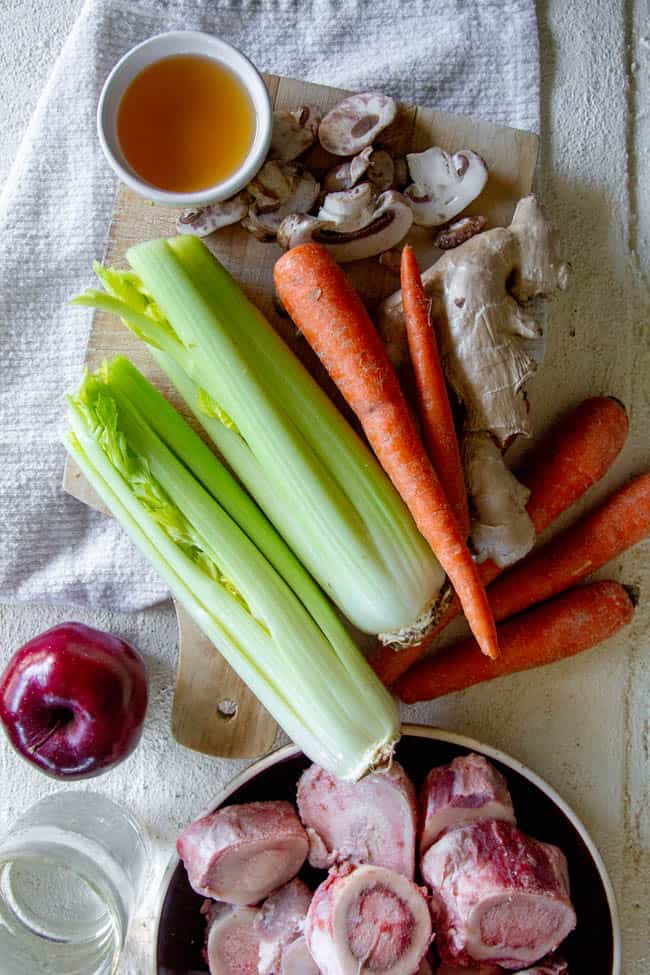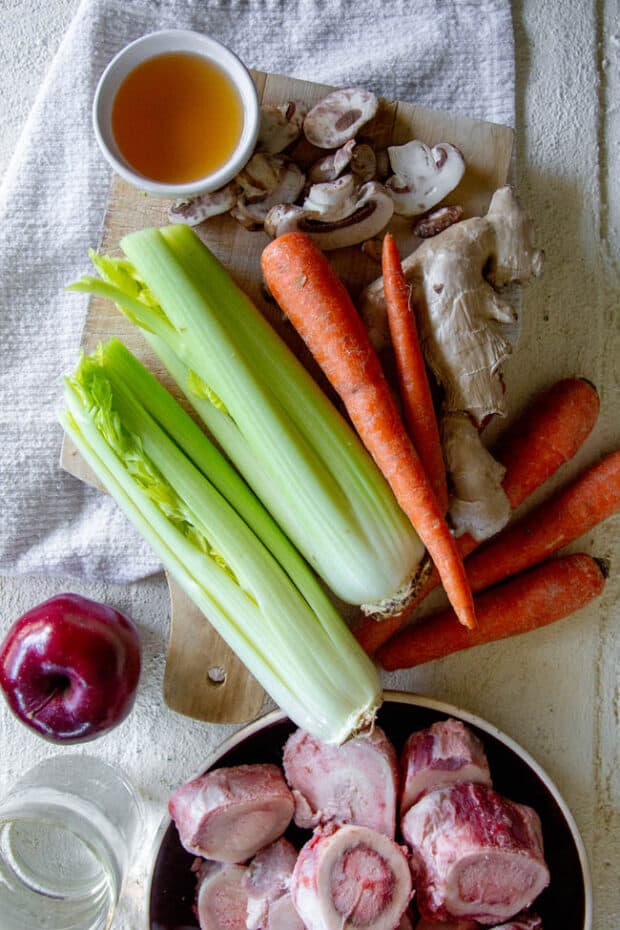 Can Dogs Eat Bones? A Simple Dog-Friendly Bone Broth Recipe
Some types of bones are a hard NO when it comes to treating your dogs but others can be an occasional healthy treat.
We covered all the basics from raw vs. cooked bones to plant-based bone and chew alternatives and even created a simple dog-friendly bone broth recipe!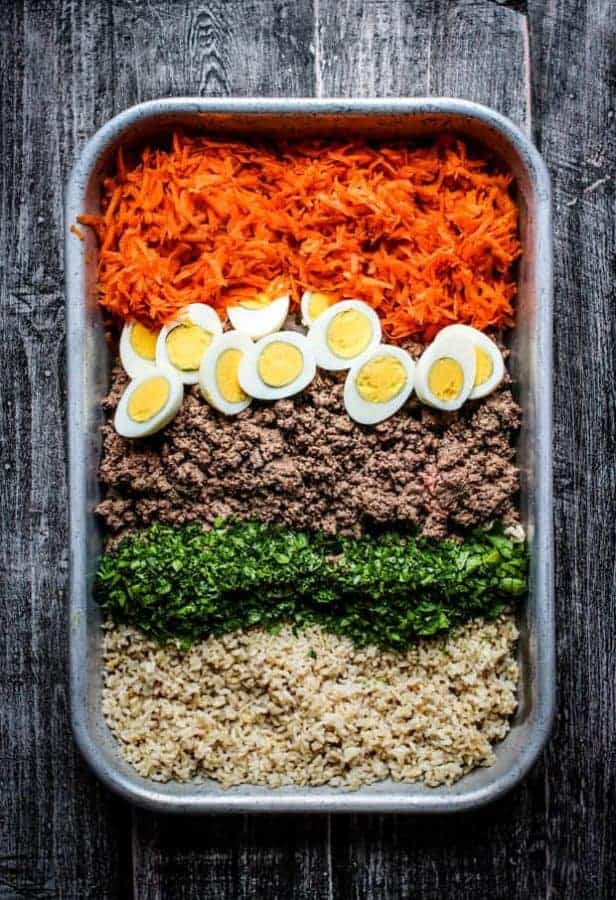 My easy homemade dog food recipe combines lean ground sirloin, wholesome brown rice, fresh vegetables, hard-boiled eggs, and tender herbs for a healthy, vibrant alternative to traditional dog food that has given our nearly 13-year old dog a new lease on life!