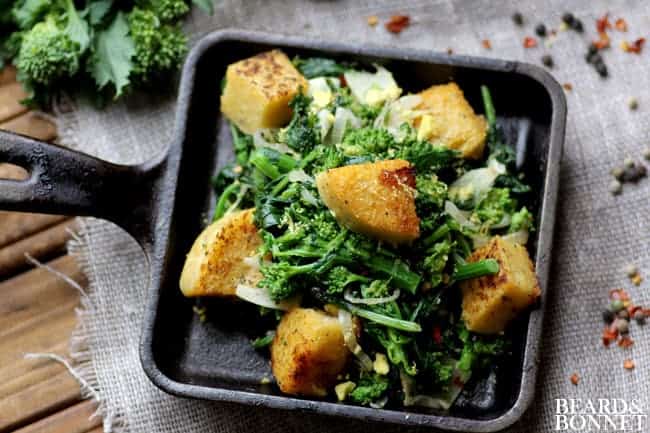 Since our gluten-free lifestyle change I have been trying to introduce new foods onto my dinner table to fill the gap of those things that we lost. We have definitely become more adventurous eaters and have really been enjoying our new vegetable encounters at the dinner table, for the most part.
The other day I found the most lip smacking, eye-catching article on broccoli rabe in this months Cooking Light magazine. It was a whole glorious page dedicated to 4 simple ways to prepare and serve it boasting super fast cooking and flavorful eating. I loved everything about the article, the flavor profiles, the time it took to prepare, that striking color! I loved it so much that I made a special trip to the grocery to pick up a bunch and headed back to my kitchen for what I was sure was going to be the most AMAZING meal we had eaten in a while. I had visions of oohs and ahhhs and could already sense my husband's pride that I found a way to incorporate Pantone's new color of the year into that evenings dinner.
Fast forward to an hour later, it is officially my new least favorite vegetable ever! I so wished that I could rave about the veg and tell you how much I loved it and my family adored it and how it was a hero at the dinner table. It wasn't! The dish turned out beautiful, that trendy emerald-green color of the broccoli rabe, the beautiful golden brown of the polenta croutons, the slivers of garlic, and my additions of thinly sliced shallots and lemon zest. How could this not be a hit?!
In my mission to find something positive in even the most dreary of situations I came to two conclusions.
1. Those polenta croutons were a stroke of genius! Thanks Cooking Light Magazine, I will be using these again for sure!
2. If you like the bitter flavor profile of broccoli rabe, which is actually a descendant of wild mustard and not broccoli, you might really like this dish.
So for those 2 reasons, I am sharing this recipe with you and asking that if you are a broccoli rabe LOVER and have a great vegetarian friendly way of preparing it that cuts down on that bitter note that it is known for, send the recipe my way so that I can muster up the courage to try it again!
Broccoli Rabe with Polenta Croutons
adapted from Cooking Light Magazine
Serves 4 as a side and cooks in 20 minutes
1 pound broccoli rabe, washed and cut into 2-inch pieces
2 Tbsp, extra-virgin olive oil, divided
1 tube of prepared polenta, sliced into 1-inch square cubes
3 garlic cubes, thinly sliced
1 shallot, thinly sliced
1/8 tsp. red pepper flakes
1 lemon, zested
Kosher salt and freshly ground black pepper
Heat a large cast-iron skillet over medium-high heat. Add 1 tablespoon of olive oil; swirl to coat the pan. Add cubes of polenta and cook for approximately 8 minutes, turning to brown on all sides. Set aside until ready to serve.
Meanwhile, bring 8 cups of salted water to a rolling boil and add the broccoli rabe. Cook for 2 minutes in the boiling water; drain.
Heat a large non-stick skillet over medium heat. Add 1 tablespoon of olive oil; swirl to coat. Add crushed red pepper, shallots and garlic to the pan and cook for 30-45 seconds stirring occasionally. Add broccoli rabe; cook 2 minutes. Stir in 1/4 teaspoon of salt, black pepper and lemon zest. Serve immediately with polenta croutons.
We are happy to have shared this post at the Gluten-Free Friday's link up party hosted by Vegetarian Mama, Eat.Live.Make, and Gluten Freed R.D.!  Hop on over to find more great gf recipes.
(Visited 1 times, 1 visits today)