I am so excited that today is Halloween! I love helping my kids' get all made up and taking them out to trick or treat. This year will be the first Halloween since our switch to a gluten-free lifestyle and while I am really excited to take part in the festivities, I am also really concerned about all of the places that gluten could be hiding. My plan is to have a fresh batch of homemade cookies waiting for my little monster when he returns home from gathering his treats. He really adores these orange cookies so hopefully he won't notice when the bucket of candy goes missing. Fingers crossed!
Orange Kissed Almond Cookies
Makes approximately 2 dozen cookies
Adapted from King Arthur Flour
10 ounces almond paste
1 cup sugar
¼ tsp. kosher salt
2 large egg whites, lightly beaten
¼ tsp. gluten-free almond extract
⅛ tsp. gluten-free orange extract
Confectioners' sugar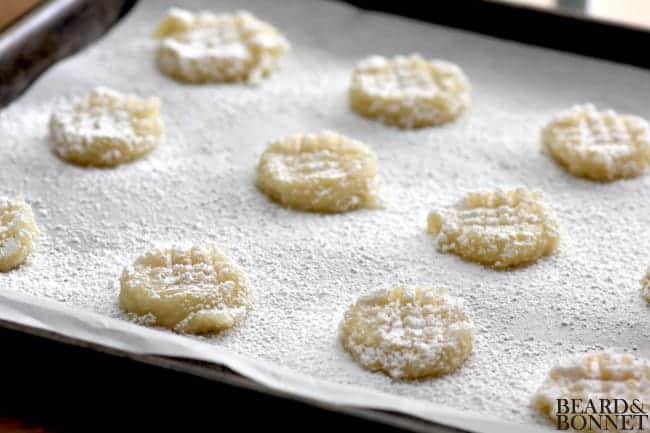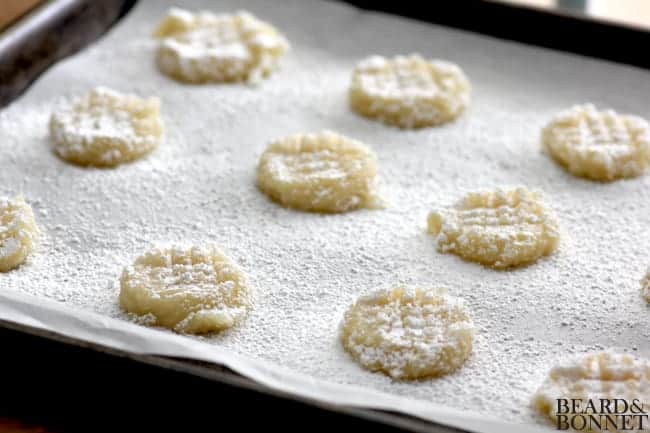 Preheat oven to 325° F. Line a baking sheet with parchment paper and lightly spray with cooking spray.
Blend the almond paste, sugar, and salt until they become uniformly crumbly. *I used my stand mixer for this.
Lightly beat the egg whites and add them gradually to the almond mixture with the mixer constantly running.
When the eggs are incorporated turn off the mixer and stir in the almond and orange extracts.
Scoop the dough with a small ice cream scoop or tablespoon onto the prepared pans leaving about an inch in between each cookie. Sprinkle the cookies heavily with confectioners' sugar and press down on each cookie with the tines of a fork, like you would a peanut butter cookie.
Bake each cookie for 20-25 minutes, until they are brown around the edges. Remove from the oven and let them cool on the pan.
We are happy to have shared this post at the Gluten-Free Friday's link up party hosted by Vegetarian Mama, Eat.Live.Make, and Gluten Freed R.D.!  Hop on over to find more great gf recipes.
If you've tried this Orange Cookie Recipe, I would be so grateful if you would rate the recipe. Let me know what you think in the comments below. I just love hearing from you and your reviews and comments really help others that visit This Mess is Ours!
Want to be a part of our online community outside of the blog? It's easy!! All you have to do is follow @THISMESSISOURS on FACEBOOK, INSTAGRAM, TWITTER, YOUTUBE, or PINTEREST to see cooking demos and peeks into our day to day life.
What are the health benefits of almonds?
Almonds are full of Vitamin E and other antioxidants which help to slow the aging process and fight diseases. Low in carbohydrates and high in healthy unsaturated fats, these tree nuts help control blood sugar, cholesterol, and blood pressure levels.
Click here for more information on the health benefits of almonds.