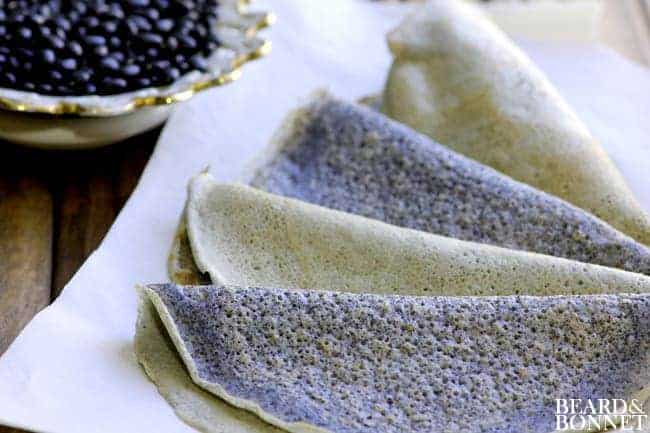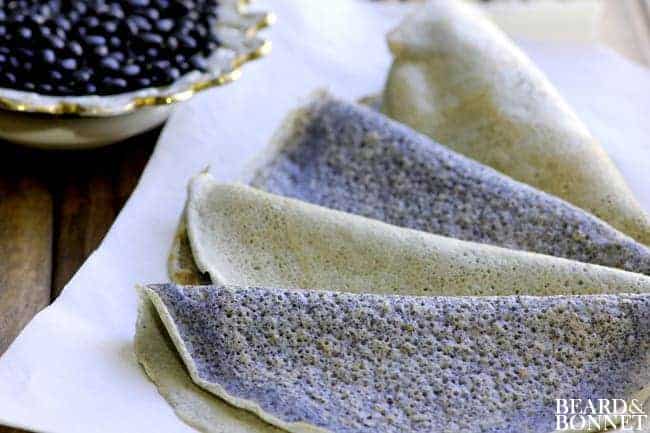 Now that Halloween is over and before the Thanksgiving madness begins I thought that I would take a minute to share a recent discovery on our seemingly never ending quest to find a suitable replacement for flour tortillas. We have come up with a few really interesting tweaks on the corn tortilla and we enjoy making them together, but they are a labor of love and not nearly as fun when you are making them alone. *You can find links to our corn tortillas at the bottom of this post.
A few weeks ago I was perusing the nuts.com site and came across black bean flour. I had read about people including this flour into their gluten-free chocolate baked goods, but I honestly wasn't sure what else you could do with it. Since we are lovers of all things black bean I decided that I should give it a go and order a small bag. A couple of days later my bag of flour arrived and I decided to test out a small batch of tortillas. I love our corn tortillas for tacos and tostadas, but they just aren't pliable enough to make a decent enchilada.
This batter is simple to prepare and the cooking method reminds me a lot of how I used to make crepes. The end result was a beautiful stack of purple hued tortillas that were elastic enough to withstand being stuffed and rolled. Todd said that the consistency of the tortilla reminded him of Injera bread that he had at an Ethiopian restaurant a few years ago and he LOVED it! *Injera bread takes days to make and this only takes a about a half an hour, BONUS! We have since been dipping these little tortillas into hummus, had yummy enchiladas, and I am considering trying to make a Southwestern style savory crepe with these little beauties.
Black Bean Flour Tortillas
Makes 12-13 8-inch tortillas
⅓ cup black bean flour
½ cup cornstarch
2 Tbsp. tapioca flour
½ tsp. kosher salt
½ tsp. cumin
2 eggs, lightly beaten
1 ½ cups filtered water
Combine the dry ingredients in a medium sized bowl and mix until combined. Mix in the wet ingredients with a whisk until the batter is free of lumps. *The batter will be really thin. Set aside to rest for 20-25 minutes.
Preheat an 8.5 inch skillet over medium high heat. *The skillet is warm enough when a few drops of water dance and sizzle around the pan. The same way you would check a pan for pancakes. Ladle a ¼ cup of the batter into the skillet at a time, swirling the pan so that the thin batter coats the entire pan and barely begins to go up the sides of the pan.
Allow the tortilla to cook between 30-45 seconds before flipping with an offset spatula to cook the other side. *This batter is so thin that it is easy to tell when it is cooked through and ready to flip. You can literally see the consistency change from liquid to solid pretty quickly.
When the tortilla is cooked through place it on a sheet of waxed paper and continue the process with the remaining batter, placing a sheet of waxed paper in between each tortilla.
I couldn't help but throw a picture of my precious little monsters in this post from Halloween! Eliza went as a day of the dead girl inspired by the paintings of Sylvia Ji and Kash was "Max" from Where the Wild Things Are, one of our favorite books. We had such an amazing evening!
If you are looking for a new twist on corn tortillas you should check out our other tortilla recipes:
Cilantro Infused Corn Tortillas
Beautiful Beet Infused Tortillas
We are happy to have shared this post at the Gluten-Free Friday's link up party hosted by Vegetarian Mama, Eat.Live.Make, and Gluten Freed R.D.! Hop on over to find more great gf recipes.