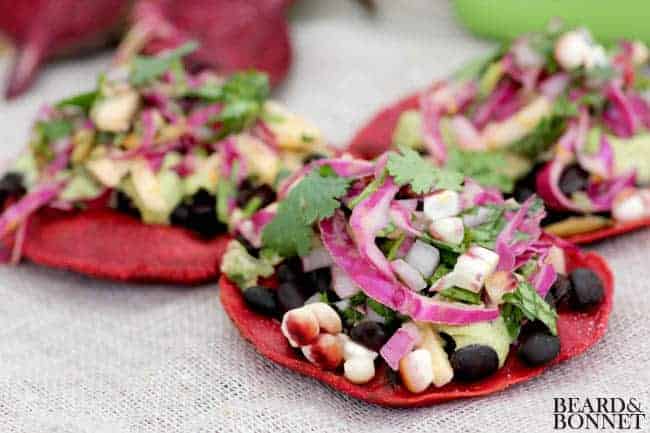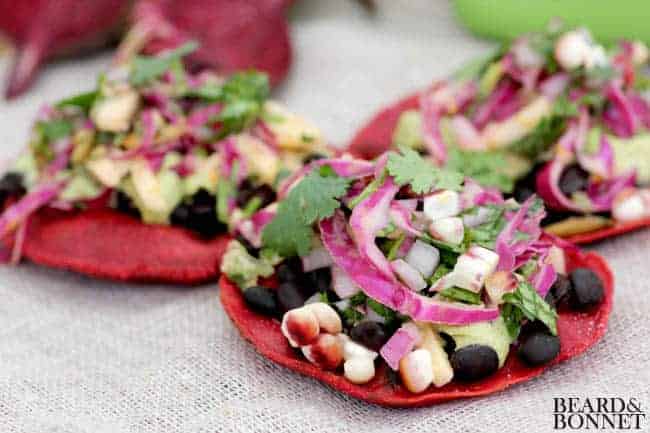 Todd and I love hanging out in the kitchen together on the weekends. We talk about everything from what happened that week to trends in the world of art and design. Last weekend we kept coming back to the subject of color which led us to challenging ourselves to make a dinner that was inspired by color. We started by looking in the fridge for inspiration where we found a few beets, their purple hue seemed like a great starting point for our colorful dinner. I love that they have a knack for lending a subtle sweetness without being overpowering and since Eliza decided that she liked beets when I surprised her with Candy Cane Beet Crisps after school a few weeks ago, I knew that she would be into a beet inspired dinner. We all had a lot of fun building our purple dinner and will definitely be building more color inspired meals in the future. We all agreed that the beet tostadas were amazing and that we will be having them again soon.
Beet Infused Tostadas
2 cups Maseca, instant corn masa flour
1 ½ cups filtered water
2 red beets, peeled and cut into pieces
¼ tsp. salt
Peanut oil for frying
Coarse salt
Place the beets and water into a blender and blend for approximately 1 minute. Strain the liquid through a fine mesh sieve using a spatula to press all of the liquid out of the pulp. Discard the pulp and add water if necessary to measure 1 ½ cups of liquid. In a large mixing bowl combine the Maseca, salt and 1 ¼ cups of the liquid and mix thoroughly until dough is formed. *You should have about ¼ cup of the liquid left. Use your hands and knead the mixture for about a minute. The dough should be soft, if it feels too dry and crumbly knead in more of the liquid 1 tablespoon at a time. Divide dough into 16 equal portions that are a little larger than a golf ball. Cover with a damp cloth to keep the dough from drying out.
Line a tortilla press with two sheets of plastic wrap or parchment paper. Press each dough ball between the plastic until the tortilla is about 5-6 inches across. Carefully set aside, separating each tortilla with a small square of plastic or parchment to prevent sticking and repeat the process until all of the dough has been pressed. *Todd does this part because he can press the tortillas a lot thinner than I can.
Preheat an ungreased griddle or cast iron skillet over medium-high heat. Cook tortillas one at a time for 30-50 seconds. Flip and cook the other side for an additional 30-40 seconds. Place in a lined tortilla warmer or cover with a cloth napkin and repeat until all of the tortillas have been cooked. *You can stop here if you would like and you will have pretty spectacular tortillas that are perfect for tacos or enchiladas.
Pour enough peanut oil in a cast iron skillet to reach a depth of 2 inches and heat over medium heat until it reaches a temperature of 350°F. When the oil is to temp drop the tortillas into the skillet 1 or 2 at a time, flipping with a slotted spoon every 15-20 seconds to ensure even cooking. When they have puffed up like little pillows and are crisp they are done. *I cannot give you an approximate time because it will vary depending on how thick or thin your tortillas are and how much liquid you used when making the tortillas. When the tostadas have finished cooking transfer them to a paper towel lined baking sheet to drain and sprinkle with coarse kosher salt.
Stack these beautiful little puffy pillows of goodness however you want! We layered them with roasted poblano cashew cream, slow cooked smokey black beans, cilantro jicama slaw , pickled jalapeno peppers, tomatillo salsa , fresh avocado, and the most beautiful pink and purple corn that I have ever seen! I have no clue where Whole Foods found these amazing ears of corn, but when I went back the next day for more it was all sold out. Bummer! I am so glad that Todd decided to take a picture of the corn before I used it. Isn't it gorgeous?!
We are happy to have shared this post on Everyday Vegan Girl for Healthy Vegan Fridays and at the Gluten-Free Friday's link up party hosted by Vegetarian Mama, Eat.Live.Make, and Gluten Freed R.D.! Follow the links for more recipes!