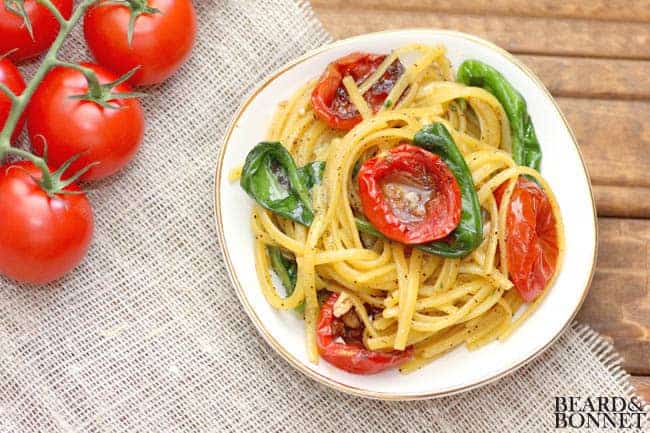 Pre-gluten and dairy free lifestyle one of my favorite dishes to make was a slow roasted tomato caprese salad. I almost always made this dish for guests because it was simple to prepare and the aroma that filled the house when I roasted the tomatoes was intoxicating. Slow roasting the tomatoes with garlic and balsamic creates a concentrated flavor that is seriously addicting. Since we are now gluten and dairy free I had to come up with a new way to enjoy these little red roasted beauties and of all the ways that we have tried them this pasta dish is by far our family favorite!
Slow Roasted Caprese Tomatoes and Black Pepper Pasta
Serves 4
1 box of gluten-free pasta, I use this one
1 recipe of slow roasted balsamic tomatoes, recipe follows
1 recipe of black pepper vinaigrette, recipe follows
2 Tbsp. basil leaves, minced
1 large handful of baby spinach
Prepare tomatoes and vinaigrette as instructed below. When your tomatoes are almost finished and you have prepped your vinaigrette cook pasta according to directions on the package. Place the minced basil leaves into the vinaigrette and stir well to combine, toss in the handful of fresh baby spinach leaves and toss to coat. When the pasta has cooked drain and immediately toss the hot pasta into the bowl with the vinaigrette and spinach. The heat from the pasta will wilt the spinach. Toss well to combine and then add the tomatoes, be careful to not lose any of the yummy juices that collected in the tomato "cups" while cooking. Toss well and serve immediately.
Slow Roasted Balsamic Tomatoes
18-20 Pearl or Campari Tomatoes
3 cloves garlic, minced
½ tsp. kosher salt
¼ tsp. black pepper
⅛ tsp. sugar
2 Tbsp. extra virgin olive oil
2 Tbsp. balsamic vinegar, I use Temecula Olive Oil Co.'s Vanilla Fig Balsamic
Position a rack in the center of the oven and preheat to 250° F. Slice tomatoes in half and use a spoon to scoop out the seeds. Discard the seeds and set he tomato halves cut side up, close together, on a baking sheet lined with parchment paper. Once all of the tomato halves are ready sprinkle the tomato "cups" with the minced garlic, salt, pepper, and sugar. Then drizzle them with balsamic and olive oil.
Roast tomatoes for 2 hours. Set aside.
Black Pepper Vinaigrette
1 tsp. balsamic
1 tsp. ground black pepper
½ tsp. salt
1 tsp. gluten-free nutritional yeast
¼ cup good quality extra virgin olive oil
Combine the first 4 ingredients in a large bowl and mix well with a whisk. Slowly stream in the olive oil while continuously beating with the whisk.
*I know that the proportions of vinegar to oil in this vinaigrette seems off, but take a look at those little tomato "cups" that you roasted and you will see that they are filled with tomato, garlic and balsamic vinegar goodness that will play a huge part in flavoring this dish.
We are happy to have shared this recipe on Laura's Gluten Free Pantry as part of Gluten-Free Allergy Wednesday link up and at the Gluten-Free Friday's link up party hosted by Vegetarian Mama, Eat.Live.Make, and Gluten Freed R.D.! If you are looking for more vegan recipes we have shared this post on Healthy Vegan Fridays.