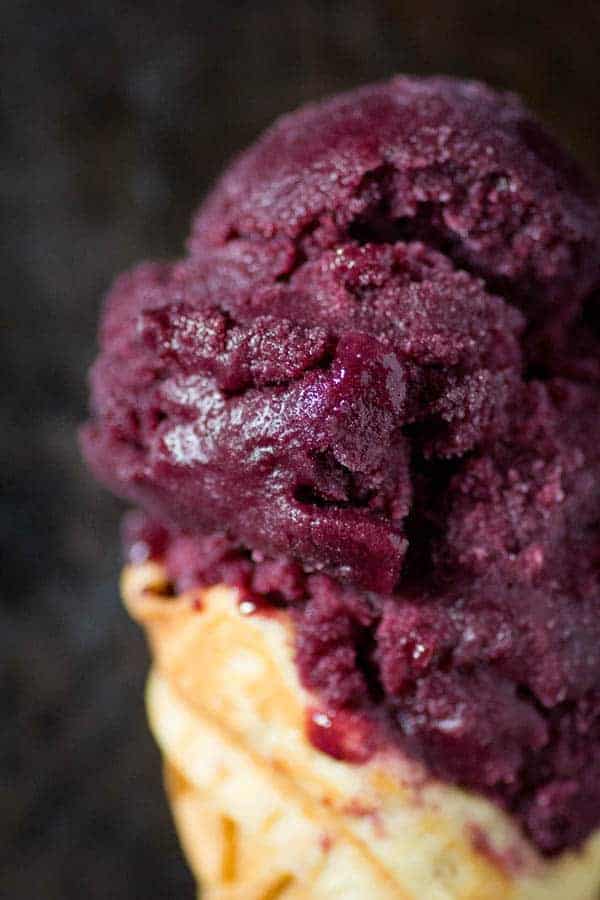 Hello gorgeous!! I am excited to share these Paleo Waffle Cones with Mixed Berry Sorbet just in time for your summer weekend celebrations!
My first job when I was in high school was working at a TCBY  frozen yogurt shop. I loved pretty much everything about that job especially making the waffle cones. It took quite some time and coercing to convince my manager that I could handle the waffle iron and wouldn't burn myself, but finally I won her over. ( AKA: nagged her to the breaking point) It was the highlight of every morning shift for me, the ability to turn batter into a decadent waffle cone felt more like a super power than a chore. I was totally obsessed and every summer after that I had a tradition of initiating the season with a fully loaded waffle cone at our local ice cream shop.
After our son was diagnosed with a gluten intolerance over 3 years ago waffle cones were one of the many indulgent foods that I just assumed we would never be able to eat again. Every summer that has passed since I have missed my summer waffle cone tradition, but it just didn't seem right carrying on with it if the fruit bandit couldn't have one too.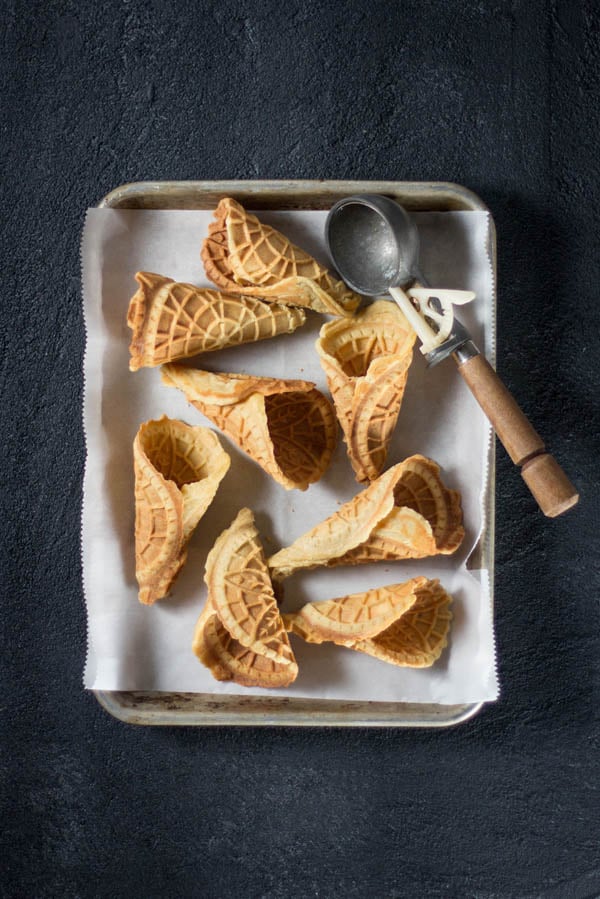 A few months ago when I was working on the summer issue of Go Gluten Free magazine I came across a new cookbook from Jenni Hulet of The Urban Poser that stopped me in my tracks. The photography, the recipes, the step-by-step photo instructions - everything about  My Paleo Patisserie made me want to immediately hop into the kitchen and cook from it's pages.
I carved out a special little chunk of time to flip through Jenni's book during my morning routine. Deciding what to make first was going to be a chore, because literally every single page was full of something decadent and drool worthy. It wasn't until I reached chapter 7 in the book that I knew exactly what my first dish from Paleo Patisserie would be. Waffle cones!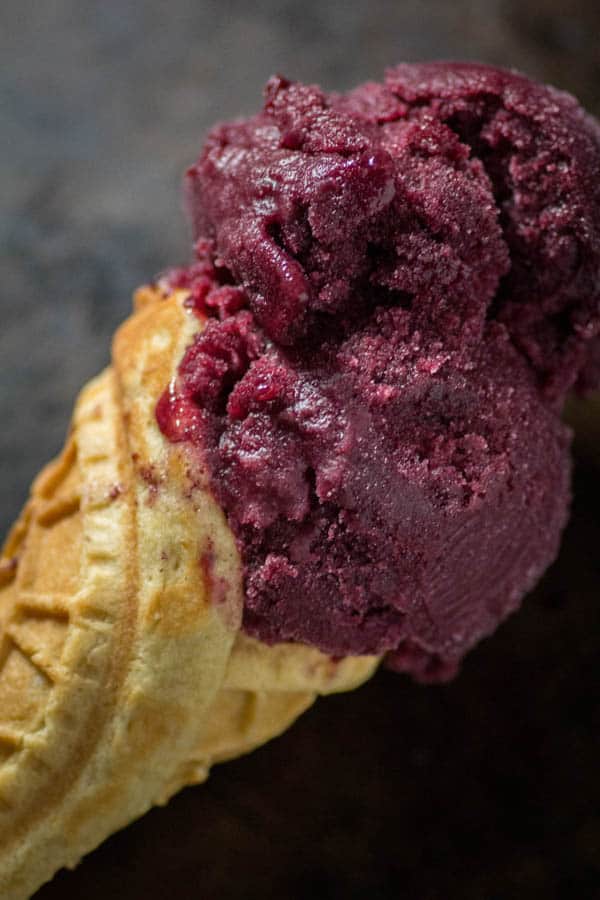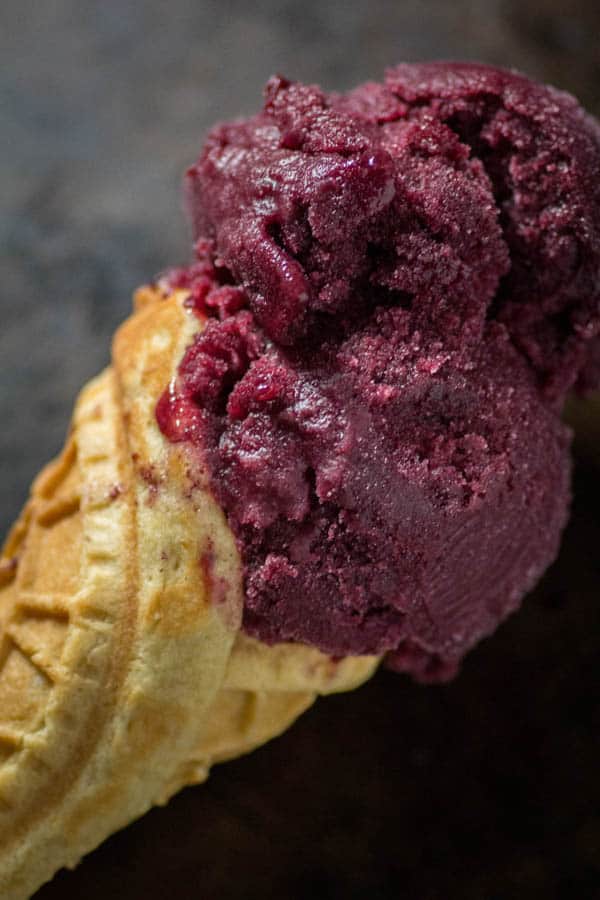 I cannot even begin to tell you how much fun these are to make, and how quickly they come together. I have served these up to quite a few of our gluten free friends now and their reactions are all the same - these waffle cones are the real deal, decadent waffle cone we have all been missing!
You will need one piece of special equipment for these cones, a pizzelle press or a waffle cone maker. I know that sometimes having to purchase one more piece of kitchen equipment can be frustrating, but I have to tell you that I have been using my pizzelle press so much that it has hardly left the kitchen counter since it arrived. You can make cookies, cannoli shells, and waffle bowls quickly and easily. It is totally worth it!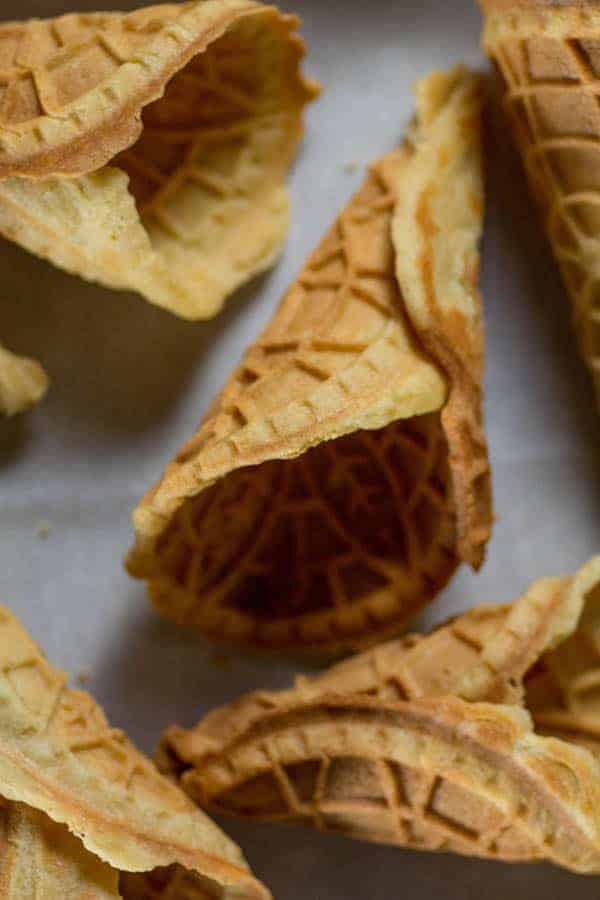 Jenni's ice cream and sorbet variations in the book are pretty amazing as well! With make at home flavors like Rocky Road Sorbet, Lemon Curd Ice Cream, and this Mixed Berry Sorbet we may never need to hit up the local ice cream shop again.
[mc4wp_form id="7635"]
Print
Paleo Waffle Cones with Mixed Berry Sorbet
These may just be the best waffle cones we have ever tasted! Buttery, crisp, and completely decadent!
Author:
Category:

Dessert

Cuisine:

Paleo, Gluten Free, Vegetarian
For the Mixed Berry Sorbet
1

pound fresh or frozen mixed blueberries, blackberries and raspberries

⅔ cup

maple syrup or honey

1 ½ cups

water
Juice of

1

small lemon
Grated zest of 1 small lemon
For the Paleo Waffle Cones
2 tablespoons

palm shortening or ghee

1

large egg

1

large egg white

¼ cup

(

50g

) firmly packed maple sugar

2 teaspoons

vanilla extract

¾ cup

(

75g

) almond flour

3 tablespoons

arrowroot flour

¼ teaspoon

salt
Instructions
For the Mixed Berry Sorbet - makes 3 cups (1 ½ pints)
Prep time: 30 minutes
Freeze time: 4-6 hours
If you're using fresh berries, rinse them and remove any stems or debris. In a medium-sized saucepan, bring the berries, maple syrup, water and lemon juice to a boil over medium-high heat. Reduce the heat to low and simmer for 10 minutes. Remove the pan from the heat and let the mixture cool to room temperature.
In a blender, purée the berry mixture with the lemon zest until smooth, then strain it through a fine-mesh sieve. Chill until very cold.
Freeze the mixture in an ice cream maker according to the manufacturer's instructions. Enjoy the sorbet right away as a soft serve, or transfer it to a freezer-safe container and freeze for a few hours or until it's easy to scoop.
The sorbet will keep for about 1 week if you store it in an airtight container. Once stored in the freezer, for the best consistency, let it sit out at room temperature until it's easy to scoop.
For the Paleo Waffle Cones - makes about 10-small pizzelle sized cones.
Prep time: 10 minutes
Cook time: 1-2 minutes per cone
Preheat a pizzelle maker with 4 ½-inch molds or a waffle cone maker.
Melt the shortening in a small saucepan and allow it to cool slightly.
In a medium-sized bowl, whisk together the whole egg, egg white, sugar,vanilla and melted shortening until smooth. Add the flours and salt and whisk until smooth again. Let the batter rest for about 5 minutes.
Scoop 1 tablespoon of the batter onto the center of the pizzelle/waffle cone maker. Close the lid and cook for 30–60 seconds or until the cookie is done.
Place the cookie on the countertop and immediately shape it with a cone roller or by hand. Hold the cone on the roller until it feels like it will hold its shape. It will set quickly as it cools. If it doesn't crisp up once cooled, then you know it needs to cook longer. If your machine browns the cookie more on one side than the other, flip the cookie halfway through the cooking time for even browning.
The cones are best eaten the day they are made.
Notes
The sorbet requires 4–6 hours of freeze time before it will be ready to serve.
Recipe Card powered by
I am a participant in the Amazon Services LLC Associates Program, an affiliate advertising program designed to provide a way for sites to earn advertising fees by advertising and linking to amazon.com. This means if you make a purchase using these links above – your cost remains the same, but I earn a small percentage to help support this blog. Thank you so much for your support!