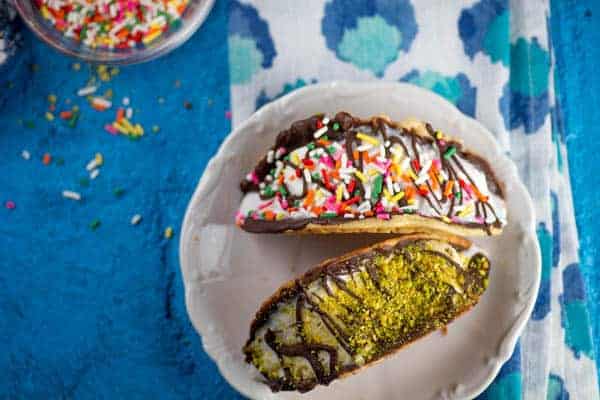 Being the mom of a child that suffers from food allergies is tough. For us it isn't the actual food that we have had to omit from our diets and home that is the problem as much as it is all of the times that we have to see disappointment all over our little fruit bandit's face when he sees someone enjoying something that he cannot have.
Kash now accepts the fact that sometimes there will be birthday party cakes and preschool snacks that he just can't eat and it is a huge sigh of relief that he understands his gluten intolerance enough that he asks people now "Is there gluten in that?"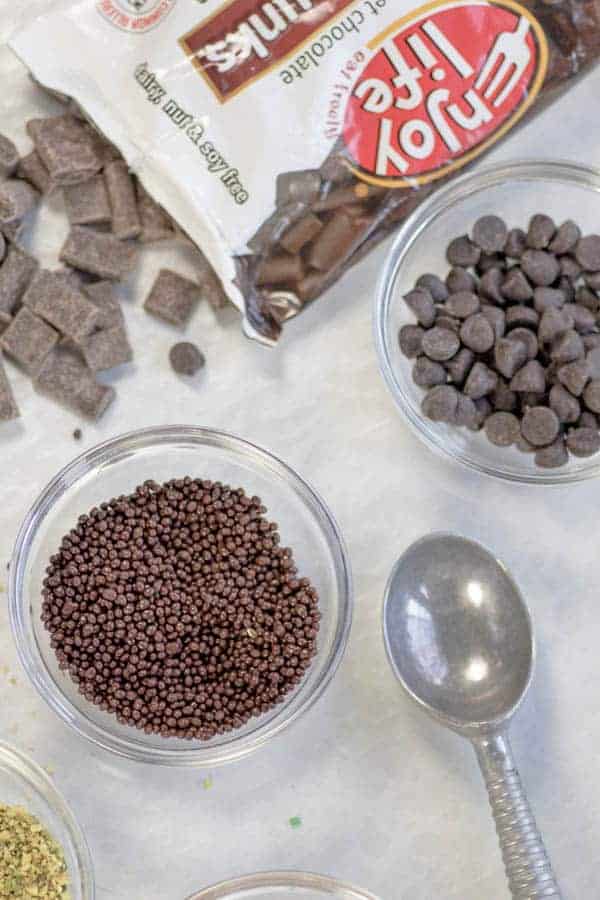 I have learned a lot over the years as we have tried to recreate just about every childhood snack we loved for him to experience. I am so thankful for brands like Enjoy Life that make my life and creating childhood favorites like these Choco Tacos easy and delicious!
I remember exactly when I laid eyes on a Choco Taco for the first time - my parents had just given me my first car and I drove all by myself to the gas station to get a few treats and a soda. It doesn't sound like much of a moment, but I assure you when you roll together the pure bliss of a little bit of independence, a car to call your own, and the discovery of Choco Tacos all into the same day - it was almost too much to handle!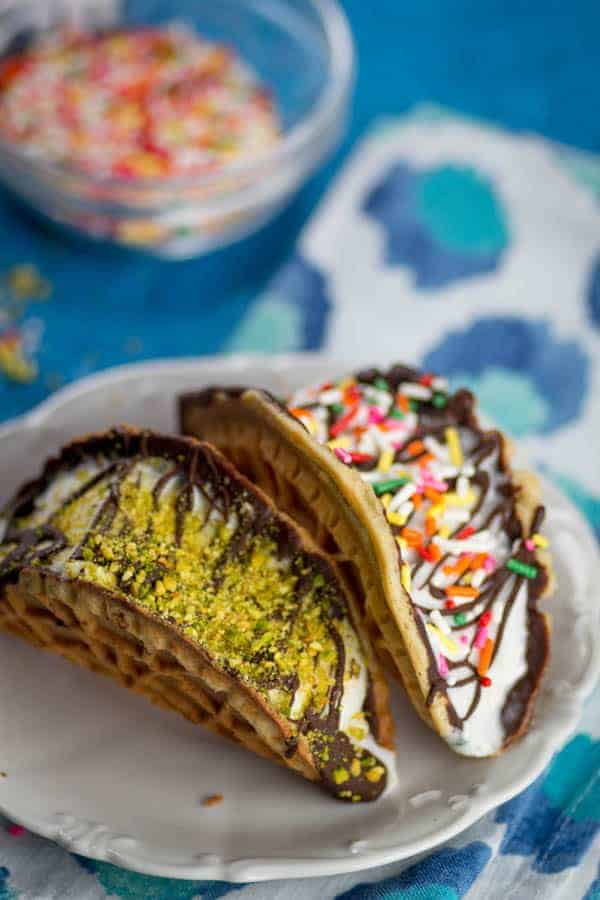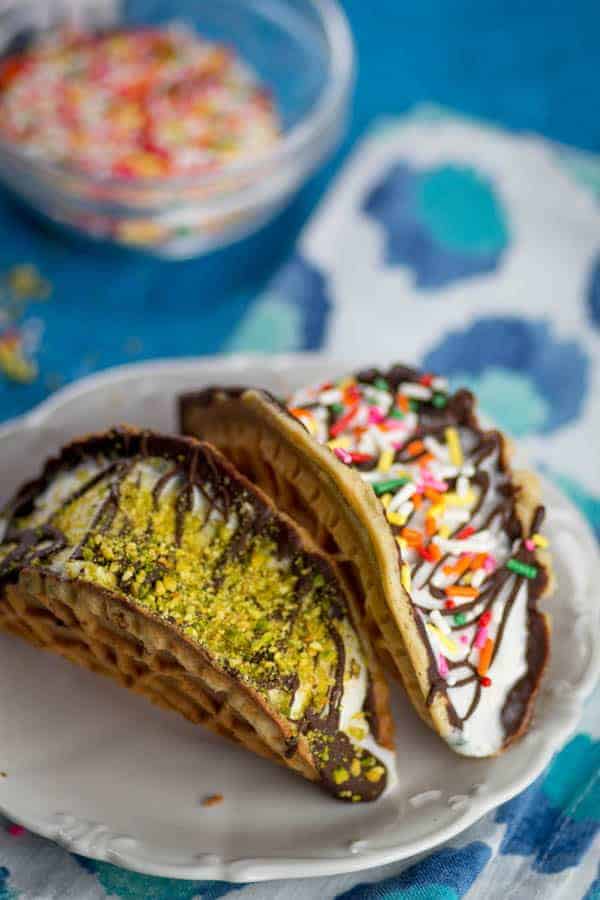 As I was making those gorgeous Paleo Waffle Cones last week it hit me - I could make Choco Tacos and share another one of my favorite childhood treats with Kash!
Instead of forming my waffle cones into cones I turned them into taco shells. I coated the inside of the taco shells with melted Enjoy Life chocolate, filled them with our favorite ice cream, and let my family pick how we topped them. Our little guy was able to experience the fun of eating an ice novelty that he normally couldn't have and I reminisced about my first Choco Taco and that little glimpse of independence.
Print
Gluten Free Choco Tacos
Hungry for a bit of childhood nostalgia? Our gluten free Choco Tacos are sure to hit the spot!
Author:
Prep Time:

45 mins

Total Time:

45 mins

Yield:

1

2

1

x
Category:

Dessert

Cuisine:

Gluten Free, Vegetarian
1

batch of Paleo Waffle Cones, formed into taco shells instead of cones.

1 tablespoon

non-hydrogenated vegetable shortening

1 ½ pints

ice cream of choice, softened ( We used coconut ice cream)
Toppings:
finely chopped nuts: pistachios, peanuts, hazelnuts, almonds
sprinkles
Melted Enjoy Life chocolate
Instructions
In a microwave safe bowl combine the Enjoy Life Semi-Sweet Chocolate Mega-Chunks and the non-hydrogenated vegetable shortening. Heat on 50% power for 25-35 second intervals, stirring in between each cook time, until the chocolate is melted and smooth.
Line a sheet pan with parchment paper and place it in the freezer.
Hold a taco shell over the bowl of melted chocolate then gently begin to ladle the chocolate into the shell, rolling the shell back and forth allowing the chocolate to coat the entire inside and for the excess chocolate to run out of the shell and go back into the bowl. When the inside of the shell is completely coated transfer the taco shell to the sheet pan in the freezer for the chocolate to harden. Repeat this process with the remaining taco shells. You will have some chocolate sauce left over, set it aside.
Once the chocolate has hardened remove the tacos shells one at a time from the freezer and gently scoop the softened ice cream into the shell, smoothing with the back of a spoon or an offset spatula. Sprinkle with desired toppings, drizzle with the remaining melted chocolate and return to the freezer to freeze completely, about 2-3 hours. Repeat the process with the remaining taco shells, ice cream, and toppings.
These Choco Tacos are best eaten the day they are made, but will stay fresh up to 3 days in the freezer individually wrapped tightly in plastic wrap after they have frozen completely.
Recipe Card powered by
Compensation for this post was provided by Enjoy Life Foods. Opinions expressed here are my own.