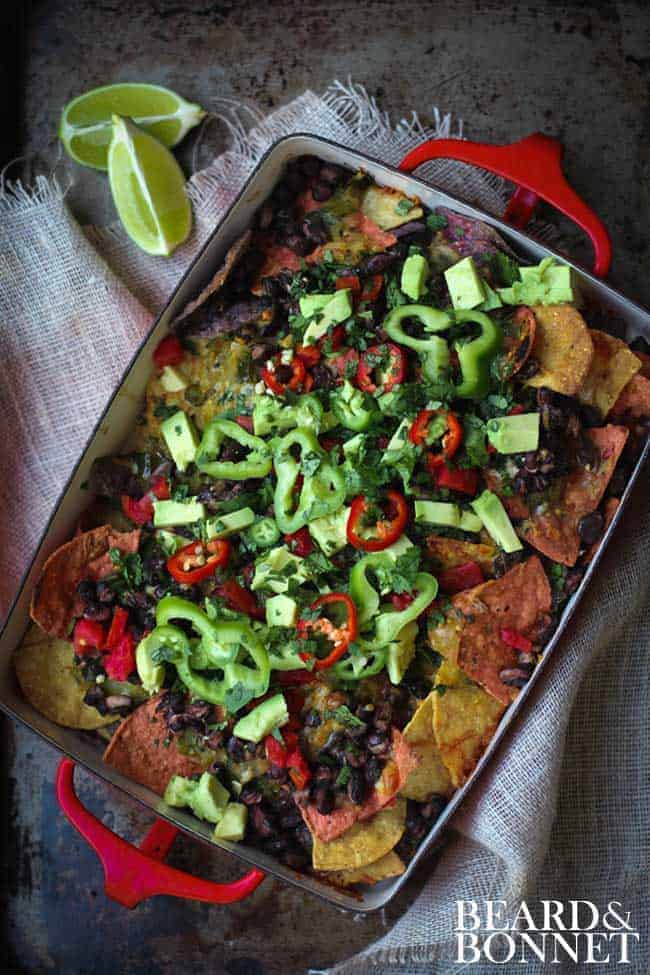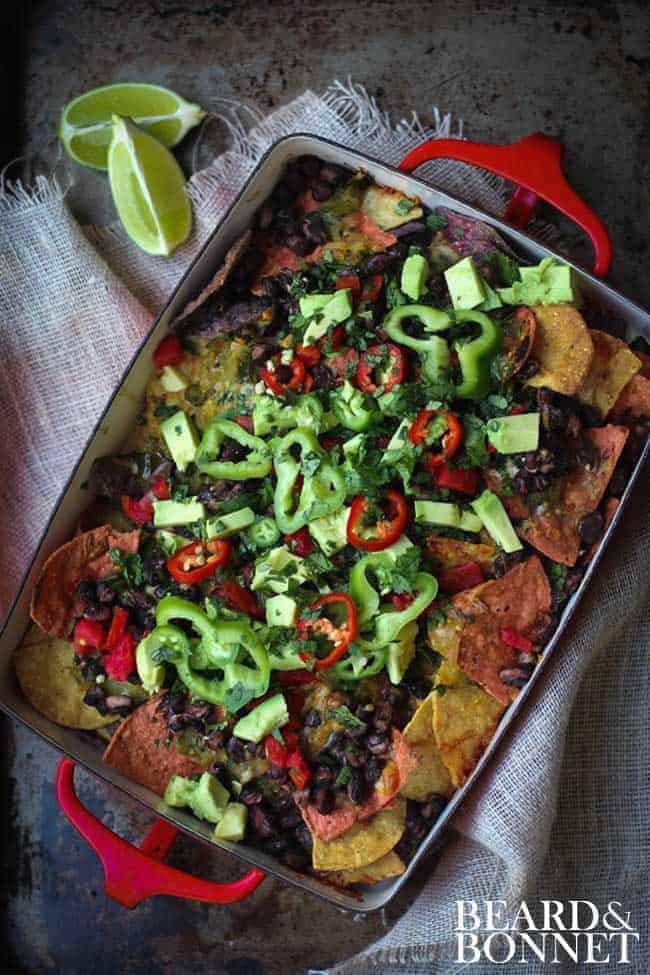 Happy Halloween friends!!! Although this Poblano Chilaquiles Casserole Recipe isn't a Halloween dish it is a great dish to make before trick or treating, because it is fast, tasty, and filling. You can't beat that winning combo. I am guest posting on Potluck again today, did I mention that you can find me there once a week? Have a great night, stay safe, and have fun! 
I am always on the lookout for easy, weeknight meals to make for my family. Gathering with them around the table every night is my favorite time of the day. I look forward to hearing their stories and to laughing and cutting up with the kids. I don't always look forward to spending a huge chunk of my evening cleaning up the kitchen afterwards though. This poblano chilaquiles casserole recipe combines all of my family's favorite foods in one dish: peppers, tomatillos, black beans, and chips. It is essentially a fancy version of nachos that has been kicked up a notch so that it is hearty enough to be a complete meal. The baking time in the oven allows for me to wash up my skillet and knife so that all that is left after dinner is our plates and the casserole dish. Hooray for tasty food with easy clean up!!
Our daughter, Eliza, described this dish as "zingy" which really is an appropriate description. It gets its "zing" from the tomatillo salsa, followed by the subtle heat from the poblano pepper. The fast and smoky black beans are quick because they are canned, but the addition of a few spices makes them taste like they have been slowly simmering on the stove top all day. Don't you just love a taste bud fake out like that?
If you've tried this Poblano Chilaquiles Casserole Recipe, I would be so grateful if you would rate it. Let me know what you think in the comments below. I just love hearing from you, and your reviews and comments really help others that visit This Mess is Ours!
Want to be a part of our online community outside of the blog? It's easy!! All you have to do is follow @THISMESSISOURS on FACEBOOK, INSTAGRAM, TWITTER, YOUTUBE, or PINTEREST to see cooking demos and peeks into our day to day life.
What are the health benefits of black beans?
Black beans are filled with nutrients such as calcium and magnesium which help keep bones strong and healthy, making them a great alternative to meat for vegetarians. Combined with the low sodium content, these nutrients also help to lower blood pressure. The high amount of fiber and low amount of cholesterol in black beans help to manage diabetes and improve heart health.
Click here for more information on the health benefits of black beans.