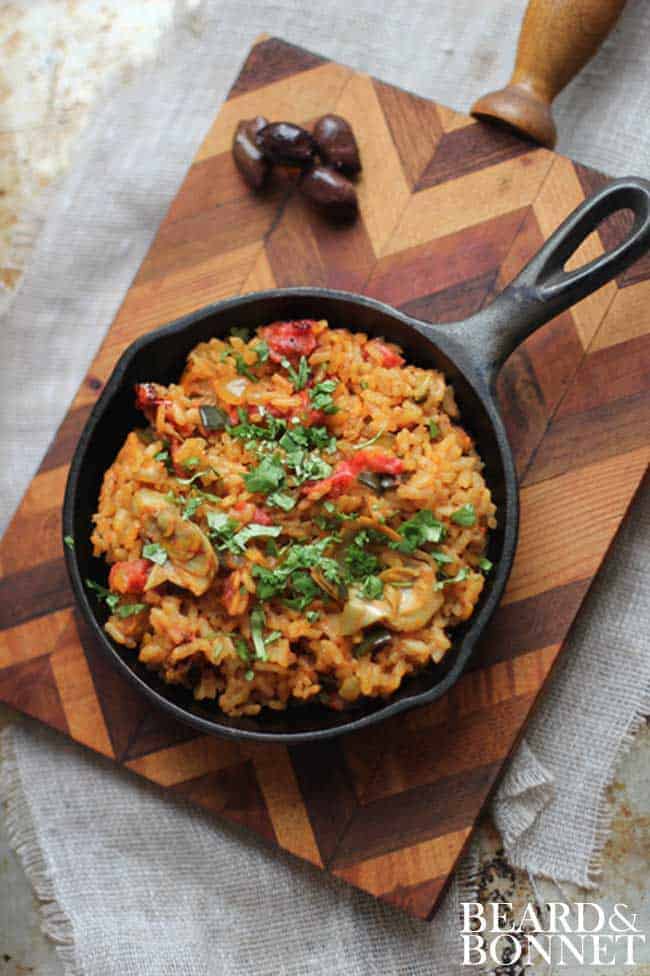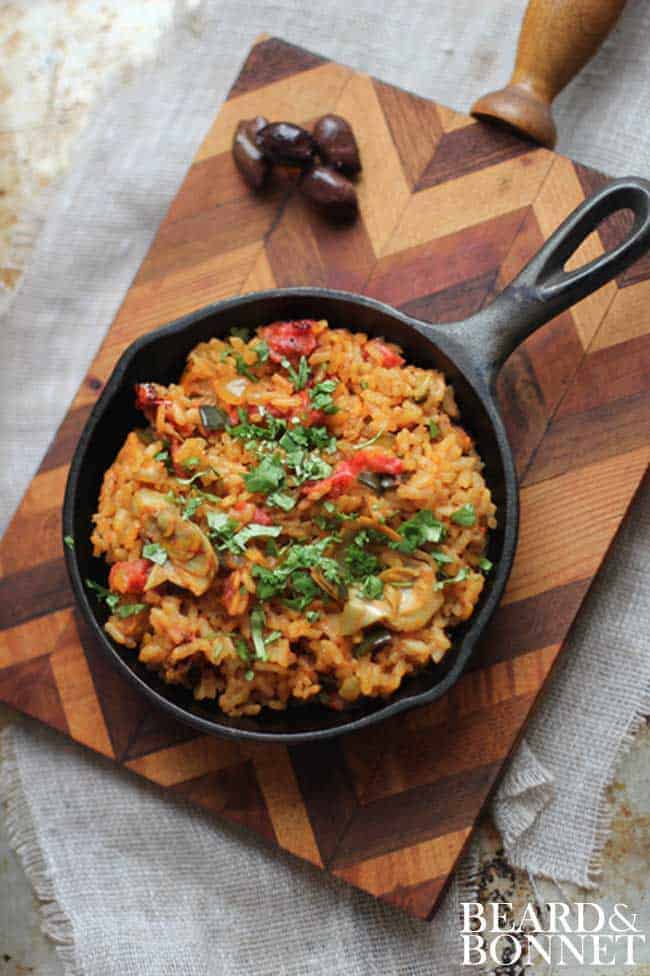 Growing up my dad used to always say to me, "Megaton, some days are diamonds and some days are stones." Yes, he called me Megaton, but that is beside the point. The point is that as an adult I still can hear him saying those words when I have a particularly frustrating day. Isn't it funny how things follow you through life like that? Yesterday was a day of frustrating occurrences all day long, from epic toddler tantrums in the middle of Target for no apparent reason to tire pressure lights popping on in my car. There were more frustrating times throughout the day that I could share with you, but I won't bore you with the details. The moral of the whole story is that sometimes you have to be the maker of your own destiny and turn that "stone" of a day into a diamond yourself. After what seemed like the longest day ever I decided that I needed comfort food to turn it all around. Food always helps right? For me this paella is true comfort food, easy to prepare, layers of flavors that warm my soul, and only 1 pan to wash.
So, in a valiant attempt to turn my day around I broke out my largest cast iron skillet, set a record to spinning, rolled up my sleeves, and began to chop. The house filled with the most intoxicating aroma and I was quickly forgetting about my "stone" of a day. I found myself singing to the tunes, inhaling the saffron spiked steam escaping from the pan, and dare I say....dancing! I had done it, I had reset my day. We all enjoyed big heaping bowls of paella for dinner, we talked, the kids giggled, and Todd & I sipped on a glass of wine.
When it was all over Todd and I set out to tackle the cast iron pan clean up and the dishes from the table. To which we were met with a backed up kitchen sink and no way to clean our plates except for the hose outside. So much for the stone turning into a diamond, but at least we ate well and for a moment there was dancing and giggling, right? Here's hoping that today will be better!
How do you turn a bad day around?
Print
Vegan Paella (Gluten Free)
12

-

15

saffron threads

4 tablespoons

olive oil, I used lemon infused olive oil

1

medium white onion, peeled and diced

2

cloves garlic, peeled and smashed

1

poblano pepper, seeded and diced

1 cup

frozen artichoke hearts

14 ounces

fire roasted whole peeled tomatoes, drained and roughly chopped (half of a

28 ounce

can)

1 tablespoon

tomato paste

¾ teaspoon

paprika

2 ½ cups

uncooked Arborio rice
kosher salt and pepper
To garnish:
olives
fresh parsley, chopped
Instructions
Preheat the oven to 400°F. Place the vegetable broth and saffron in a large microwave safe bowl and cover with plastic wrap or another small plate. Heat the broth and saffron threads for 2 minutes on high and set aside still covered so that it can steep.
In a large, oven safe skillet (I use a 12-inch skillet for this) heat the olive oil over medium heat. Saute the onion, pepper, and garlic, stirring frequently, until the onion is translucent and the peppers have softened, around 6 minutes. Add the tomatoes, and artichoke hearts, and cook for another 3-5 minutes until the artichokes are soft and no longer frozen. Add the tomato paste, paprika, and rice, and stir. Cook, stirring frequently, until the rice begins to turn translucent, about 5 minutes. Add the warmed broth to the skillet and stir until incorporated, season with salt and pepper.
Bake the paella in the center of the oven, uncovered, for 20-25 minutes or until all of the liquid has been absorbed by the rice. Turn on the broiler for the last 3 minutes or so, to create a crispy top layer. Serve either hot or warm sprinkled with olives & parsley.
Recipe Card powered by