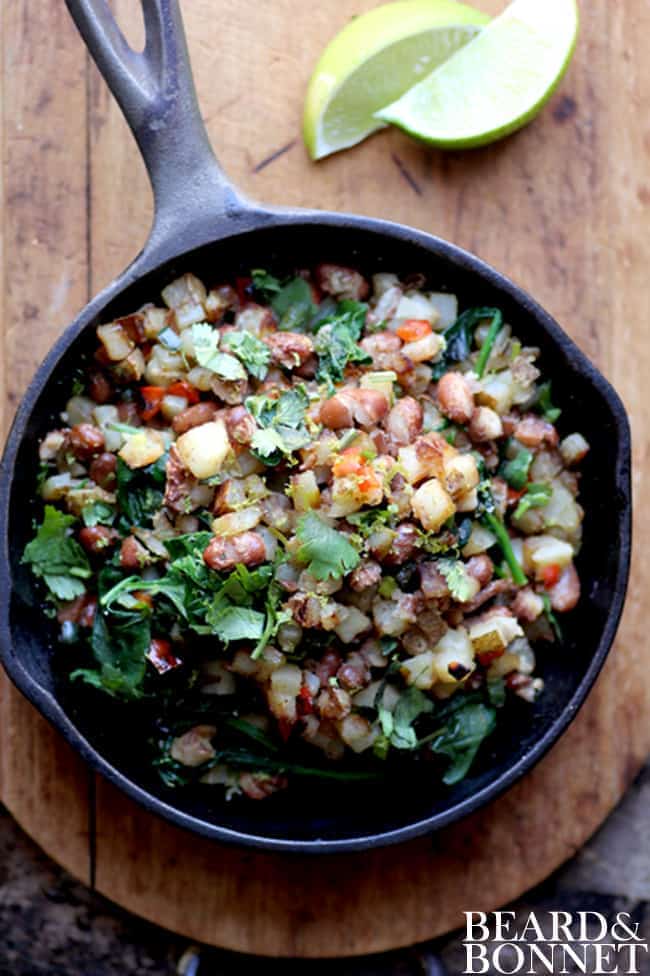 I am super excited to be guest posting today on The Balanced Platter and I am almost as excited to finally be able to share my newest one-skillet healthy hash recipe with you! I have been working on this one for a while and it combines all of my favorite things like potatoes, peppers, beans, greens, and herbs in one hearty meal.
I make a variation of this dish at least once a week and we never feel like we are settling for sub-par dinners due to lack of time or energy. I have started setting the table for our hash dinners a lot like I would for a taco or veggie burger meal; lots of extra toppings like avocado, pickled peppers, cheeses, and salsa to name a few. One skillet, simple ingredients, 20 minutes cooking time, and a variety of fresh, flavorful toppings all equals one meaningful dinner with a happy family who all got exactly what they wanted for dinner. When it is all said and done I wash my one skillet and enjoy a tasty little cocktail with my fabulous husband because with a simple meal like this one you still have time to sit and enjoy a fancy beverage with the one you love. Hop on over and visit The Balanced Platter for my Potato, Pepper and Pinto Hash recipe!
UPDATE 10/13/16 
Unfortunately, The Balanced Platter website did not notify us before taking their site down and we were unable to retrieve these recipes. We are working to develop new recipes to replace these and will post them asap. Sorry for the inconvenience!
(Visited 1 times, 1 visits today)