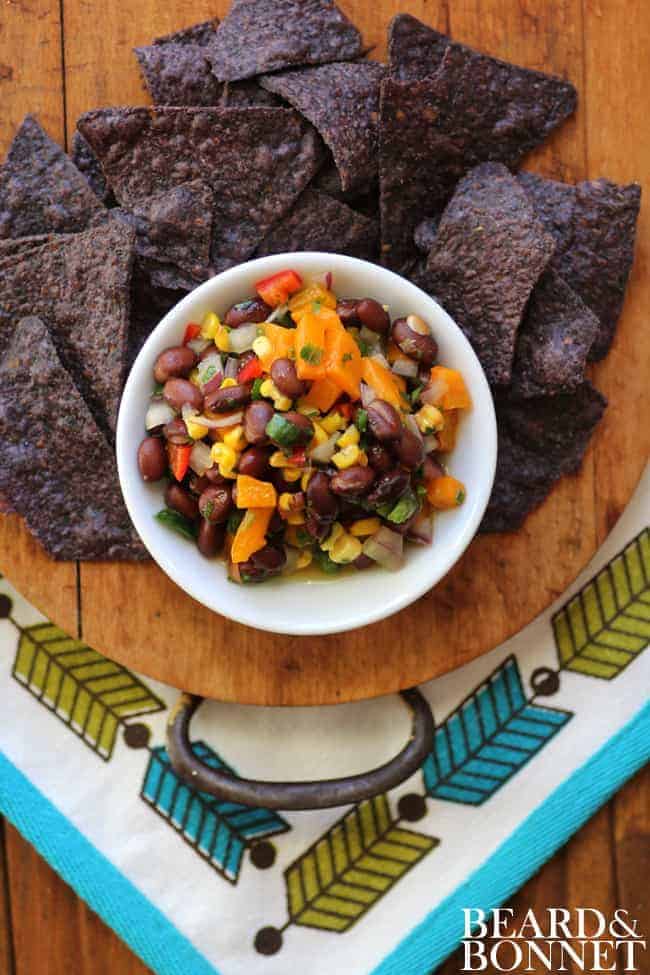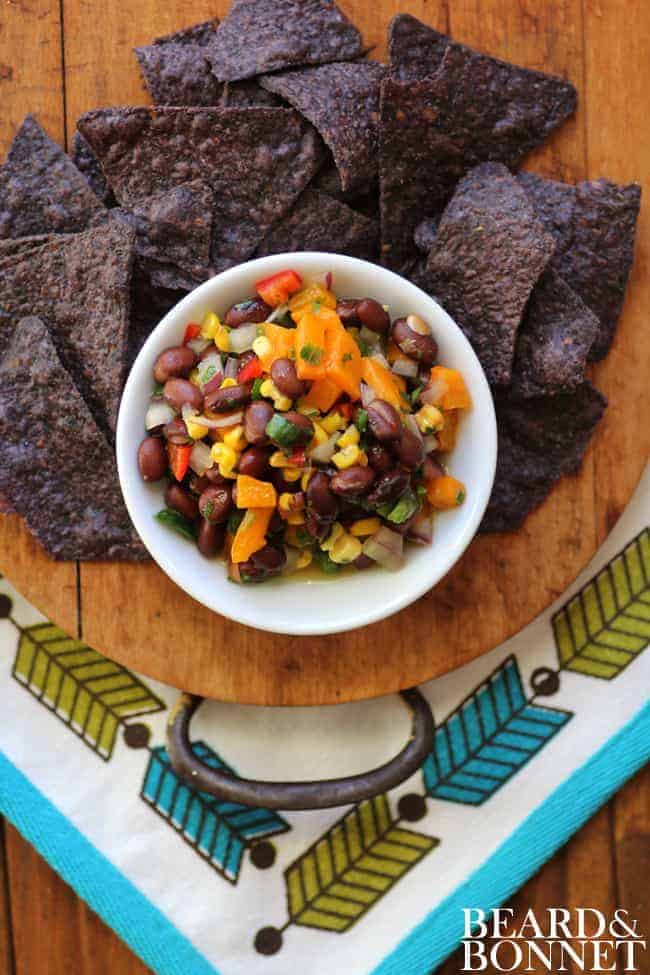 It's almost here, the big day with the big game and the best commercials! I am planning on taking a tip from my old friend Martha Stewart here and turning my normal game day nacho platter into individual nacho stacks. No more naked nachos once you hit the middle of the dish and no more being secretly angry with the person that stole the last cheesy nacho. These little layered beauties are studded with my Game Day Salsa and pockets of melted jalapeno jack cheese. I am planning on a nacho bar for dinner at my house on game day. We won't be having a big party, but my family deserves a game day feast too right?!
Game Day Salsa (Gluten-Free & Vegan)
Makes about 4-5 cups
3 Tbsp. lime infused olive oil, regular olive oil will work too.
2 ears of fresh corn, kernels shaved from the cob
1 orange bell pepper
½ of a poblano pepper, cut into ¼ inch dice
1 hot red chile pepper, seeds and ribs removed, finely diced
½ red onion, finely diced
1 15 oz. can of black beans, rinsed and drained
Juice of 3 limes
¼ cup cilantro, finely chopped
1 ½ tsp. coarse kosher salt
Preheat oven to 450°F and brush a baking sheet with some of the olive oil. Spread the corn kernels on the oiled baking sheet in an even layer and roast until the kernels begin to brown, about 10-12 minutes. Set aside to cool.
Place the bell pepper on your gas burner or under the broiler; roast until charred on all sides. Place in a bowl and cover with plastic wrap; when completely cooled, peel off the charred skin with your fingers and remove the stem and seeds. Chop into ¼ inch dice and place in a large bowl.
Add the corn, poblano, red chile, onion, black beans, cilantro, remaining olive oil, lime juice, and salt; toss to combine. Let rest at room temperature for 1 hour before serving so that the flavors can mingle.
Game Day Individual Nachos
Blue or White Corn Tortilla Chips, a mixture of colors is always good too.
Jalapeno Jack Cheese, or Daiya Pepperjack Shreds for vegan nachos
1 batch of Game Day Salsa
Garnishes: avocado chunks, guacamole, chopped cilantro, pickled jalapenos, sour cream, vegan roasted poblano cashew cream, pico de gallo, sriracha or other hot sauce.
Preheat oven to 350°F. Build six stacks of Nacho's on a rimmed baking sheet by alternately layering tortilla chips with salsa and jack cheese. Bake until cheese is melted and stacks are warm throughout, about six minutes. Serve immediately with garnishes for all of your game day friends to top their's however they choose.