There is something to be said for a dish that tastes amazing, is really good for you, and that comes together in under 30 minutes. Who really has more than 30 minutes to pull it all together on a week night anyways?! I love this simple hash, and so does my family. I can whip up a batch of gluten-free cornbread and while it is baking make this on the stove top, set the table, and help with homework. Seriously, not kidding, it's that easy! Everyone in our family loves this dish, even our toddler. *He picks out the potatoes and beans but leaves the kale, it still counts right?
This dish was born from my obsession with Heidi Swanson, and her cookbook Super Natural Every Day . My mom and I found it at Anthropologie the last time we were there and I have been in love with this book ever since. The dishes in it aren't fussy at all, just simple ingredients that are easily prepared without any hassle. You know the kind of dishes that are so simple yet taste so amazing that it blows your mind? This book is packed with them and the ones that aren't gluten-free are easily converted. Her original recipe swaps up a few of the main ingredients and is equally welcome at our dinner table any day of the week. I admit, I fussed it up a bit by adding the lemon zest and red pepper flakes because they are my go-to seasonings around here and I tend to put them in everything.
Do you have dishes that are deceivingly simple that you find yourself cooking over and over again? I would love to hear about them, leave a comment or share a link!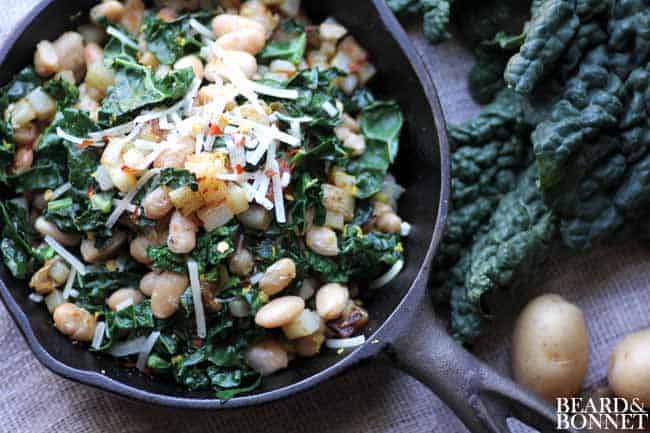 Potato, Kale, and White Bean Hash (Gluten-Free and Vegan)
Adapted from Heidi Swanson's Super Natural Every Day
Serves 4
1 large russet potato, scrubbed and cut into a very small dice
2 Tbsp. Earth Balance, Olive oil, or Ghee
¼ cup white onion, thinly sliced
1 can white beans, drained and rinsed *I used Great Northern beans
2.5 - 3 cups of Lacinato Kale *AKA:Dino Kale, sliced into thin ribbons
1 lemon, zested
¼ cup Parmesan cheese, shredded *Omit if vegan
Kosher salt and black pepper to taste
Crushed red pepper flakes to taste
Melt the Earth Balance in a heavy bottomed skillet over medium-high heat. Add the potatoes and a generous pinch of Kosher salt, toss well to coat. Cover the skillet with a tight fitting lid and cook for 7-9 minutes, tossing or flipping occasionally to ensure that all sides of the potatoes are browning and getting crisp.
Add the onions and the white beans to the skillet with the potatoes, mix well and gently arrange the beans and onions into a single layer in the pan. Leave to cook for 3-5 minutes, flipping once or twice, to ensure that the beans are browning and getting crisp.
Add the ribbons of kale and cook briefly until the kale wilts slightly. Remove from the heat and sprinkle in lemon zest, black pepper, red pepper flakes, and additional salt to taste. Serve immediately.
We are happy to have shared this post at the Gluten-Free Friday's link up party hosted by Vegetarian Mama, Eat.Live.Make, and Gluten Freed R.D.! Hop on over to find more great gf recipes.
SaveSave