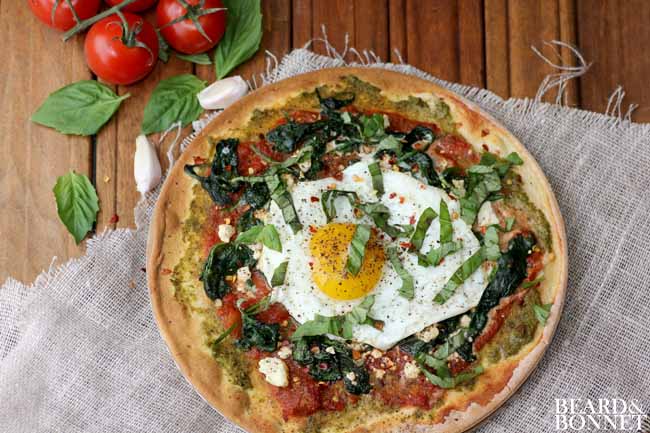 My life is pretty busy and most days my breakfast and lunch tend to fuse together into one meal.  This little snazzy pizza is perfect for days like these when I want the best of both breakfast and lunch with a little spicy kick! I am pretty sure this is not fine dining culinary fusion, more like mommy needs a meal of her own fusion, you know a meal that doesn't involve peanut butter, grapes, or little crackers shaped like animals. Does this happen to anyone else? Thanks to Udi's and their amazing thin and crispy pizza crusts, this meal comes together in about 15 minutes.
Garlicky Greens and Fried Egg Breakfast Pizza 
Serves 1
1 Udi's Gluten-Free Thin & Crispy Crust
1 tsp. Earth Balance, Ghee, or butter
1 small clove of garlic, minced
2-3 handfuls of baby spinach leaves (approx. 1 cup)
1/4 tsp. red pepper flakes
1 Tbsp. pesto
1/4 cup GF pasta sauce (I like Trader Joe's Arrabiata sauce.)
Feta cheese, Soy Cheese, or Rice Shreds
1 fried egg
2-3 basil leaves, shredded
salt and black pepper to taste
Preheat the oven to 375° F with a rack in the center of the oven. Meanwhile, melt the earth balance in a small skillet over medium heat. Add the minced garlic and cook until fragrant. Add the spinach, red pepper flakes, and salt and pepper to taste. Cook until the leaves are wilted down, set aside.
Prepare the crust by spreading the pesto and tomato sauce over the surface, add the cooked spinach, and top with the Feta cheese. Sprinkle with cracked black pepper and bake for 5-7 minutes.
While the pizza is cooking fry the egg in the same skillet that you cooked the spinach until the whites are set and the yolk is still slightly runny. When the pizza crust is golden brown remove from the oven and top with the fried egg, shredded basil, and black pepper. *I add more red pepper flakes too for a spicy kick!
We are happy to have shared this post at the Gluten-Free Friday's link up party hosted by Vegetarian Mama, Eat.Live.Make, and Gluten Freed R.D.!  Hop on over to find more great gf recipes.
(Visited 1 times, 1 visits today)