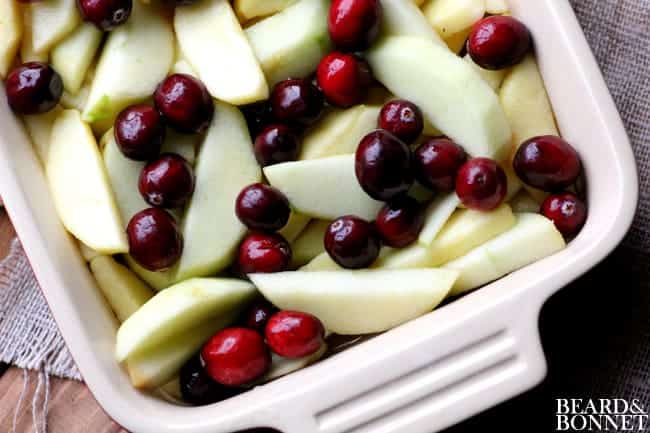 If your house is anything like ours then after a holiday like Thanksgiving your fridge is full of leftovers and a hodgepodge of ingredients that weren't used. For me, I was left with a few different types of apples, a handful of cranberries, and walnuts. Perfect excuse for me to make a quick dessert for us to enjoy after dinner tonight! Tomorrow, I will be faced with what to do with all of the leftover kale and celery. Suggestions?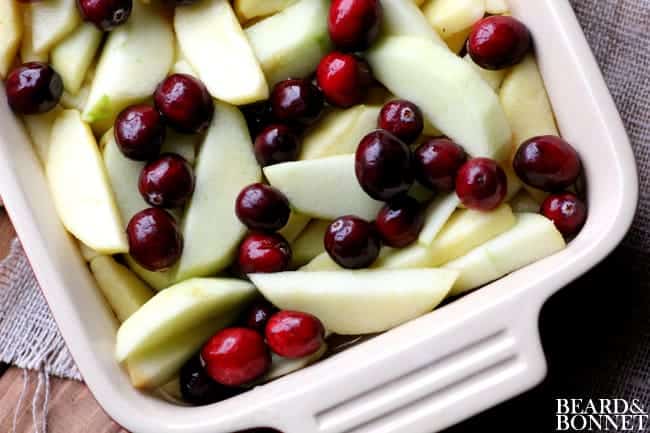 Apple Cranberry Crumble
Serves 5
5-6 Apples (I used 2 Granny Smith and 4 small Gala); peeled, cored & sliced 1/4 inch thick
1 cup fresh cranberries
Juice of 1 lemon
2 Tbsp. light brown sugar
1 Tbsp apple cider or apple juice
1/2 cup gf oats
1/2 cup light brown sugar
1/4 tsp. salt
1/4 tsp. cinnamon
1 Tbsp. chopped crystallized ginger
1/4 cup walnut pieces
1/4 cup sweetened dried cranberries, chopped
3 Tbsp. cold Earth Balance or butter, diced
Preheat the oven to 375°F. Peel, core and slice the apples and toss with the lemon juice, fresh cranberries, 2 tablespoons of brown sugar, and cider. Pour into a shallow 6″ x 9″ baking dish and bake for 20-25 minutes until the cranberries have popped, and the apples are tender, but still crisp.
While the fruit is baking combine the remaining ingredients in a large mixing bowl and rub the butter into the mixture with your hands until fully incorporated. At the end of the 20 minute bake time remove the dish from the oven and pile the crumble on top.
Return the baking dish to the oven and bake for an additional 15 -20 minutes until the crumble is golden brown and the juices are sizzling. Enjoy with a giant scoop of vanilla coconut ice cream or vegan whipped cream.
Hungry for more crumble recipes? I have a few more up my sleeve…
We are happy to have shared this post at the Gluten-Free Friday's link up party hosted by Vegetarian Mama, Eat.Live.Make, and Gluten Freed R.D.! Hop on over to find more great gf recipes.
(Visited 11 times, 11 visits today)