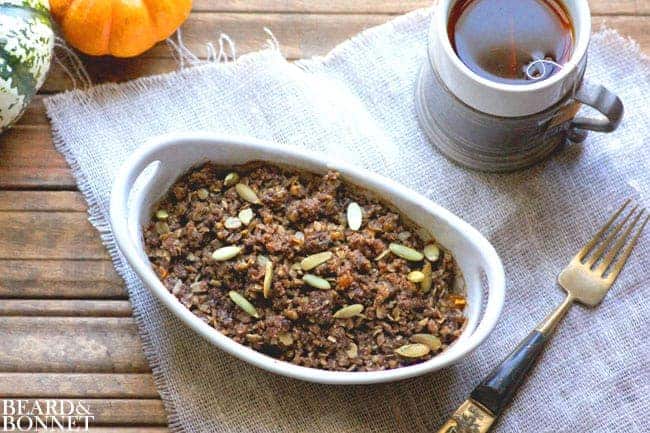 I really enjoy a nice hot cup of chai tea on a cool fall afternoon! The other day I decided to include my favorite afternoon indulgence into my family's after dinner dessert. The baby loved just the roasted fruit and pumpkin while the rest of us really enjoyed the addition of the chai spiced crumble on top. As I have mentioned in previous crumble recipes, I really like a lot of crumble so if you prefer more fruit than crumble adjust the amount of the topping that you pile on each dish.
Chai Spiced Pumpkin-Pear Bake (Gluten-free & Vegan)
Makes 6 servings
Chai Spiced Crumble
1/2 cup gluten-free rolled oats, divided
1/4 cup shelled pepitas
1/4 cup walnuts
1/2 cup light brown sugar, packed
1/4 tsp. allspice
1 tsp. ginger
1 tsp. cardamom
1 1/2 tsp. cinnamon
1/8 tsp. freshly ground black pepper
Salt to taste
1/4 cup Earth Balance, diced
Pumpkin-Pear Bake
1 1/2 cups pumpkin, peeled and cubed (I used a small pie pumpkin)
1 1/2 cups Bosc pear; peeled, cored and cubed (from about 3 pears)
2 Chai tea bags
1 cup filtered water
2 1/2 Tbsp. light brown sugar
For the Chai Spiced Crumble:
Preheat the oven to 375° F and line a sheet pan with parchment paper. Bake 1/4 cup of the rolled oats, pepitas, and walnuts until light golden brown. About 10 minutes; set aside to cool.
When the mixture has cooled down transfer to a food processor and pulse until the pieces are uniform in size. Transfer to a mixing bowl and add the remaining ingredients, rubbing in the Earth Balance with your fingers until it is completely combined and the mixture is crumbly.
For the Pumpkin-Pear Bake:
Bring the cup of water to a rolling boil, remove from heat and add the chai tea bags. Allow to steep for 5-8 minutes until you have a super concentrated cup of chai.
Prepare the pumpkin and pear and toss together in a mixing bowl with the brown sugar until all of the little pieces of fruit are lightly coated in brown sugar. Divide between individual baking dishes or pour into one large dish. Sprinkle 1/2 tablespoon of the chai tea concentrate over each baking dish. *If you are using one large dish do not use over 3 Tbsp. of the chai tea concentrate or your crumble will be swimming. Bake in a 375° F oven for 20-25 minutes until the fruit and pumpkin is tender.
Divide the crumble mixture evenly between each baking dish and return to the oven for another 15-20 minutes until the filling is bubbling at the edges. Sprinkle with more toasted pepitas and top with vegan whipped cream to serve.