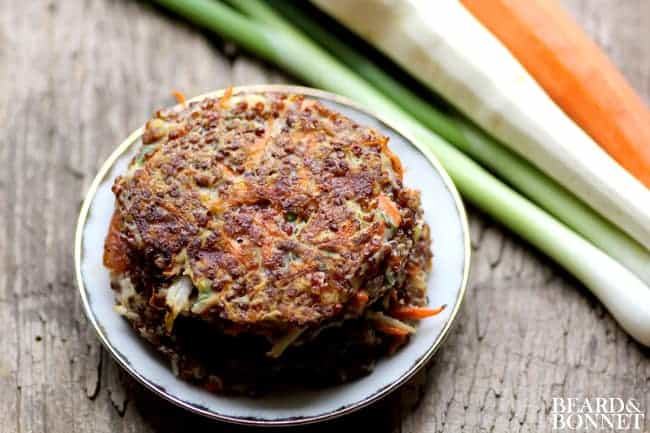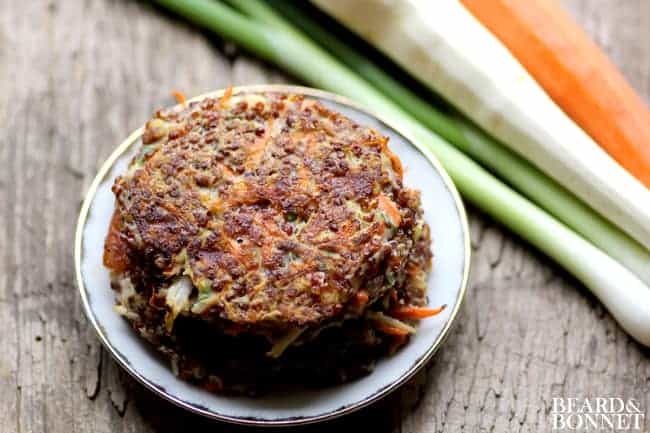 I do most of my grocery shopping for each week on Saturday so by the time that Friday rolls around I tend to have a motley crew of ingredients left in my fridge to pair with my pantry staples. Last week my random fridge contents included leftover red quinoa, a carrot, a parsnip and a handful of green onions. All flavors that sounded like they would go really well together so I scoured the internet for leftover quinoa ideas and came across the prettiest little quinoa patties. A few ingredient tweaks and a gluten-free substitution later, I crossed my fingers that my savory quinoa cakes would be a hit at the dinner table. Eliza loved these little cakes so much that she ate 4 of them and then requested the leftovers for breakfast. They would be really great served with a generous dollop of roasted poblano + cilantro cashew cream on top for a spicy kick. Not bad for a meal that was made from the remnants of the refrigerator! Packed with protein and full of flavor these little cakes are sure to make your taste buds sing.
Quinoa, Carrot and Parsnip Cakes
Adapted from Eating Well Living Thinner
Makes 8-10 patties
2 cups leftover, cooked red quinoa
1 medium carrot, peeled and grated very fine (about ½ cup)
1 medium parsnip, peeled and grated very fine (about ½ cup)
2 green onions, chopped. Light green and dark green parts only.
1 inch piece of ginger, grated
½ cup jalapeño jack cheese or dairy free shreds
2 Tbsp. g-free sweet rice flour or all-purpose GF flour
2 eggs, lightly beaten
¼ tsp. black pepper
¼ tsp. salt
Olive oil for pan frying
Combine all of the ingredients except the oil in a large mixing bowl and stir to combine.
Heat a cast iron skillet or large frying pan with a few tablespoons of olive oil over medium-low heat.* It is important to cook the patties low and slow so that they cook all the way through and do not burn on the outside. This will also help them stay together. Use a ¼ measuring cup to scoop up the mixture and gently drop it into the heated skillet. Use the back of the measuring cup to gently press down on the patty to flatten a bit. Fry until golden-brown, about 4-5 minutes per side.
We are happy to have shared this post at the Gluten-Free Friday's link up party hosted by Vegetarian Mama, Eat.Live.Make, and Gluten Freed R.D.! Hop on over to find more great gf recipes.