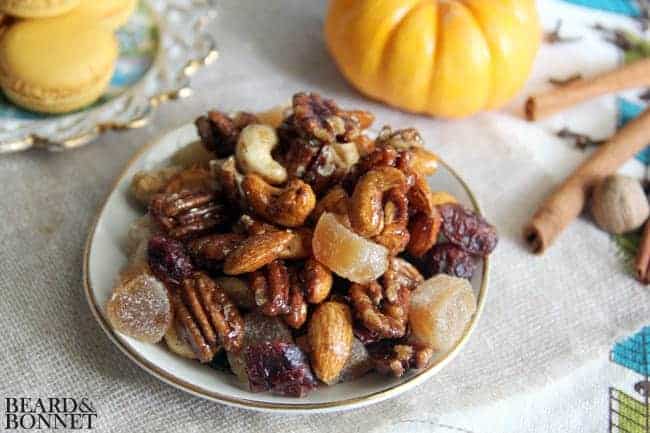 I love when all of the pumpkin pie spiced goodies start to hit the shelves in the local market! They add pumpkin pie goodness to almost every food item on the grocers shelves these days from ice cream to pancakes. This year I have fallen in love with Trader Joe's gluten-free Pumpkin Macaroons! I shamelessly bought 6 boxes yesterday and I promptly indulged in a half dozen of them by myself while making this healthier yet equally indulgent treat to satisfy my pumpkin pie spiced cravings. I love having a nice trail mix on hand to help curb my mid-day pumpkin crazed appetite. This one is packed with 3 types of nuts, sweet cranberries and spicy ginger!
Pumpkin Pie Spiced Trail Mix
1/2 cup raw pecans
1/2 cup raw cashews
1/2 cup raw almonds
1/4 cup maple syrup
1 tsp. gluten free vanilla extract
1/4 tsp. ground cinnamon
1/4 tsp. ground ginger
1/8 tsp. ground nutmeg
pinch of ground cloves
pinch of salt
Mix in's
1/4 cup dried cranberries
1/4 cup crystallized ginger chunks
Preheat oven to 350 F and place the rack in the center of the oven. Line a baking sheet with a Silpat or parchment paper and place nuts in a single layer. Roast about 10-12 minutes, turning once until the nuts smell nice and toasty. Remove the nuts from the oven and place them in a mixing bowl, set aside. Reduce oven temperature to 300 F.
While the oven is cooling bring the remaining ingredients to a boil over medium high heat. After the mixture boils remove the pan from the heat and drizzle the syrup over the mixed nuts and stir well to coat.
Spread the nuts back out evenly onto the lined cookie sheet in a single layer and bake for 20-25 minutes. Remove the nut mix from the oven and allow to completely cool before mixing in the cranberries and crystallized ginger.
Store in an airtight container.
We are happy to have shared this post at the Gluten-Free Friday's link up party hosted by Vegetarian Mama, Eat.Live.Make, and Gluten Freed R.D.! Hop on over to find more great gf recipes.