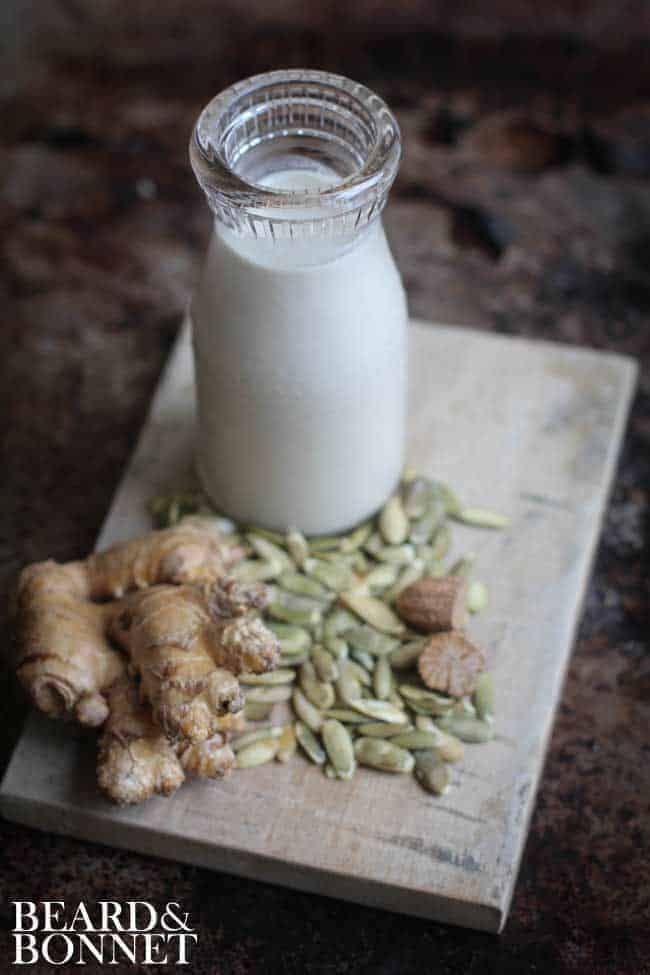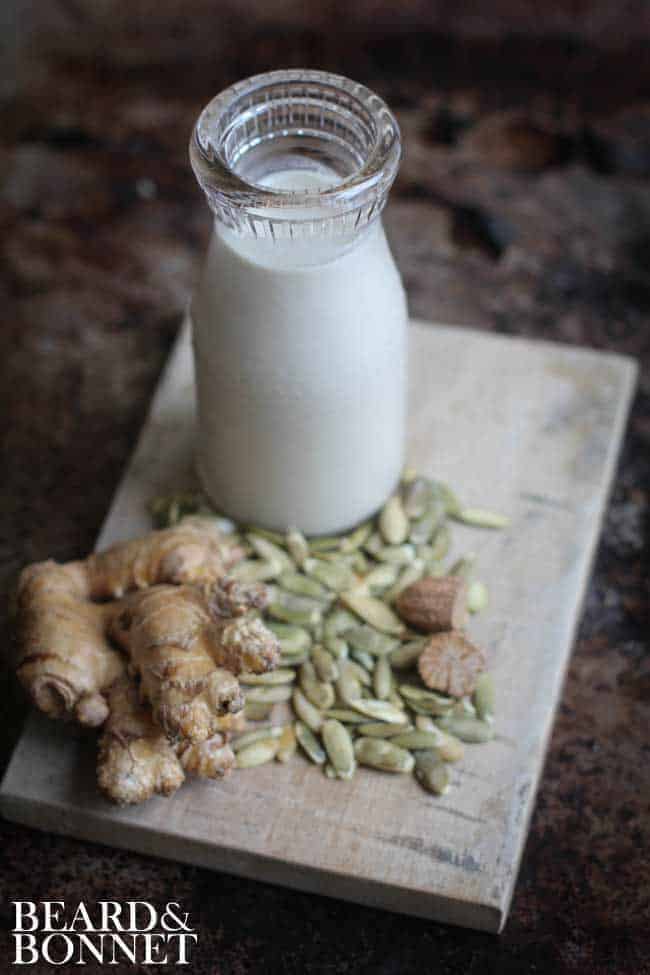 As promised...more pumpkin recipes!! This time I am using raw pepitas, (AKA pumpkin seeds) to make a batch of homemade non-dairy milk for our morning smoothies and to sip on throughout the next few days. Kash has really enjoyed this milk and I even caught Todd enjoying a glass with his lunch the other day. It has all of the warming flavors of fall, with cinnamon, ginger, vanilla, and nutmeg infused into this silky smooth milk. It really has been a nice swap up to our usual homemade almond milk and just like my almond milk, I used my new handy nut milk bag to strain out the pulp which makes this job so much easier and more enjoyable.
Pumpkin seeds are incredibly good for you and although they are super small they are packed with loads of nutritional benefits! Pumpkin seeds are a natural anti-depressant, they improve bladder and prostate function, help to prevent osteoporosis, and are great for lowering cholesterol levels, just to name a few.
Pumpkin Spiced Pepita Milk
A delicious alternative to homemade almond milk. This silky smooth plant based milk replaces almonds with pepitas and is infused with cinnamon, vanilla, ginger, and nutmeg.
1 cup

no shell raw pepitas

3.5 cups

filtered water plus more for soaking

1 tsp

. vanilla extract

1 tsp

. cinnamon

½ tsp

. ginger

¼ tsp

. freshly grated nutmeg

¼ tsp

. kosher salt

3 Tbsp

. maple syrup
Instructions
1. Soak the raw pepitas in water for at least 6 hours or overnight at room temperature. Drain and rinse well.
2. In a high speed blender combine the soaked pepitas and the filtered water then blend for at least 3-5 minutes until thoroughly combined. Strained the mixture through a nut milk bag or a sieve lined with cheesecloth to ensure a silky, smooth finished product.
3. Return the strained milk to the blender and add the rest of the ingredients. Blend until combined.
4. Transfer to a storage container, preferably glass, and store in the refrigerator for up to 3-4 days. Be sure to shake the milk well each time you use it as it does settle and separate.
Notes
*You can purchase raw pepitas or pumpkin seeds at most health food stores and larger grocery stores.
Recipe Card powered by
Have you ever made nut milks at home? I really enjoy knowing exactly what goes into them and when they were prepared. If pumpkin spice isn't your thing, its ok, I totally understand and won't hold it against you. You can always try my
Coconut Almond Milk
instead. It has quickly become a favorite in our house and will be making a speedy return to my fridge once this pumpkin craze has passed.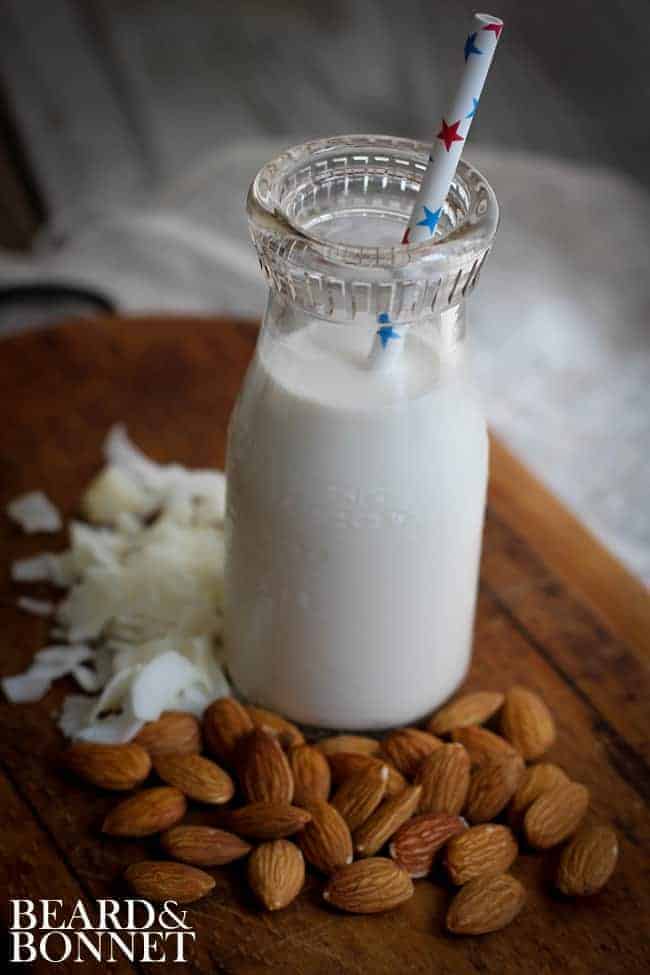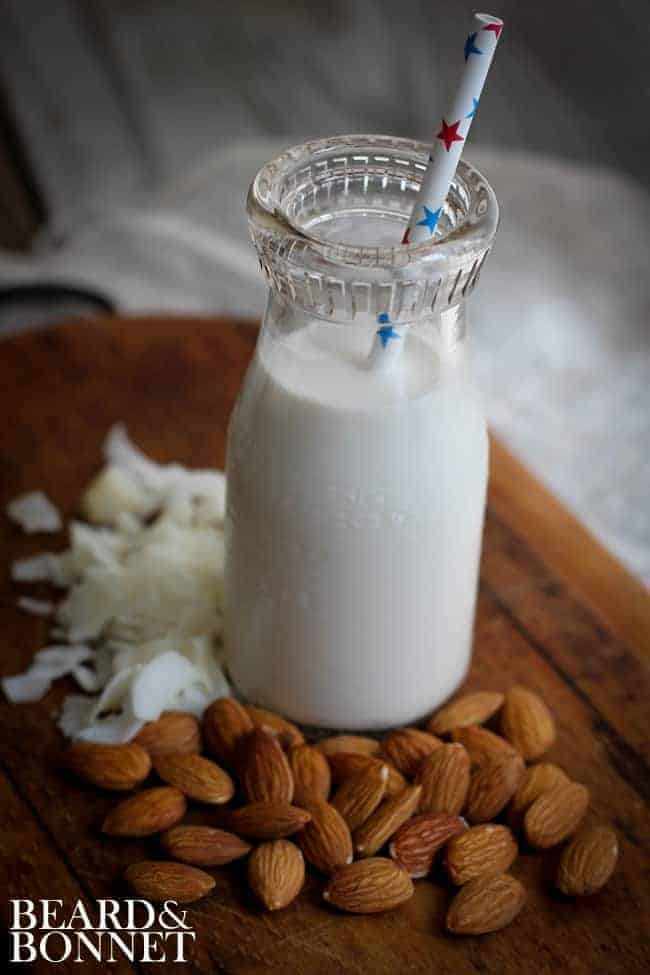 What type of dairy free milk do you drink?