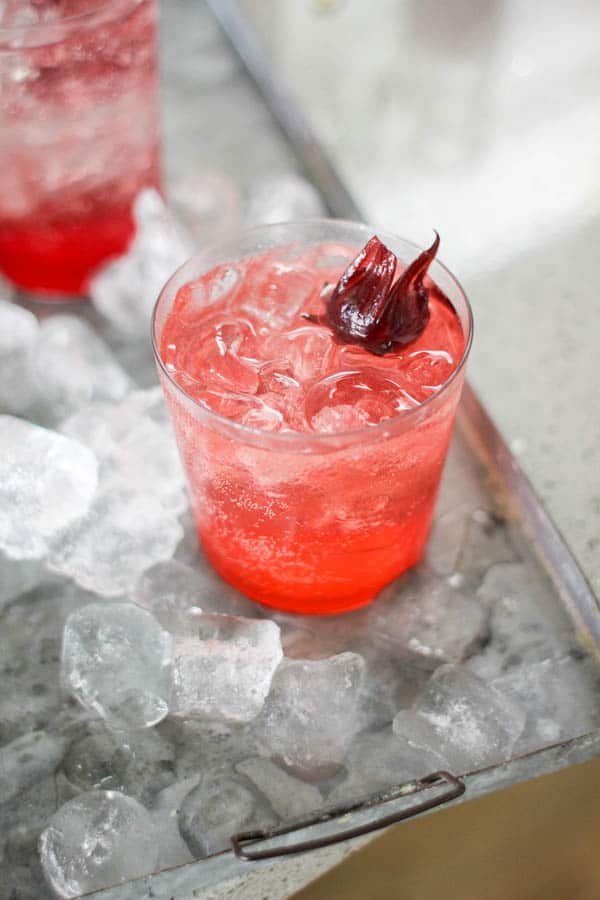 Drinking vinegar is all the rage these days! It seems like every hip restaurant and trendy coffee shop in town has some type of shrub on the menu, and since I can't help but order one every time I see, them I thought it was the perfect time to give making my own a try. Man, am I ever glad I did because this Raspberry Hibiscus Shrub is truly one of the most delicious shrubs I've ever tasted!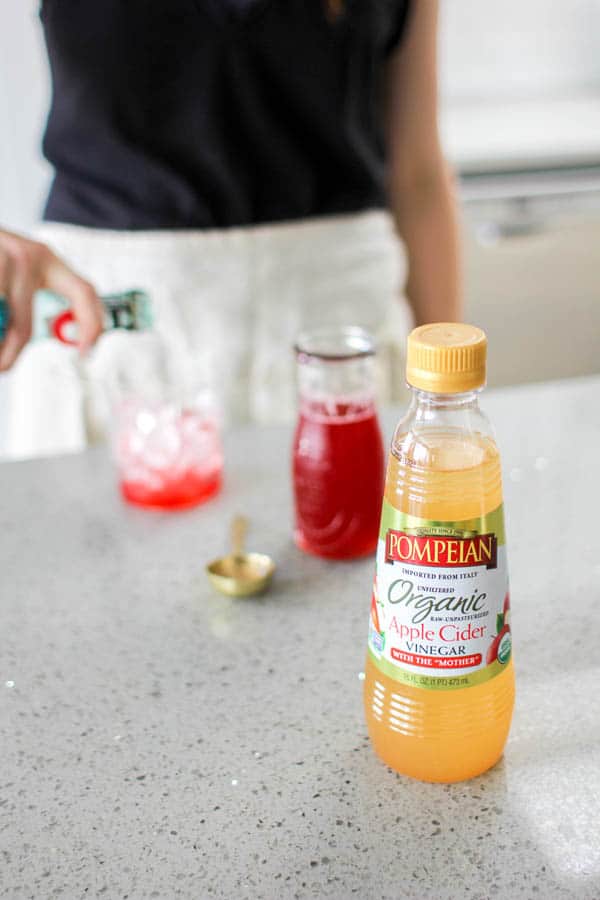 Admittedly, I was a little intimidated by the whole idea of making my own shrub at home, but the process was surprisingly simple. As long as you have a little patience and don't mind giving the jar a few shakes every time you open the fridge for a couple of days, you will be a shrub making pro in no time!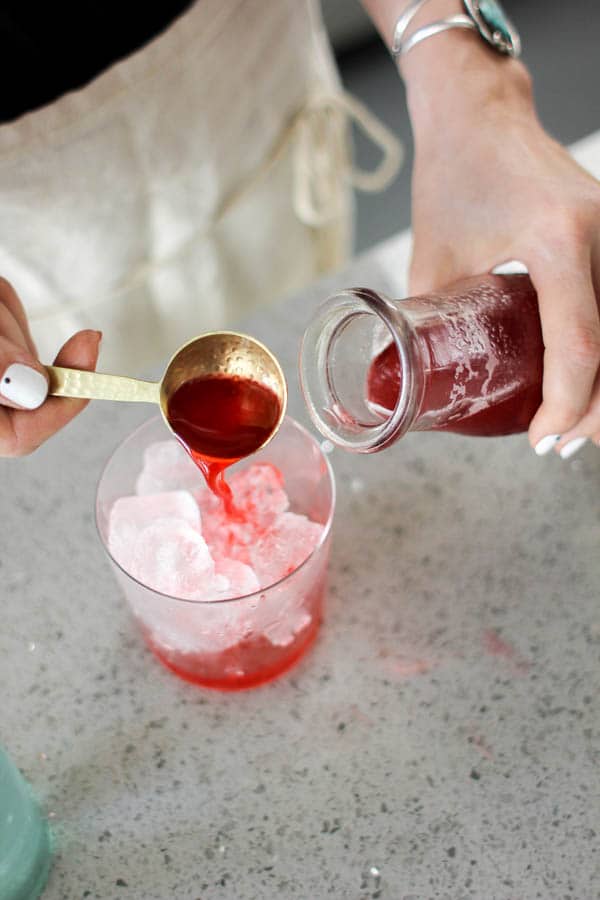 There aren't many ingredients required to make a drinking vinegar like this one. Organic raspberries, dried hibiscus petals, and sugar are the first 3 ingredients you will need. It's okay if your fruit isn't picture perfect quality, but it was important to me that the fruit and flower petals be organic and free of any pesticides. After those 3 ingredients hang out together in the fridge for a few days getting all syrupy and delicious it's time to strain out the solids and add the vinegar.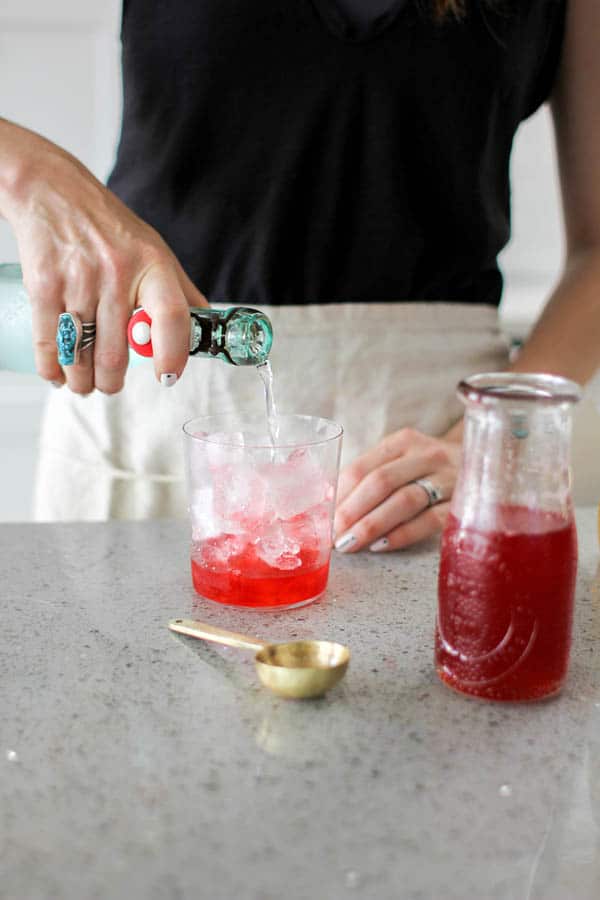 My vinegar of choice is Pompeian's Organic Apple Cider Vinegar. Pompeian doesn't filter or pasteurize their apple cider vinegar so it contains the "mother," which is the dark, cloudy substance formed from naturally occurring pectin and apple residues. Unlike other vinegars on the shelf, unfiltered, unpasteurized organic vinegar with the "mother" can be consumed on its own as part of a daily diet. The "mother" contains healthy bacteria filled with a high volume of antioxidants. These antioxidants, called polyphenols, improve digestion, boost the immune system, combat cholesterol, prevent dandruff, soothe sore throats, keep skin healthy, reduces excess fat in cells, and even promotes weight loss. Pretty impressive huh?!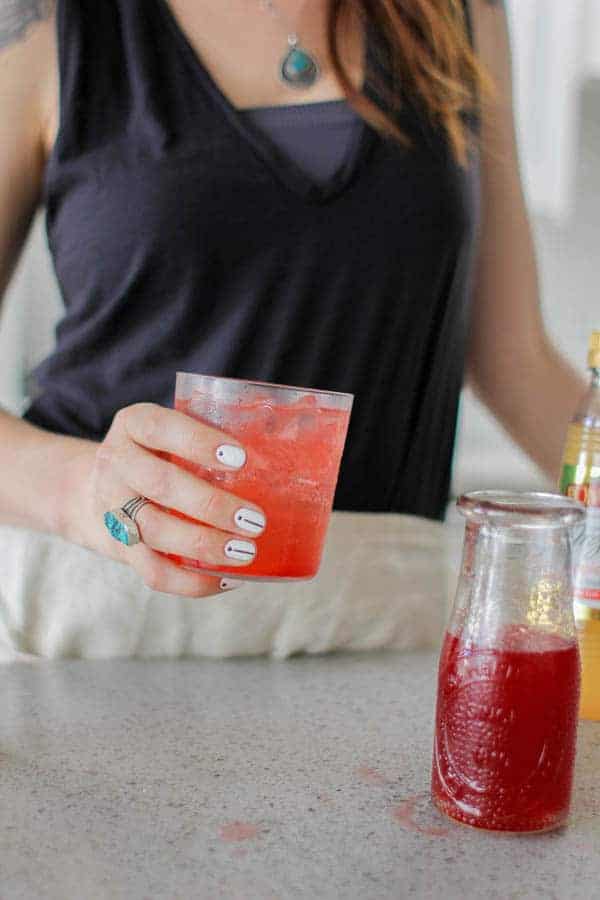 Don't have 3 days to make a shrub like this one, but still want to reap all the benefits of adding a daily dose of Pompeian Organic Apple Cider Vinegar to your diet? Simply combine 2 tablespoons of Pompeian's Organic Apple Cider Vinegar in 1 to 2 cups water along with a splash of your favorite fruit juice. The fruity flavor won't be as intense as our raspberry hibiscus shrub, but you'll still be adding a boatload of an antioxidants into your daily routine!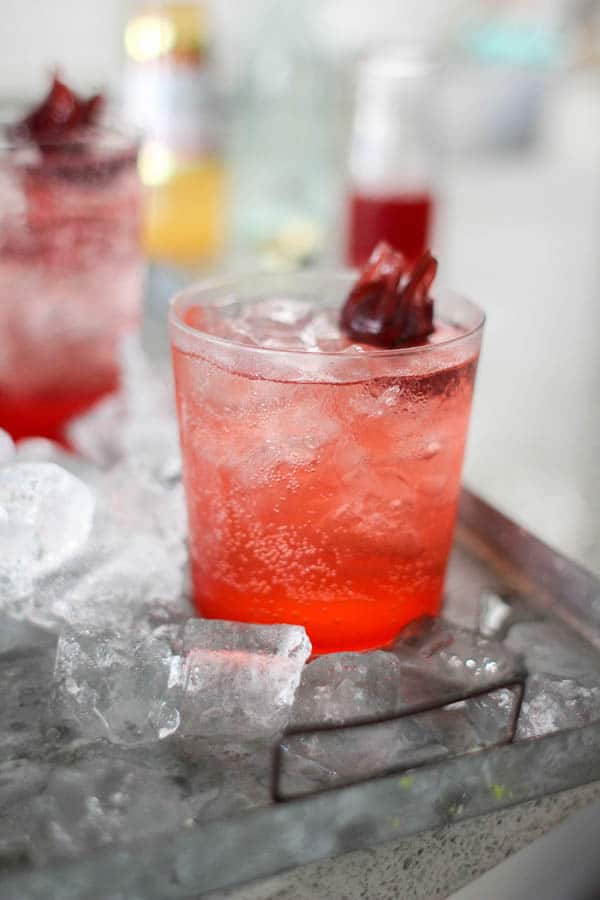 Print
Raspberry Hibiscus Shrub
Author:
Yield:

2 cups

shrub

1

x
Scale
Ingredients
1 1/2 cup

raspberries

1/2 cup

dried hibiscus leaves

2 cups

sugar

1 cup

Pompeian's Organic Apple Cider Vinegar
To make a drink
2 tablespoons

Raspberry Hibiscus Shrub
sparkling water
ice
optional garnishes: raspberries, preserved hibiscus flowers
Instructions
In a large mason jar combine the raspberries, hibiscus leaves, and sugar. Seal tightly and shake well to ensure that the sugar coats all of the fruit. Place the jar in the refrigerator for 2-3 days shaking a few times a day until the fruit has broken down and become syrupy. There will be some sugar left in the syrup, that is ok. The vinegar will dissolve it.
Strain the mixture through a fine mesh sieve, pressing the solids with a wooden spoon to remove all of the liquid. Discard the solids.
Transfer the raspberry hibiscus syrup to a clean jar and add the Pompeian Organic Apple Cider Vinegar. Secure the lid and shake to combine. Store sealed tightly in the refrigerator for up to 1 month.
To make a drink
Fill a glass with ice and add 2 tablespoons Raspberry Hibiscus Shrub. Top with sparkling water and desired garnishes. Serve immediately.
Recipe Card powered by