It seems like my family is always on the go! Between my husband's busy travel schedule and our kids' after-school activities, our lives are practically dictated by our family calendar. Most weekdays are scheduled out from the time we wake up to the time we put our PJs on and honestly, we love living our life this way! However, if we didn't have healthy, quick and easy gluten-free meal solutions on hand to keep us going, we would be in big trouble!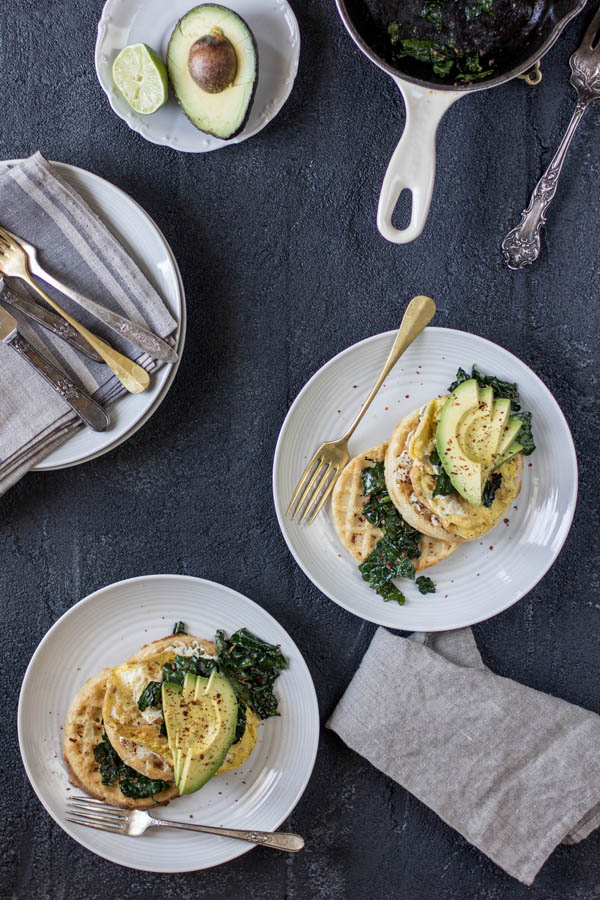 I am a big believer that food is fuel and whatever you put into your body really does affect what you get out of it, but with a busy lifestyle it is also important to have healthy, convenient solutions for food on the fly.
Since our son's diagnosis of a severe gluten intolerance, I have become even more strict about the products I allow in our home. I have some requirements that gluten-free products have to meet before I will place them in my shopping cart and today I am teaming up with Van's , one of my go-to gluten free brands, to share with you what I look for in gluten free products like Van's waffles. Also, I am excited to finally be able to share the recipe for these super easy and delicious Savory Waffles with Garlicky Greens, Eggs, and Avocado.
My family not only requests these waffles for breakfast, but for lunch and dinner as well! We love them and they cook up in less than 15 minutes which is great for days when we are on the go.
You can find this recipe and my tips for purchasing gluten free products on the Van's website by clicking here.
Compensation for this post was provided by Van's. Opinions expressed here are my own.