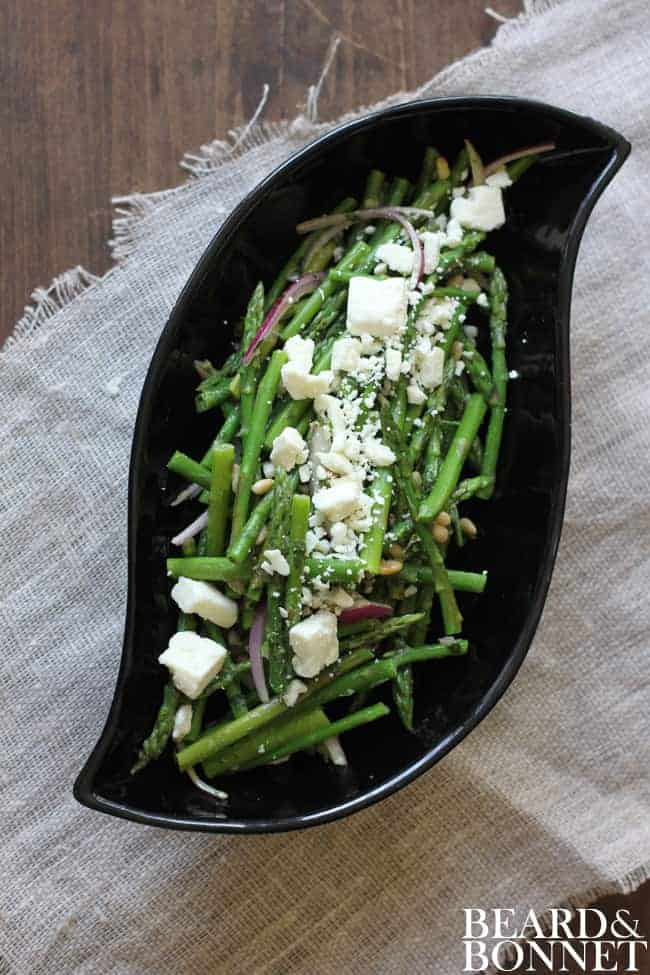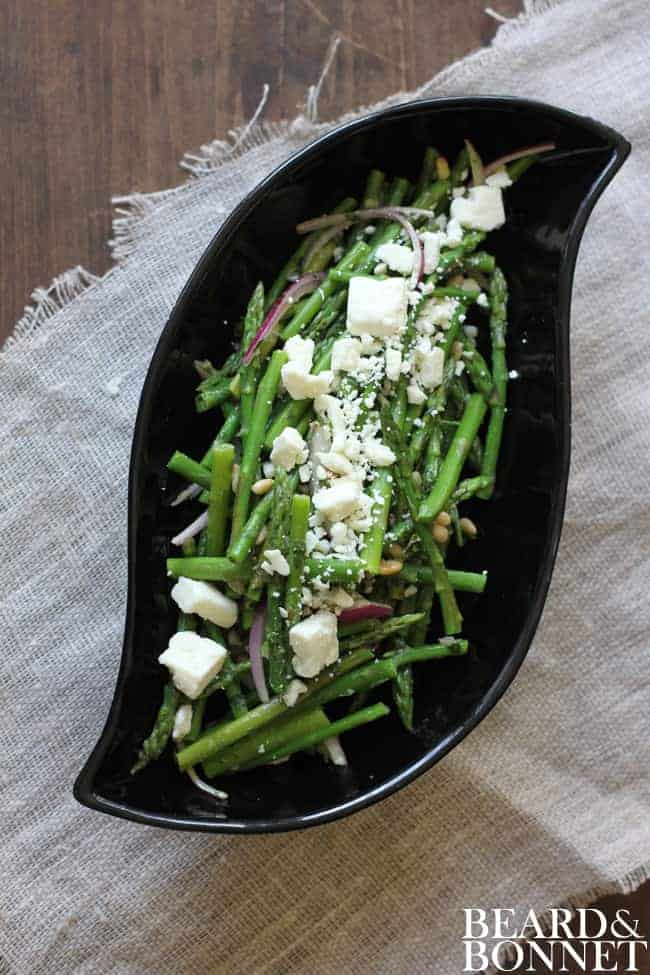 Last week I was fortunate enough to find a killer deal on organic asparagus at the store! I envisioned days of asparagus creations...everything from tarts to salad crossed through my mind. In my head, we were having asparagus every night of the week. Unfortunately, life got away from me and between the garage that flooded and the never ending list of errands that we had this week it just didn't pan out. Does that happen to anyone else? I have good intentions, really I DO!!
When life happens, this Simple Asparagus Salad can be on the table in just a few minutes!
I like to think that I am a younger/cooler/edgier version of Martha Stewart...you know, if Martha had tattoos and listened to vinyl. In a perfect world I would have a clean house all of the time, pressed clothes, artistic tattoos for days, well mannered children and 100 different go-to asparagus dishes. This is the real world though people and my house is clean enough for me, my clothes are slightly wrinkled, my kids are well mannered about 75% of the time, I only have a few tattoos, and for the whole weeks' worth of asparagus ideas I only have 1 kick butt recipe to show for it. Oh well, I am OK with that, enjoy your 4th of July B & B friends.
If you've tried this Simple Asparagus Salad Recipe, I would be so grateful if you would rate it. Let me know what you think in the comments below. I just love hearing from you, and your reviews and comments really help others that visit This Mess is Ours!
Print
Simple Asparagus Salad
Don't forget to rate the recipe, and let me know what you think about this Simple Asparagus Salad in the comments below. I just love hearing from you. Your reviews/comments really help other people that visit This Mess is Ours!
Asparagus Salad
1

lb asparagus, ends removed and cut in half or thirds

¼ cup

toasted pine nuts

¼ cup

red onion, sliced very thin
Feta cheese, optional
Kosher salt and black pepper to taste
Dressing
Juice of

2

lemons

1 Tbsp

. Dijon mustard

½ cup

mixed fresh herbs, I used basil, parsley, & a little thyme

1

small shallot, coarsely chopped

1

clove garlic, minced

½ tsp

. Kosher salt
Black pepper to taste

2 Tbsp

. extra virgin olive oil
Instructions
Asparagus Salad
Prepare an ice bath in a large mixing bowl, set aside.
Bring a large stock pot of water to a rolling boil over high heat. Drop asparagus into hot water and cook for 1-2 minutes until bright green.
Drop the cooked asparagus immediately into the ice bath.
Drain and place the spears in a large bowl, toss with pine nuts, red onion and dressing. Start with half of the prepared dressing then add more if desired. Toss to coat then top with feta cheese.
Dressing
Combine all of the ingredients for the dressing except olive oil in the bowl of a food processor.
Pulse until well mixed and then slowly drizzle in the olive oil while pulsing.
Taste and adjust seasoning as needed.
Nutrition
Serving Size:

1 large salad

Calories:

213

Sugar:

6.7 g

Sodium:

600.4 mg

Fat:

15.7 g

Carbohydrates:

12 g

Protein:

8.4 g

Cholesterol:

33.4 mg
Recipe Card powered by
Want to be a part of our online community outside of the blog? It's easy!! All you have to do is follow @THISMESSISOURS on FACEBOOK, INSTAGRAM, TWITTER, YOUTUBE, or PINTEREST to see cooking demos and peeks into our day to day life.
What are the health benefits of asparagus?
Asparagus is a low calorie vegetable that boasts high amounts of fiber, folate, and Vitamins A, C, and K. The fiber and high water content help to improve gut health and aid in weight loss. Folate is a mineral that promotes a healthy pregnancy by producing blood cells and DNA.
Click here for more information on the health benefits of asparagus.
Frequently Asked Questions