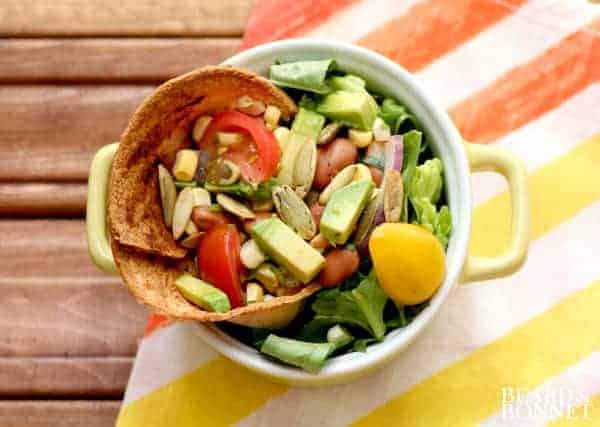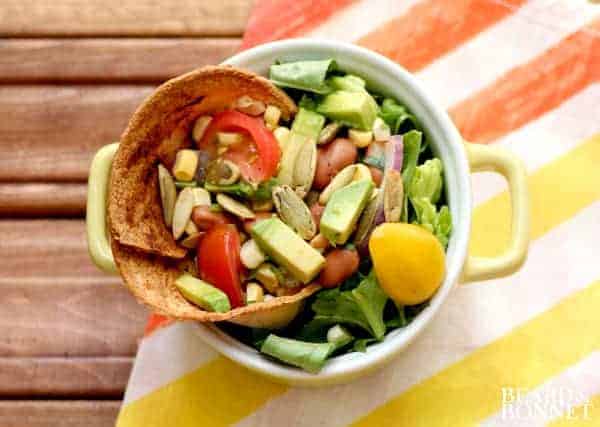 There are some days when as much as I LOVE to cook, I just can't get started. Yesterday the thought of firing up the stove had me more frustrated than excited and when I took a family poll to see what they wanted for dinner I received completely different answers. Todd felt like snacking on something that wasn't too heavy, Eliza really wanted tacos and I just wanted something easy and refreshing without the hassle of having to cook. Enter my Southwestern Salsa or is it a salad? I don't know, all I know is that it morphed to fit everyone's dinner desires last night including my desire for a hassle-free, no cook, satisfying dinner. Brace yourself for the easiest recipe ever!
Southwestern Salsa Salad
Serves 4
2 ears of fresh corn, kernels removed
1 can of pinto beans, drained and rinsed
¼ of a medium-sized red onion, sliced very thin
1 avocado, chopped
8-10 cherry tomatoes, halved or quartered if they are large
¼ cup cilantro, chopped
⅛ cup roasted pepitas
In a large bowl combine all of the ingredients listed above making sure that the veggies are cut, sliced or chopped into similar size pieces. Stir well to combine and set aside.
Cumin Lime Dressing
¼ cup good quality extra-virgin olive oil
¼ cup fresh lime juice
½ tsp. ground cumin
½ tsp. kosher salt
¼ tsp. pepper
Combine all of the ingredients either in a bowl and whisk until combined or be lazy like me and put them in a jar with a lid and shake really well. Pour this dressing onto the salsa above and let it marinate for about 10 minutes so that all of the flavors combine and everything in the bowl is happy.
For a salad: Add 2 small heads of romaine lettuce, cut into small pieces, washed and dried well to the ingredients listed above and toss to combine. Crumble corn tortilla chips on top to finish or make a corn tortilla bowl like I did. By warming corn tortillas in the microwave until pliable, brushing with your favorite blend of oil and spices then carefully forming them into the cups of a jumbo silicone muffin pan. Bake at 350°F for15-18 minutes until crisp.
For nachos: Spoon the salsa over gluten-free tortilla chips and enjoy.
For tacos: Shred the lettuce and set up a taco bar with the addition of your favorite dairy free cheese or cashew cream.
We are excited to share this recipe on The Veggie Nook for Healthy Vegan Fridays! Follow the link for more fabulous vegan recipes.