I came up with this Strawberry Banana Oat Smoothie out of pure necessity. I have been brain storming and testing healthy back to school breakfast ideas for a few weeks now so that I am not stuck in a cereal rut when the school year finally hits. Our daughter, Eliza, is entering sixth grade this year, and if her summertime "primping" schedule is any indicator of just how long it will take her to get ready in the mornings, I better have quite a few "grab-n-go" breakfasts in my arsenal.  I doubt she will be sitting with us at the breakfast table very much this school year.
I love having homemade breakfast cereal bars, and fruits like bananas and apples on hand for quick grabbing, but sometimes a girl just needs a smoothie to start her day off right. This smoothie is packed with vitamins, minerals, and protein; it will stay with her until time for lunch and she won't come crashing down from the high of sugar coated cereals and store bought breakfast bars.  Besides tasting really good together I chose these ingredients specifically for what each of them has to offer Eliza.
Almond milk: Aside from offering lots of protein and vitamins, almond milk is rich in manganese, copper and riboflavin. These nutrients play an important role in energy production.
Bananas:  High in potassium and low in salt, they are officially recognized by the FDA as being able to lower blood pressure, and protect against heart attack and stroke. Rich in pectin, bananas aid digestion and are a great natural energy booster due to all of that potassium.
Strawberries: One cup of strawberries contains a whopping 136% of the RDA of vitamin C, can help lower blood pressure and ensure a healthy immune system. Like almond milk, strawberries are also rich in manganese which is great for the bones too.
Gluten-free oats: Provide high levels of fiber, low levels of fat, and high levels of protein. Oats also are known to remove the bad cholesterol in your body without affecting your good cholesterol. All of that being said; they stick with you longer than other foods so I can rest assured that she will stay satisfied until lunchtime and can concentrate on learning rather than hunger pains.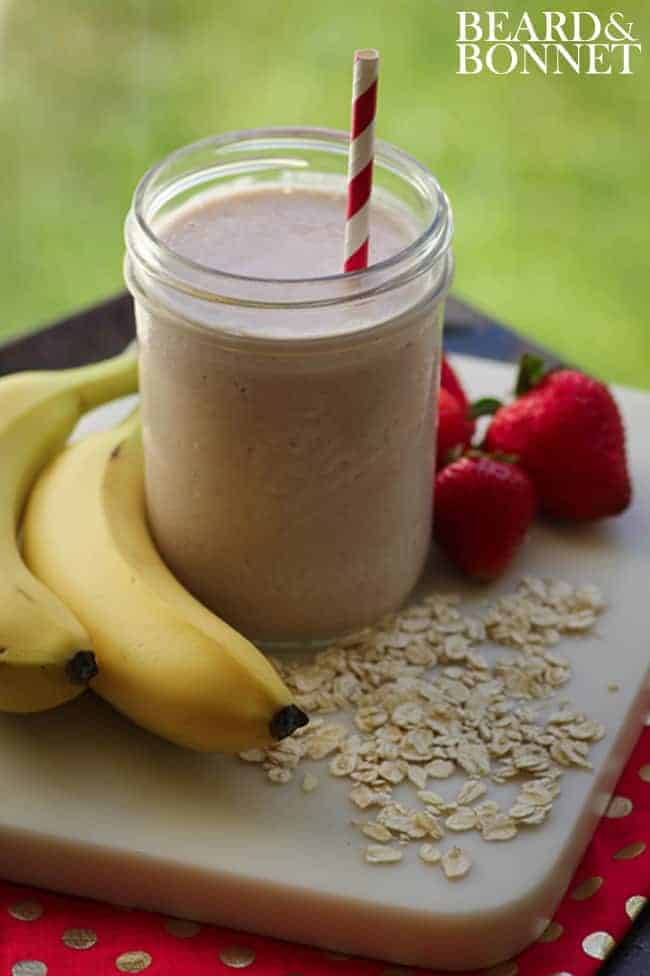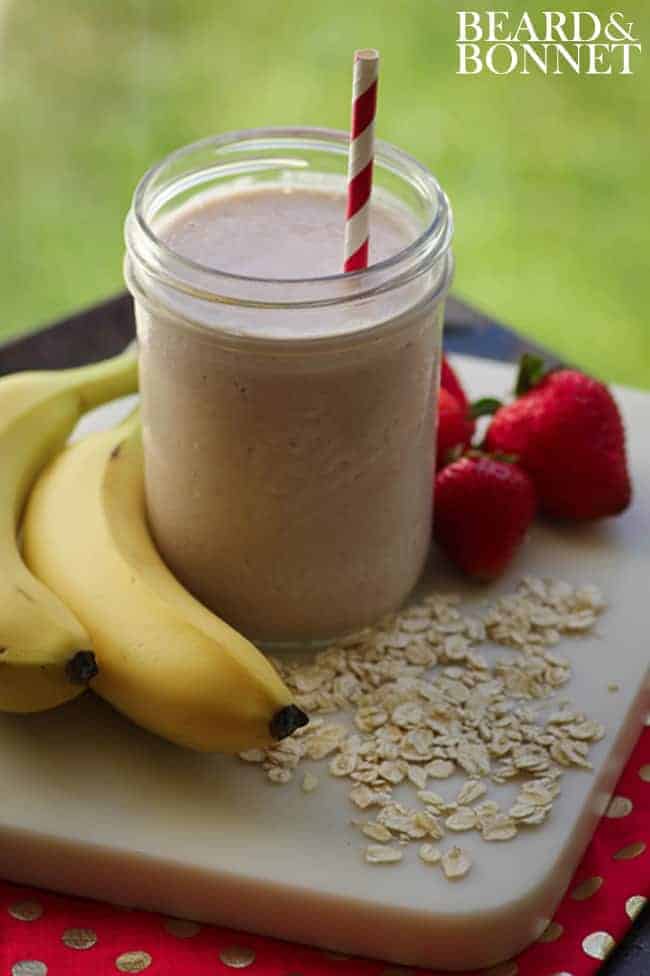 Head over to The Balanced Platter for the recipe for this scrumptious Strawberry, Banana, Oat Smoothie!
If you've tried this Strawberry Banana Oat Smoothie Recipe, I would be so grateful if you would rate it. Let me know what you think in the comments below. I just love hearing from you, and your reviews and comments really help others that visit This Mess is Ours!
Want to be a part of our online community outside of the blog? It's easy!! All you have to do is follow @THISMESSISOURS on FACEBOOK, INSTAGRAM, TWITTER, YOUTUBE, or PINTEREST to see cooking demos and peeks into our day to day life.
What are the health benefits of oats?
Oats are a gluten free grain that is packed with protein and fiber. The numerous amount of vitamins and minerals in oats makes them a great alternative to other grains. Among others, magnesium, iron, zinc, and Vitamin B are highly concentrated in oats. All of these positive nutrients help to lower blood sugar and cholesterol levels, promote gut health, and reduce constipation.
Click here for more information on the health benefits of oats.
Frequently Asked Questions