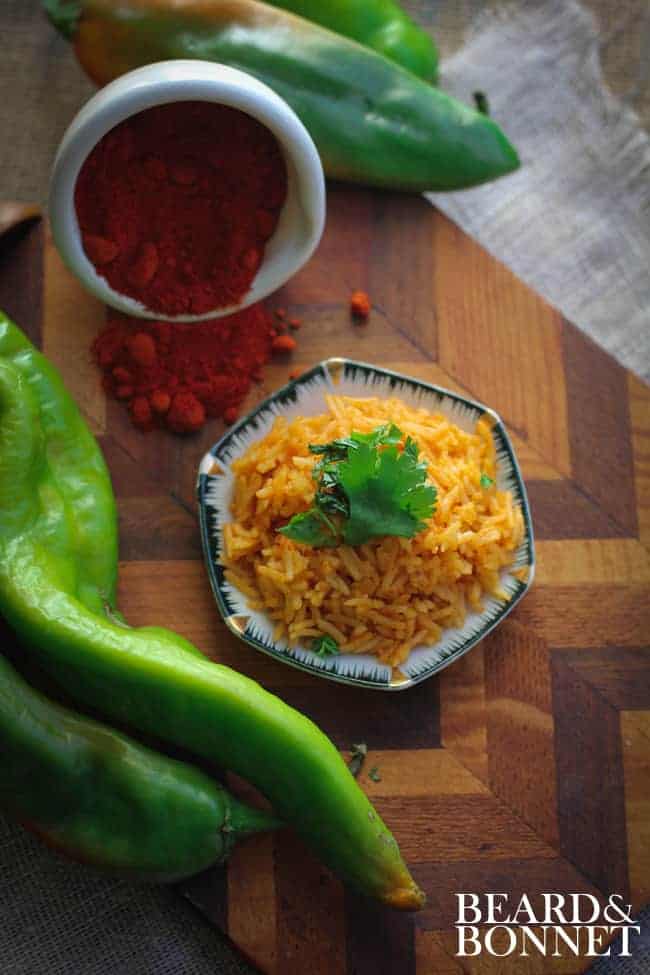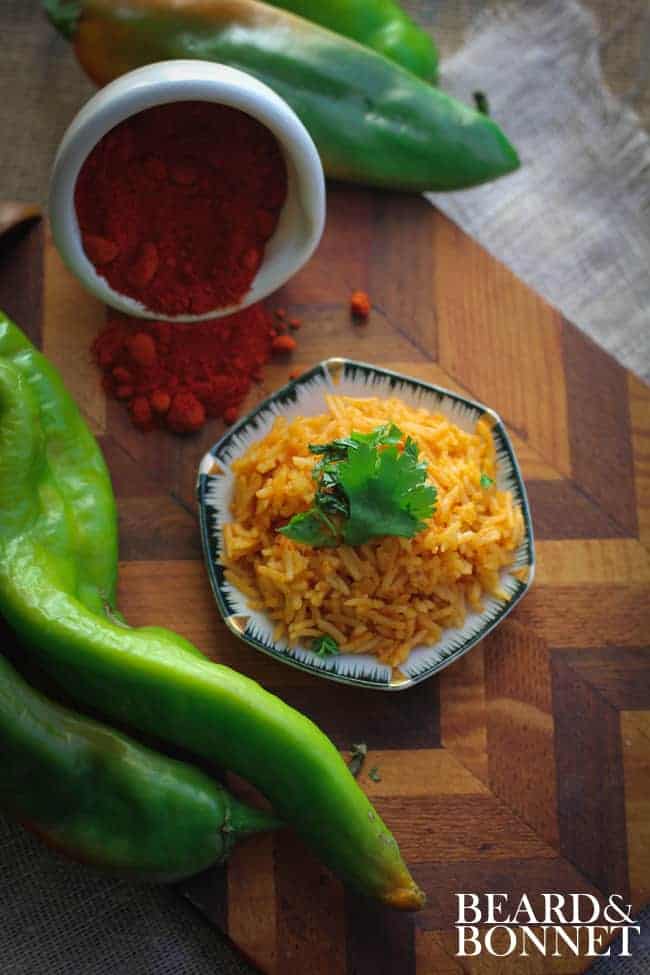 We eat a lot of rice in our house; it's pretty safe to say that we dish it up about 3-4 times a week. We smother it in curry, stuff it in squash, and always have it alongside of our tacos. About the only time we don't eat rice is when we hit our favorite taco spot or any other Mexican restaurant for that matter due to the fact that it is almost always cooked in chicken broth. Not that there is anything wrong with cooking rice in chicken broth, but when you have been eating a vegetarian diet as long as we have it's a little hard to stomach. I have been serving up this homemade, vegetarian version of Spanish style rice for a while now, and my family LOVES it!
This dish is really simple to make and was completely inspired by the sundried heirloom chile powder Todd picked up in New Mexico a few summer's back. You see sometimes as designers we have amazing opportunities to go and explore new places for inspiration. On this particular trip he decided to visit Chimayo which has been deemed "The most important Catholic pilgrimage center in the United States." Over 300,000 people tour this holy place each year and it is nothing short of breathtaking. Aside from the beautiful setting and the overwhelming calm that falls over you when visiting this place there are a few little shops scattered around the small town that sell their famous herb blends using their heirloom chile powder. Todd knew that when we planned our cross country drive a few months ago to our new home here in California that Chimayo was on the top of his list of places to stop along the way.
I was breathless when we arrived and amazed at how one place could ignite all of my senses at the same time. We toured through the stunning cathedrals and gazed upon countless numbers of original artwork adorning almost every square inch of space. We gathered holy dirt from a small back room in the church believed to have healing powers and we tasted specialty spice blends from the local residents outside of their shops. All of their spice blends were separated in small unassuming baggies and labeled #1, #2, and sundried. The wonderful gentleman that gave my taste buds the tour of his spices would pop open a pistachio and scoop some of the spice blend up in one half of the shell. He then instructed me to place the pistachio and the spices in my mouth at the same time. I swear if there was ever a time that the term "party in my mouth" was appropriate, this would be it. We bought numerous bags of spices and he gave us his phone number for ordering more in the future.
Just a few weeks ago my wonderful friend Delilah visited Chimayo and brought me back a bag of their coveted chile powder as a souvenir! Don't you just LOVE friends like that? Maybe you wish you had some of this spectacular chile powder and some of those insane spice blends, but you're not heading to New Mexico anytime soon. No worries my Beard and Bonnet friends, all you have to do is order from this website. It's super simple and well worth the effort.
Rice Infused with Heirloom Chile Powder
A delicious gluten-free, vegan version of Spanish rice utilizing heirloom chile powder from Chimayo, NM.
Author:
Cook Time:

15

Total Time:

20
1 cup

organic long grain Basmati rice

1 ¼ cup

organic vegetable broth

1 Tbsp

. Earth Balance

½ Tbsp

. medium hot sun dried chile powder
pinch of kosher salt
Instructions
Wash the rice really well, then add it and the remaining ingredients to a medium sized pot and bring to a boil over high heat. Once boiling place a lid on the pot and reduce the temperature to a simmer. Simmer for 15-20 minutes until all of the liquid is absorbed.
Once the liquid is absorbed then remove from the heat and allow to sit with the lid on for 5-10 minutes then fluff with a fork and serve.
Notes
I like my rice a little firmer than some people do. If you want softer rice simply add more broth in the beginning.
Recipe Card powered by