Acorn squash is one of my favorite vegetables! I love to eat them roasted as a side dish or stuffed like these as a main course. We picked these little beauties up at Burt's Pumpkin Patch last weekend and I could hardly wait to get home and throw them in the oven. This jewel toned wild rice salad is simple to prepare and the nutty flavor of the rice and pecans along with the tartness of the cranberries and citrus pair nicely with the natural sweetness of the acorn squash. I served these to my family with a simple side salad the other night and dinner was a huge success!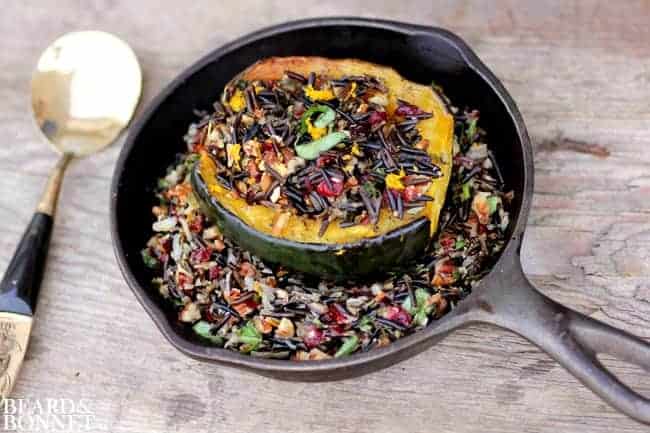 Roasted Acorn Squash
2 acorn squash, halved lengthwise and seeds removed
1 Tbsp. Earth Balance or butter, melted
1 Tbsp. light brown sugar, packed
kosher salt and pepper to taste
Heat the oven to 450 degrees F and place the rack in the center of the oven.
Place the 4 squash halves, cut side up on a baking sheet, brush each half with the melted Earth Balance or butter. Make sure to brush the tops and the centers of each squash so that the entire surface area has been coated. Sprinkle each half with some of the brown sugar and season with salt and pepper. Roast in the oven until just fork tender, about 20-30 minutes.
Wild Rice Salad
2 cups freshly cooked wild rice (1 cup uncooked)
3/4 cup pecans, toasted and finely chopped
1/2 cup dried cranberries, finely chopped
1/4 cup fresh basil, finely chopped
Grated zest of 1 naval orange
Juice of 2 naval oranges
Kosher salt and black pepper to taste (I used 1 tsp. salt and 1/2 tsp pepper)
Reduce oven temperature to 350 degrees F.
In a large mixing bowl, combine the warm wild rice, pecans, cranberries, basil, and orange zest. Stir well to combine and pour in the orange juice and season with salt and pepper. Taste and adjust seasoning as necessary.*You could also add a tablespoon of olive oil if you would like, but I didn't feel like it was necessary.
Divide the wild rice mixture among the squash halves, about a 1/2 cup each.*You will have some of the rice mixture left over, store it covered in the refrigerator. Return the stuffed squash to the oven and continue to bake at 350 degrees F for an additional 20-25 minutes or until the squash are fork tender and golden brown around the edges.
When ready to serve garnish with additional chopped basil and orange zest if desired.
We are happy to have shared this post at the Gluten-Free Friday's link up party hosted by Vegetarian Mama, Eat.Live.Make, and Gluten Freed R.D.! Hop on over to find more great gf recipes.