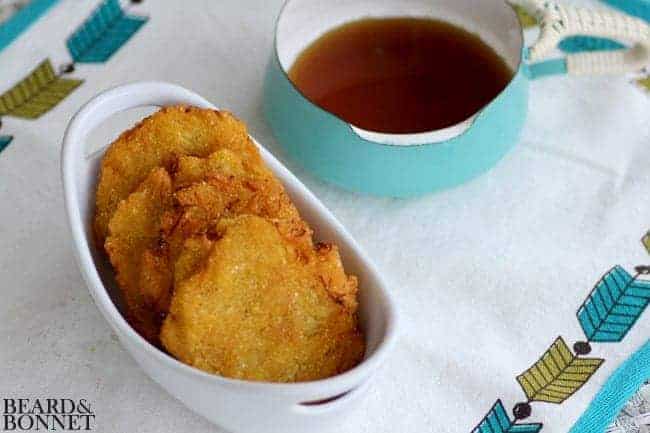 If you are a true Southerner then you know about a little dish we like to call Hot Water Cornbread. My grandmother used to make batches of the crispy little fritters when we visited and I would literally eat my weight in them. I had forgotten all about them until recently, when I was staring at a spaghetti squash that I picked up at Burt's Pumpkin Patch trying to figure out how the heck I was going to use it. I know, random jump from spaghetti squash to hot water cornbread. Let me explain…
Although Eliza is a pretty great eater there are a few vegetables that she just can't seem to get into. Spaghetti squash was ruined for her when I served it alongside marinara sauce a few years ago. Sure it's a pretty common way of serving the squash, but when you tell a little kid that there will be spaghetti squash with marinara they tend to tune out the squash part and get really freaked out when their beloved bowl of noodles is replaced by stringy squash. Trust me on that one! I have learned over the years that sometimes I can sneak an ingredient back in on her and then fess up later after she has admitted that she likes the new dish. Depending on how big of a success the new veggie dish is determines if she will be willing to try that particular type of food prepared in other ways in the future. Sneaky huh?!
So as I was preparing for "Operation: Sneaky Spaghetti Squash" I kept coming back to hot water cornbread. Little corn fritters drizzled with maple syrup…like a cross between a corn muffin and a really hearty pancake of sorts. Maybe I could add the roasted spaghetti squash to the batter; this was also a ploy to make myself feel better for shamelessly serving my family cornbread fritters fried in oil. *Still feel a little guilty about that one! How guilty can you feel when you stuff the fried fritter with veggies? *Made me feel a little better!
I decided to take the plunge and go all the way for a decadent spaghetti squash feast and to my elation it paid off! Eliza's new found adoration of spaghetti squash led to a dinner filled with her suggesting other possible ways we could prepare it that don't include an oil bath. Another bonus was that Kash and Todd loved the spaghetti squash both ways! Simply roasted with olive oil, salt, pepper, and a little brown sugar and in disguise as hot water cornbread. I served these delectable little cornbread cakes with roasted apples and a side of baked, not fried, hash browns.
Do you have any unconventional ways that you use veggies so that your kids will eat them? I would love to hear about them!
Roasted Spaghetti Squash
1 spaghetti squash, cut in half lengthwise, seeds removed
Olive oil
2 Tbsp. light brown sugar
Salt and pepper to taste
Preheat oven to 375°F. Cut the squash in half and remove the seeds; rub each half with olive oil and sprinkle with salt and pepper and 1 Tbsp.of the brown sugar each. Rub the spices into the squash to evenly distribute them and then place the halves, cut side down, on a rimmed baking sheet lined with parchment paper.Roast until tender, about 35-45 minutes, remove from the oven and allow the squash to cool enough to handle. Scrape squash with a fork to remove flesh in long strands.
Hot Water Cornbread stuffed with Roasted Spaghetti Squash
Makes 12 3″ patties
1 cup roasted spaghetti squash
2 cups gf cornmeal
1 1/2 cups boiling water
2 tsp. kosher salt
2 tsp. white sugar
2 Tbsp. Earth Balance or butter
Sunflower oil for frying
In a medium bowl, combine cornmeal, salt, and sugar. Add the butter or Earth Balance to the boiling water and stir until it melts. Add the water and Earth Balance to the cornmeal mixture and stir until combined. *The mixture will seem like there is not enough water, just keep mixing until all of the corn meal is incorporated. Add the roasted spaghetti squash to the mixture and mix well.
Pour the sunflower oil to a depth of 1/2 inch in a large cast iron skillet and heat to 375° F.
Shape cornmeal mixture into patties using a heaping tablespoon or a large soup spoon as a measuring guide. Fry each in the hot oil, turning once, until crisp and golden brown, about 5 minutes. Remove from the hot oil to a plate lined with paper towels to drain. Immediately sprinkle with coarse kosher salt to season. Serve at once with maple syrup or honey.
(Visited 10 times, 10 visits today)